Antonio Brown's Kids: How Many Children Does He Have, Exactly?
Antonio Brown has played in the NFL for over a decade now. The wide receiver was drafted out of Central Michigan University in 2010. Brown played for the Pittsburgh Steelers from 2010-18, then repped the New England Patriots in the 2019 season. In 2020, he moved to Tampa Bay.
After watching Brown on the field for the last decade, fans are curious about his personal life and his thoughts on fatherhood. Let's learn how many kids Brown has, his role as a dad, and where he sees himself in the next several years. 
Meet Antonio Brown's brood of children 
Brown is a father to six children. According to the Sun, the 33-year-old's ex-girlfriend, Shameika Brailsford, gave birth to Antonio Brown Jr. in 2007. According to Familytron, family and friends address Antonio Jr. by his nickname, "Lil AB." Brown has been involved in public custody battles with Brailsford. After years in family court, the judge ordered Brown to pay her $5,000 monthly for Antonio Jr.
Just a year after his first child entered the world, Brown welcomed his second child and oldest daughter, Antanyiah, with his ex-girlfriend, Wiltrice Jackson, in March 2008. Both Jackson and Brown have maintained a civil relationship for their daughter's sake over the last decade. 
According to Pop Culture, Brown's youngest four children are Autonomy (2014), Ali (2015), Apollo (2017), and Allure (2020). The wide receiver shares his youngest four children with on-and-off-again girlfriend Chelsie Kyriss. Along with his six biological children, Brown also serves as a stepdad to Kyriss's two kids, Kellen and Brooklyn, from her previous relationship.  
The Tampa Bay wide receiver loves fatherhood
Brown has been involved in several controversies over the years, as well as some serious legal battles. The NFL veteran has been accused of sexual assault a number of times over the years. He was even taken to court by his former personal trainer, Britney Taylor. According to the NFL, Taylor's civil suit against Brown was settled in the spring of 2021. 
Unfortunately, Brown's sexual assault allegations have not been his only legal troubles over the last several years. In 2018, he acted recklessly, throwing furniture from a 14th-story balcony apartment in Florida. According to CBS News, some of the furniture allegedly hit a 22-month-old child, causing injury.
Throughout all of this turmoil, Brown's children are what has kept him going. He loves being a dad. In regard to having a lot of children, Brown once told ESPN, "I've got a lot of kids, so my sperm count is good."
What's next for Antonio Brown?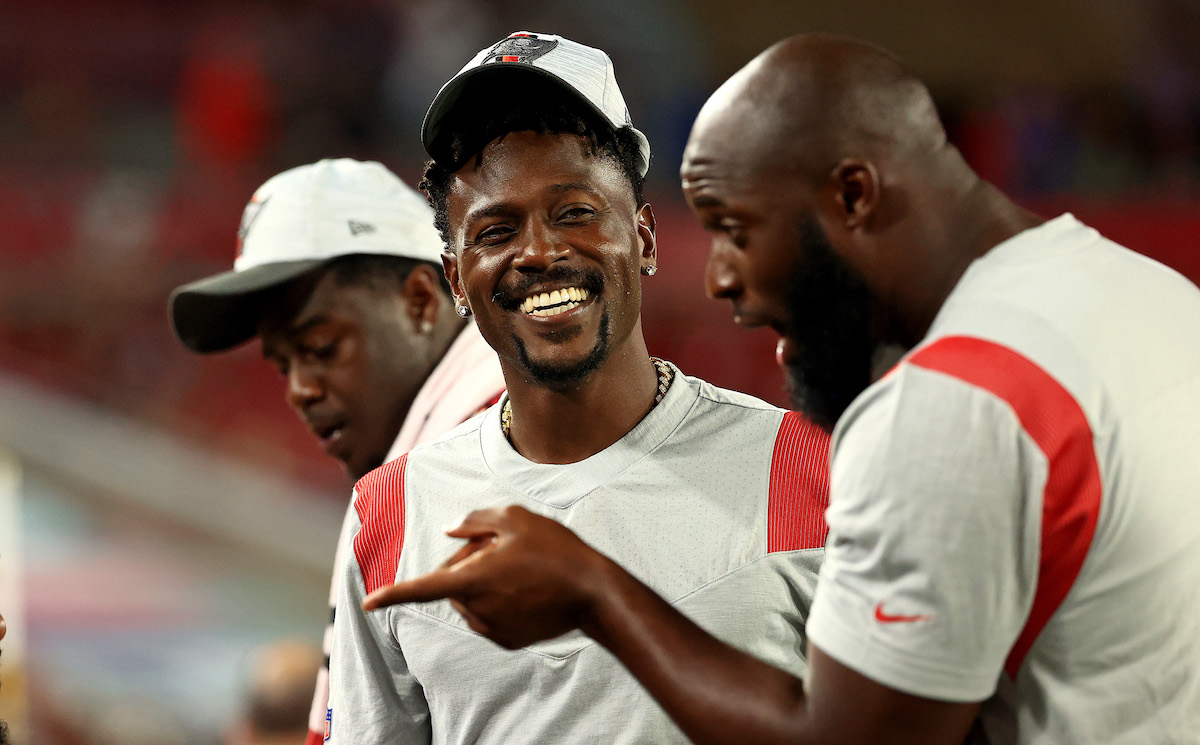 The veteran wide receiver has been on quite the journey over the last decade. When it comes to his NFL future, Brown hopes to have a few years left in the tank. He was recently lifted from the reserve/COVID-19 list. So things are looking up for him when it comes to on-field action. 
When it comes to off-field action, Brown is working to be the best father he can be to his children and the best partner to Chelsie Kyriss. The couple has had public disputes during their nearly decade-long relationship. But it seems like they are currently together and considering getting married in the near future. Only time will tell what's next for Brown when it comes to his life, both on and off the field. 
RELATED: Tom Brady Saved Antonio Brown's NFL Career Using a $600 Million Motivational Speaker