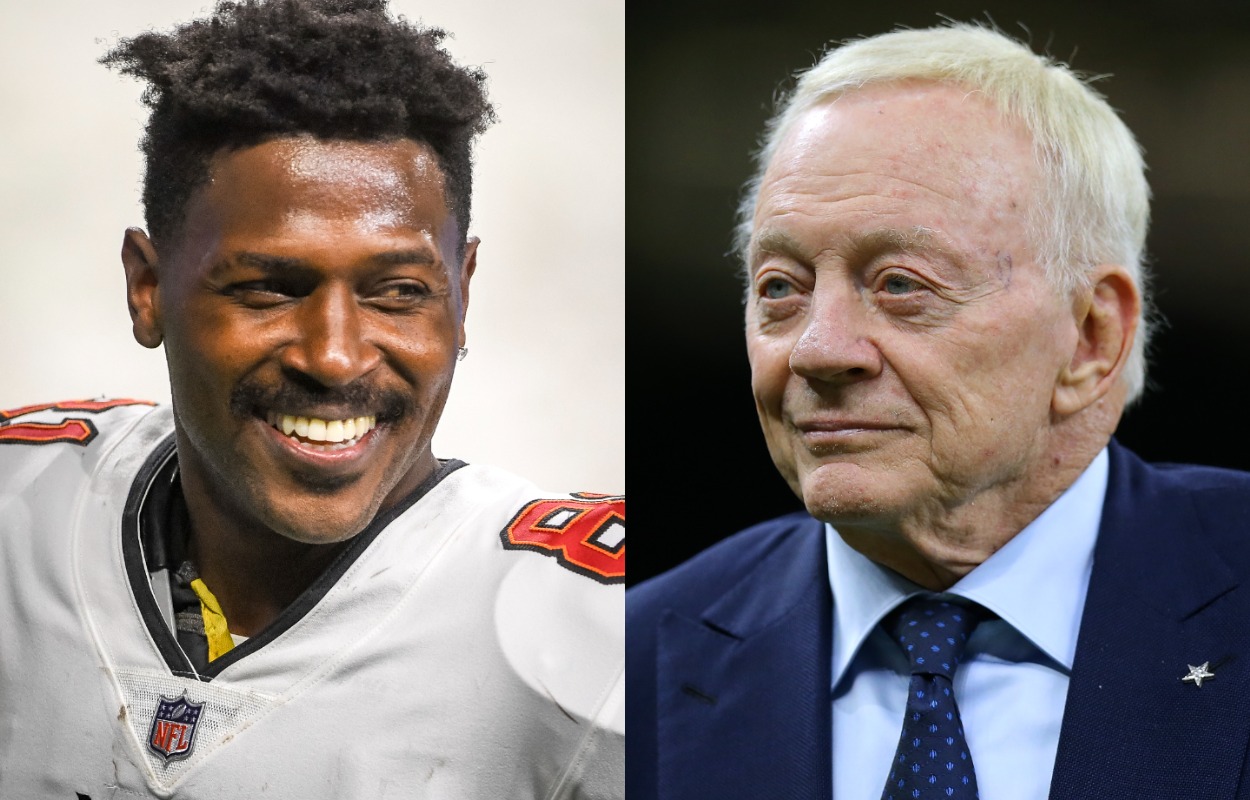 Antonio Brown Makes His Pitch to Cowboys Owner Jerry Jones: 'Maybe He Wants to Harness Some of That Energy'
If former Tampa Bay Buccaneers receiver Antonio Brown plays in the NFL next year, he made it clear he'd be interested in suiting up for the Dallas Cowboys.
Article Highlights:
Former Tampa Bay Buccaneers receiver Antonio Brown recently made his pitch to Dallas Cowboys owner Jerry Jones
The Super Bowl 55 champion suggested Jones consider trying to harness some of Brown's "energy"
The Cowboys would be wise to stay far away from Brown at all costs
Much like John Bender, Antonio Brown doesn't want football fans to forget about him. Unfortunately for those deeply invested in America's Game, that means needing to hear the eccentric receiver continue pitching teams on why they should sign him.
After the Baltimore Ravens all but made it clear they had no intention of adding Brown, the seven-time Pro Bowler turned his attention to the Dallas Cowboys and specifically called out owner Jerry Jones in the process.
Antonio Brown recently made his pitch to Dallas Cowboys owner Jerry Jones
One would understandably believe Brown would want to avoid the spotlight for a time, especially after the former Tampa Bay Buccaneers' receiver's stunning walkoff against the New York Jets on Jan. 2.
If you'd think that, then you don't know Brown.
Instead of keeping quiet, the veteran wideout has spent the last two months making the podcast rounds. He appeared on the March 8 episode of The Pivot and re-affirmed his desire to continue playing in the NFL.
"The plan is to get back into the game," the 33-year-old said before hinting he wanted to join the Cowboys.
"Maybe Jerry Jones thinks it looks sexy that I'm putting out all this motivation and all this hard work and encouragement. Maybe he wants to harness some of that energy."

Antonio Brown
As of publication, the Cowboys had not been credibly linked to signing Brown, who turns 34 in July.
Jones and the Cowboys would be wise to stay far away from the eccentric wideout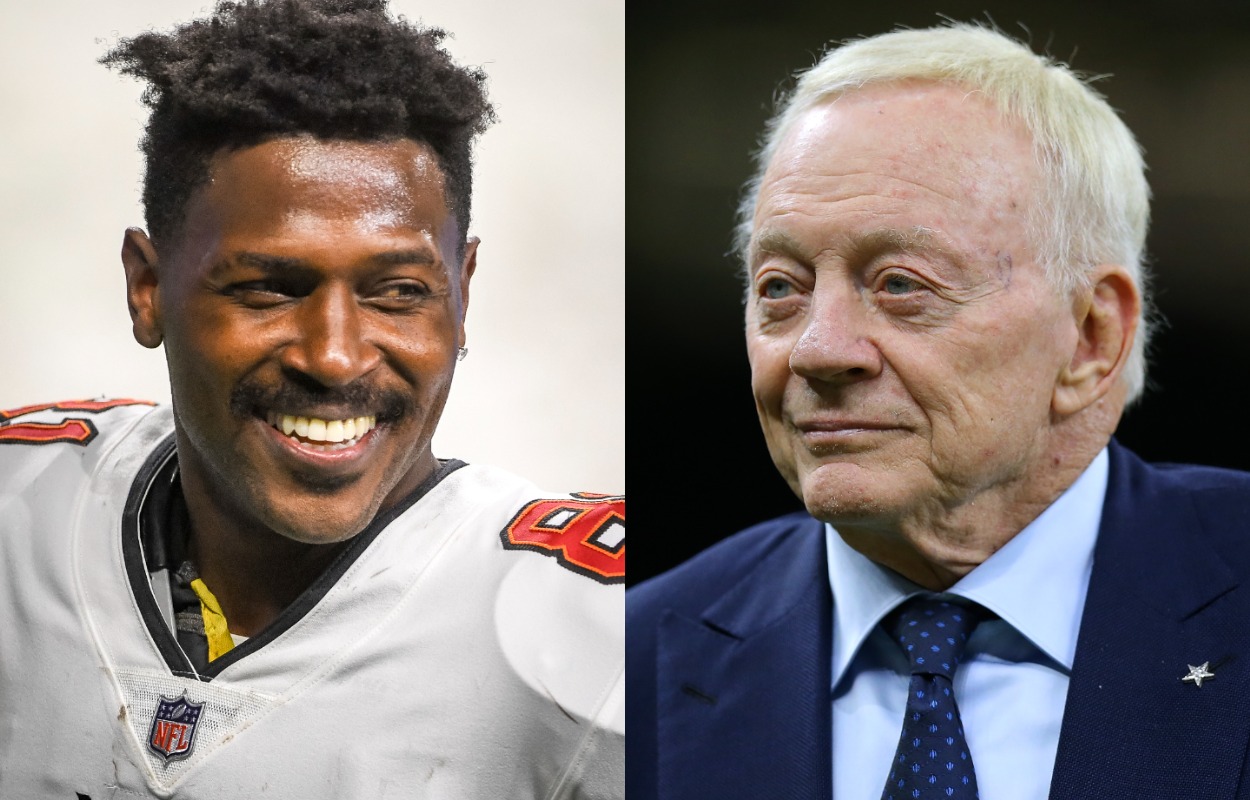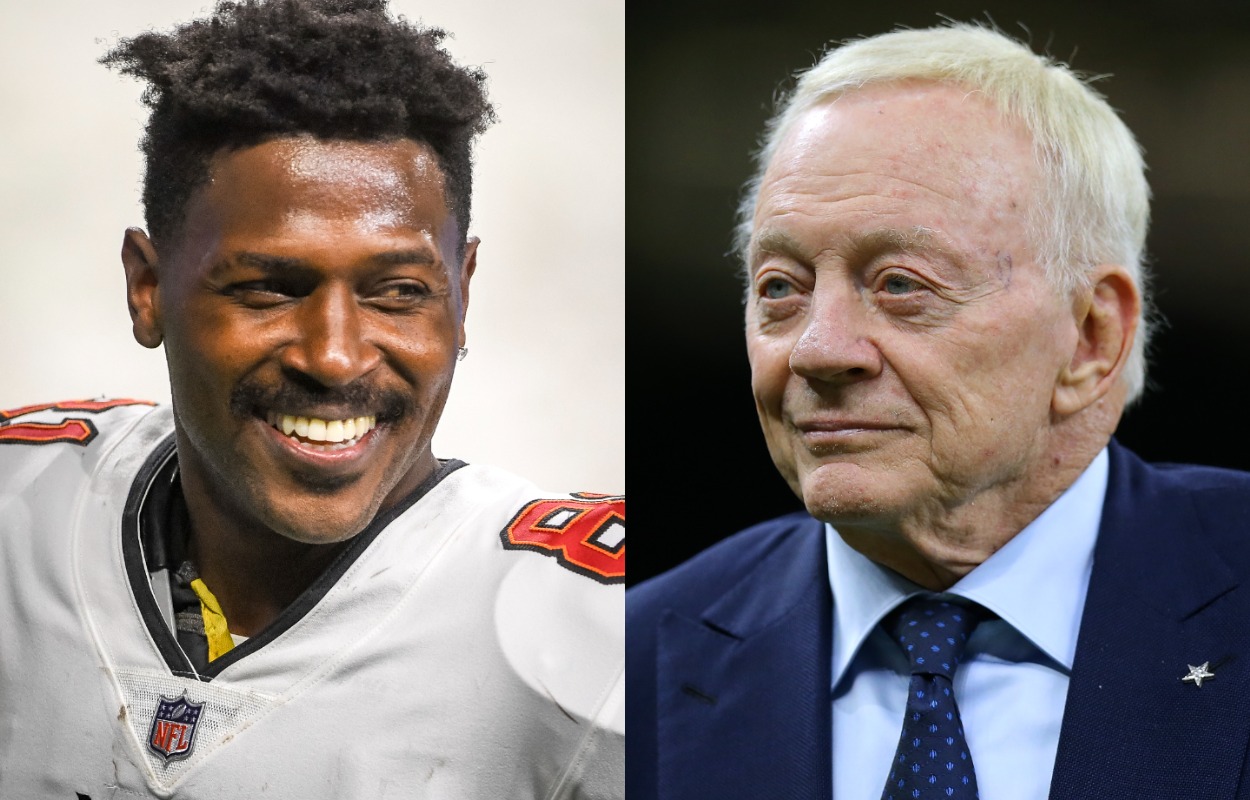 Brown is well within his rights to want to play for the Cowboys. Who wouldn't want to suit up for America's Team and play in front of 93,000 people before falling short of reaching the NFC Championship Game?
However, that doesn't mean the Cowboys should want to sign Brown. In fact, they'd be wise to stay far away from the veteran receiver.
Whether or not Brown is still capable of contributing isn't the problem, especially after he hauled in 42 catches for 545 yards and four touchdowns in seven games and three starts last year; that's a 102-reception, 1,324-yard, 10-touchdown pace in a 17-game season. Every team, especially a contender like the Cowboys, would want a receiver capable of posting those numbers.
But do the Cowboys really want to sign Brown, who has a history of selfishness and toxic behavior? He's not a player with one black mark on his resume. This is a player who, if not for his considerable talent, might have been out of the NFL far earlier than his 2020 arrival in Tampa Bay.
The Cowboys don't need a me-first player like Brown right now, not when the franchise is rapidly closing in on 30 years without reaching the NFC title game.
Which team, if there is one, will be the one that bites the bullet and signs Brown?
At this point, it almost feels inevitable that a team will sign Brown. Who cares about the history of bad behavior when he's capable of beating a defense and scoring long touchdowns?
The Cowboys should say no, and the Ravens appear likely to stay away. He's almost certainly considered persona non grata for the Buccaneers, Las Vegas Raiders, New England Patriots, and Pittsburgh Steelers.
Objectively speaking, the Denver Broncos make sense as a contender who could benefit from using Brown as a rotational receiver the way the Buccaneers did. The problem is that if the Central Michigan product eventually soured on Tom Brady, how long will it take him to get frustrated and lash out at Russell Wilson? The same premise applies to the Green Bay Packers and Aaron Rodgers.
But, knowing Jones and his desire to win, maybe we shouldn't be surprised when he introduces Brown at The Star. Then again, we also shouldn't be surprised when Brown has a meltdown and quits on the Cowboys in early October.
Like Sportscasting on Facebook. Follow us on Twitter @sportscasting19.