Antonio Brown Praises Bill Belichick, Says Time With the Patriots Was the 'Best Experience of My Life'
After plenty of self-imposed turmoil during his career, Antonio Brown is fortunate to have found himself in a great spot. He's the third wide receiver on a defending Super Bowl champion after spending most of his career being the number one option. He also happens to have Tom Brady throwing to him, which is something any receiver would be jealous of. Brown may be with the Tampa Bay Buccaneers currently, but he's played for a few other teams during his controversial career. In fact, Antonio Brown recently said that his time playing for Bill Belichick was the "best" of his life, although it was short-lived. 
Antonio Brown took an odd route to Tampa Bay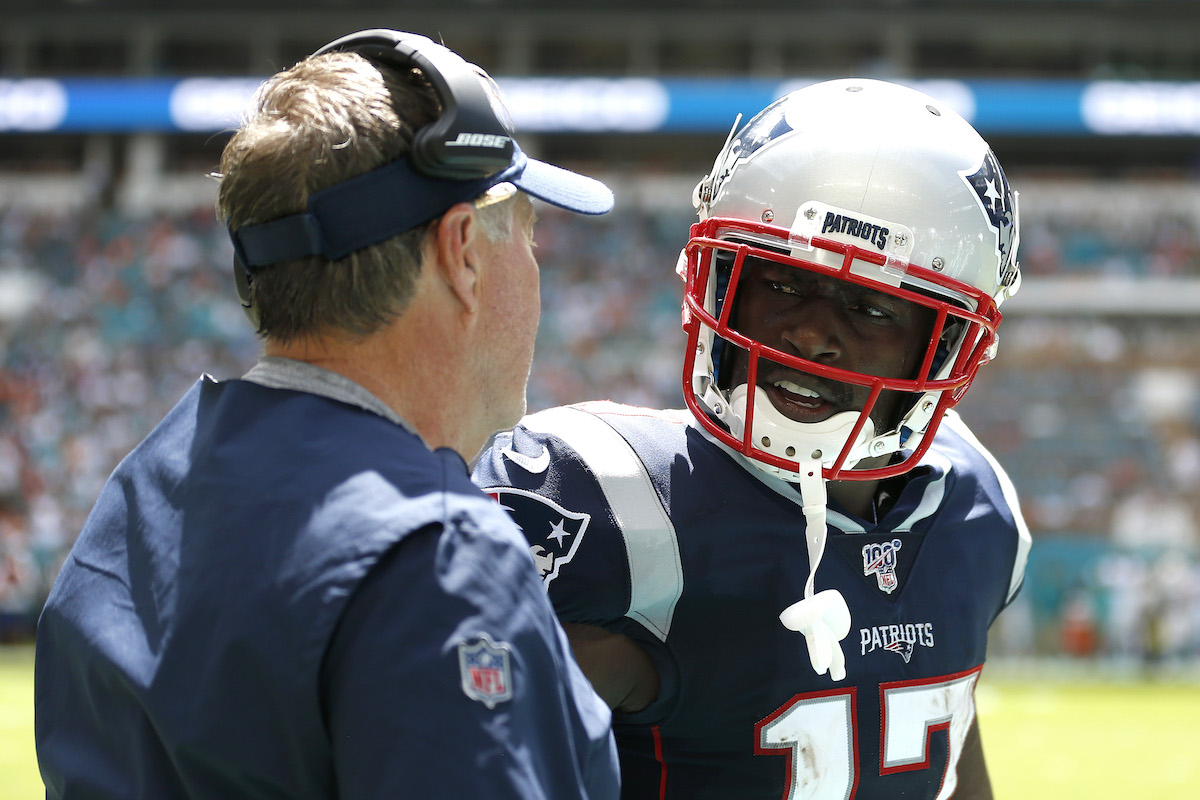 Following a stellar career with the Pittsburgh Steelers, Brown forced his way out of town in 2019. After giving head coach Mike Tomlin plenty of headaches, the team traded Brown to the Oakland Raiders in the 2019 offseason. According to CBS Sports, however, his time there was short-lived.
Brown soon clashed with then-Raiders coach Jon Gruden. Brown had a number of controversial issues during the preseason that led him to ask the team for his release. They did, essentially admitting that what they'd given up for Brown in a trade went to waste.
After that debacle, the New England Patriots picked up Brown. He played exactly one game for them against the Miami Dolphins during Week 2 of the 2019 NFL season. He and Brady were in sync to the tune of four catches, 56 yards, and a touchdown. 
That union would be short-lived though, as Brown's off-field behavior (including an allegation of sexual assault, among other heinous accusations) led the team to cut him before the next game.  After serving a suspension, Brown went to the Bucs the following season and helped Brady win his seventh Super Bowl ring. 
Antonio Brown has nothing but good things to say about Bill Belichick
Brown is likely not on good terms with some of his former teams. It's safe to say that neither the Steelers nor the Raiders will be sending him any gift baskets on his birthday. But there's one former team — or at least one former coach — he has no issue with, and that's Patriots coach Bill Belichick. 
According to Yahoo! Sports, Brown had no ill will for the Pats or Belichick following a win against his former team earlier this season. He was highly complimentary of the man many regard as the best coach in the history of the sport: 
"Bill Belichick [is] one of the best coaches, preparing the players on the field and off the field with discipline."

Antonio Brown
Brown also talked about Belichick's dedication to preparing. He added, "I remember walking these same hallways to walk around the building to go to practice, and it was amazing being a player and playing with him, just to see the preparation and the details that he goes over to make sure his team's prepared. And being able to talk to him after the game was an honor."
He also called his time there the "best experience of my life." Which is really saying something, because Brown finds himself in a perfect situation right now.
How has Antonio Brown performed with the Tampa Bay Buccaneers so far?
As noted above, Brown is in a perfect spot in Tampa Bay. He's playing with a future Hall of Fame quarterback. He also has two other wide receivers in Mike Evans and Chris Godwin, who play at a high level, allowing him to almost never see double teams. 
According to Pro Football Reference, Brown has been productive for Tampa. Last season in only eight games he had 45 catches. This year, he has 29 catches through five games.
Brown may have had better numbers earlier in his career, but consider that he's much older now. He has less of a load to carry for the team, and he fits into that role nicely.
RELATED: How Fast Is Antonio Brown?