Antonio Brown Says He's Already Turned Down an Alleged USFL Offer: 'I Played Football at the Highest'
Article Highlights:
Former Tampa Bay Buccaneers receiver Antonio Brown has no intentions of playing in the USFL
The drama-prone wideout said former Pittsburgh Steelers offensive coordinator Todd Haley offered him a roster spot on one of the USFL's teams
Don't expect to see Brown play in the NFL, or any league, anytime soon
Seeing as Antonio Brown is no longer employed by the Tampa Bay Buccaneers, football fans should expect to see plenty of tweets and articles linking the mercurial wideout to the United States Football League in the coming months.
Brown, for his part, wants nothing to do with the new professional football league, even if it's his only chance at continuing what has been an iconic (for so many different reasons) career.
Antonio Brown says he turned down an offer to play in the USFL
There exists a genuine possibility that the final image of Brown as an NFL player will be that of him removing his jersey, jumping in the MetLife Stadium endzone, and leaving his Buccaneers teammates behind.
As for the final image of Brown as a professional football player, that remains to be seen. Theoretically, the four-time first-team All-Pro selection could sign with a team in Canada or an independent league, such as the USFL, if interest existed on both sides.
At least for now, Brown has zero interest in suiting up for the USFL, which is slated to start play on April 16. On the Jan. 7 edition of the Full Send Podcast, the free agent said Todd Haley, his former offensive coordinator who will serve as the Tampa Bay Bandits' head coach, offered him a roster spot.
Brown, who called Haley a profane name, explained why he didn't want to join the USFL.
"F— outta here. Bro, listen, I'm Antonio Brown, bro. I played football at the highest [level]. You just asked me for a sorry-ass club to play in the Arena League."

Antonio Brown
As of publication, neither Haley nor the USFL had confirmed if they reached out to Brown. The league will reportedly hold its inaugural draft in February and begin training camp in early March.
The USFL was right to go after Brown, assuming Haley actually offered the wideout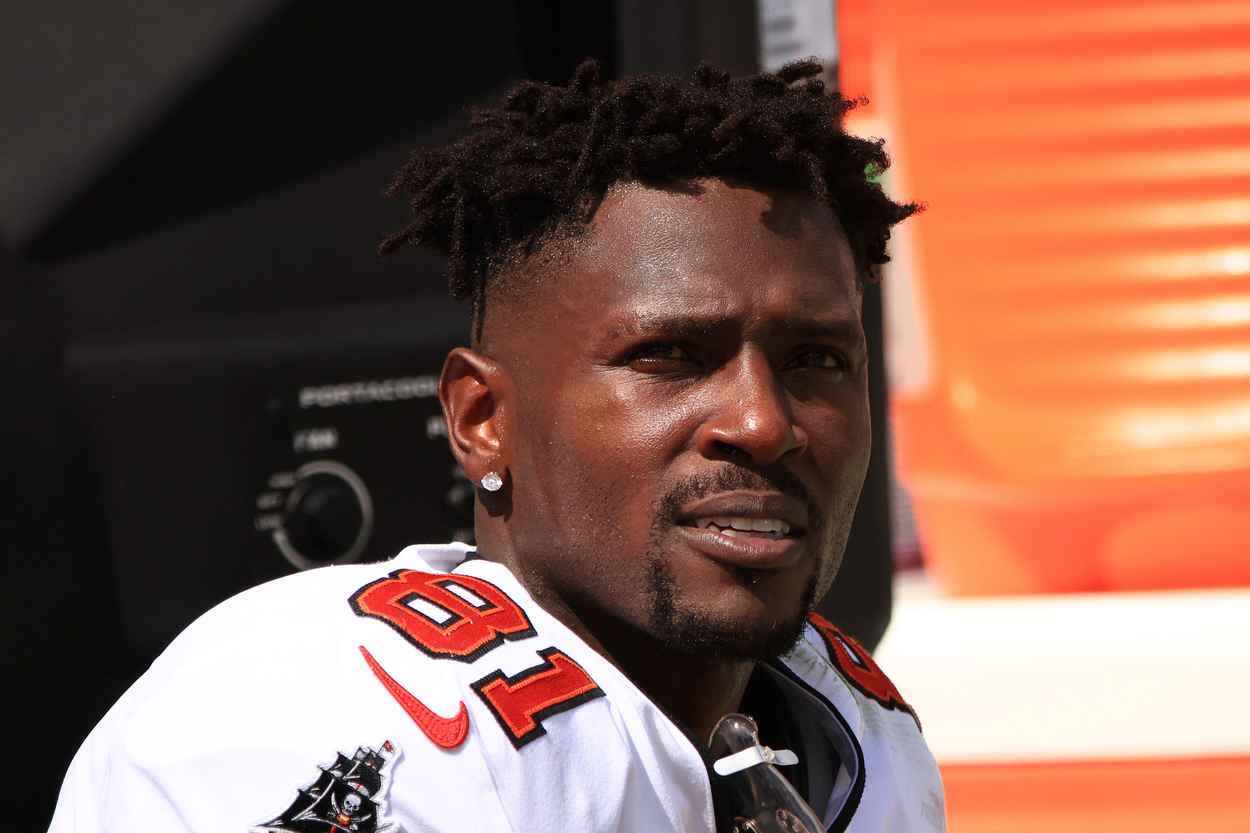 Let's assume, as dangerous as that is, that Haley truly offered Brown a roster spot. The USFL is yet to publicly hold its draft or sign any players, especially not a tantrum-prone receiver with a history of behavioral problems and legal issues.
However, if the USFL did consider signing Brown, the league would have the right idea. Well, somewhat. We're not encouraging the USFL to actively look for players with lengthy rap sheets or who have been prone to disaster and drama the way the Central Michigan product has over the last few years.
The greater point is that for the USFL to survive, it needs players with an established following and a proven NFL resume. As appealing as the idea of spring football sounds at first, let's not pretend the idea of watching a game featuring only a small handful of players who have seen the field in NFL games is guaranteed to bring eyeballs.
Independent leagues, at least in football and basketball, need a few former stars who can still play at a high level, especially on offense. A USFL game featuring Cam Newton starting at quarterback suddenly sounds more intriguing than the likes of Christian Hackenberg and Josh Johnson, a reality the AAF and XFL each realized. 
If the USFL can get its hands on someone like Brown or Adrian Peterson, there is a far better chance people will watch to see what those older — and still relatively productive, at least in Brown's case —- players will do against supposed inferior competition. Of course, that's assuming (again, dangerous) those NFL greats want to play in the new league.
However, based on his cavalier attitude here, something tells us Brown won't be on the USFL's shortlist moving forward.
Don't expect to see Brown back in the NFL anytime soon, even after a solid 2021 season
Before his walkoff, Brown proved he could still play with the best of them even in his mid-30s. The Super Bowl 55 champion hauled in 42 catches for 545 yards and four touchdowns in seven games and three starts; that's a 102-reception, 1,324-yard, 10-touchdown pace in a 17-game season. Brown might have earned first-team All-Pro honors with those numbers.
Unfortunately for Brown, his days of earning bonuses based on catches and postseason honors are likely over. Given his multi-day meltdown, it's hard to see any team ignoring the risk and signing him within the next year. If he couldn't make it work with Tom Brady, who can he make it work with over an extended period?
Ravens quarterback Lamar Jackson reportedly wanted his team to sign Brown in 2020. If Baltimore didn't want him then, what makes anyone think they'll consider signing him now?
The reality is that Brown, for a multitude of reasons, has taken it upon himself to considerably impact his NFL future again. And, for whatever it's worth, he likely ended any hopes of a USFL career before it even began.
Like Sportscasting on Facebook. Follow us on Twitter @sportscasting19.