Antonio Brown's $6.6 Million Mansion Includes Its Own Synagogue
Antonio Brown rejoined the NFL after experiencing a turbulent 2019 season that left him jobless right after a short stint with the Patriots. Despite having limited time to master the Bucs playbook during the offseason and being brought back to the team in the middle of the year, Brown delivered spectacularly and played a central role leading the Tampa Bay Buccaneers to the Super Bowl. While Brown was not the most celebrated signing by the Bucs, given his off-field scandals, his chemistry with quarterback Tom Brady can't be ignored. Naturally, fans are curious about his current living situation — and evidently, a mansion that he owns includes its own synagogue.
What is Antonio Brown's net worth?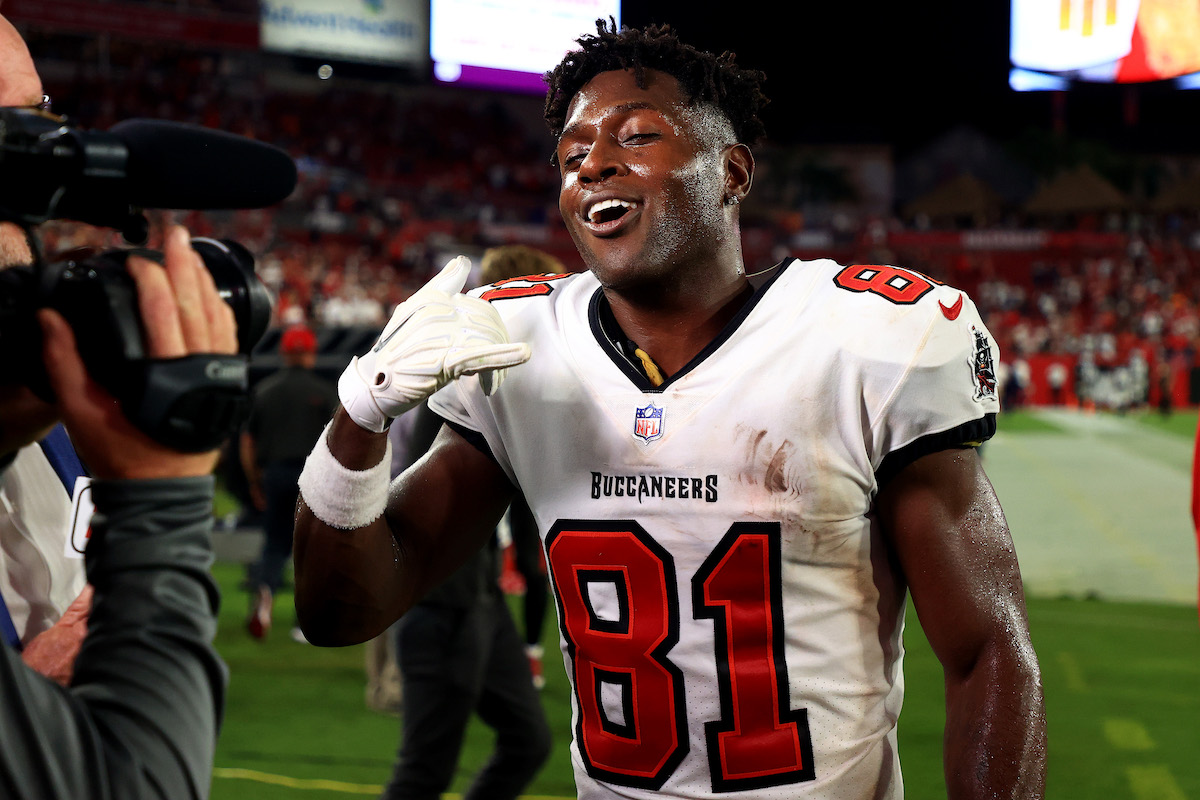 Since joining the NFL in 2010 as a sixth-round pick, Brown has time and again made a name for himself amongst the best players with amazing records. Everything seemed to be running smoothly for the former New England Patriots star until September 2019, when sexual assault charges were filed against him by his former trainer. Ultimately, the negative press prompted the New England Patriots sever ties with him.
After being released from the Patriots, Brown signed a new one-year contract with the Tampa Bay Buccaneers worth $1,666,667. This contract earns him a base salary of $1 million, including performance incentives to the tune of $1.5 million and active game bonuses. He then re-signed with the Bucs for another one-year deal, but this time it's worth up to $6.25 million — $3.1 million of which is fully guaranteed, including a $2 million signing bonus.
Celebrity Net Worth highlights that as of 2021, Antonio Brown's net worth stands at approximately $20 million. Given how long he has been in the NFL and how much he has accumulated as salary, even with the financial penalties, his net worth is on the lower side.
Antonio Brown's $6.6 million mansion includes its own synagogue
According to the New York Post, Antonio Brown's $6.6 million house in 3600 Estate Oak Circle looks like it was taken straight out of the Scarface movie. The house covers a massive 18,000 square feet. It has 12 bedrooms and 14 bathrooms, and it is fitted with gold paneling in almost every room. The house has a custom-made outdoor kitchen, a sprawling salt water pool, and a wet bar.
The mansion is one of a kind, with custom doors and ceilings, world-class finishes, and Italian marble floors. In addition to having a private movie theatre, Antonio Brown's mansion also has a synagogue. And no, Brown is not Jewish.
Speaking to Complex Magazine about the situation, he had this to say, "I got a lot of Jewish friends, and a synagogue is where you bless up." While he may have some Jewish friends, Brown originally purchased the house from Israeli-born real estate developer, Yizhak, back in 2016.
Brown lived with Tom Brady at one point
For a while during his short stay on the Patriots, Brown moved in with Tom Brady. The NFL star is reportedly once again living in the same space as Brady in Tampa Bay. While in New England, Brady welcomed Brown to his home to settle in while he found his way in a new city.
When the news initially got a lot of media attention, Brady downplayed the situation, saying this to CBS Boston, "Anyone is welcome to stay over at my house. I've had a lot of people over during the season and off-season. Teammates are important to me. That's part of what makes football so special, the relationships you build with the guys you play with. This year is no different."
Now that the two stars play for the same team once again, Brady has, for a second time, opened up doors for Brown, giving the same explanation. "He's just getting settled and I know he's looking for places," Brady remarked, according to a tweet.
RELATED: Bruce Arians Just Sent a Clear Message About Antonio Brown's Future With the Buccaneers