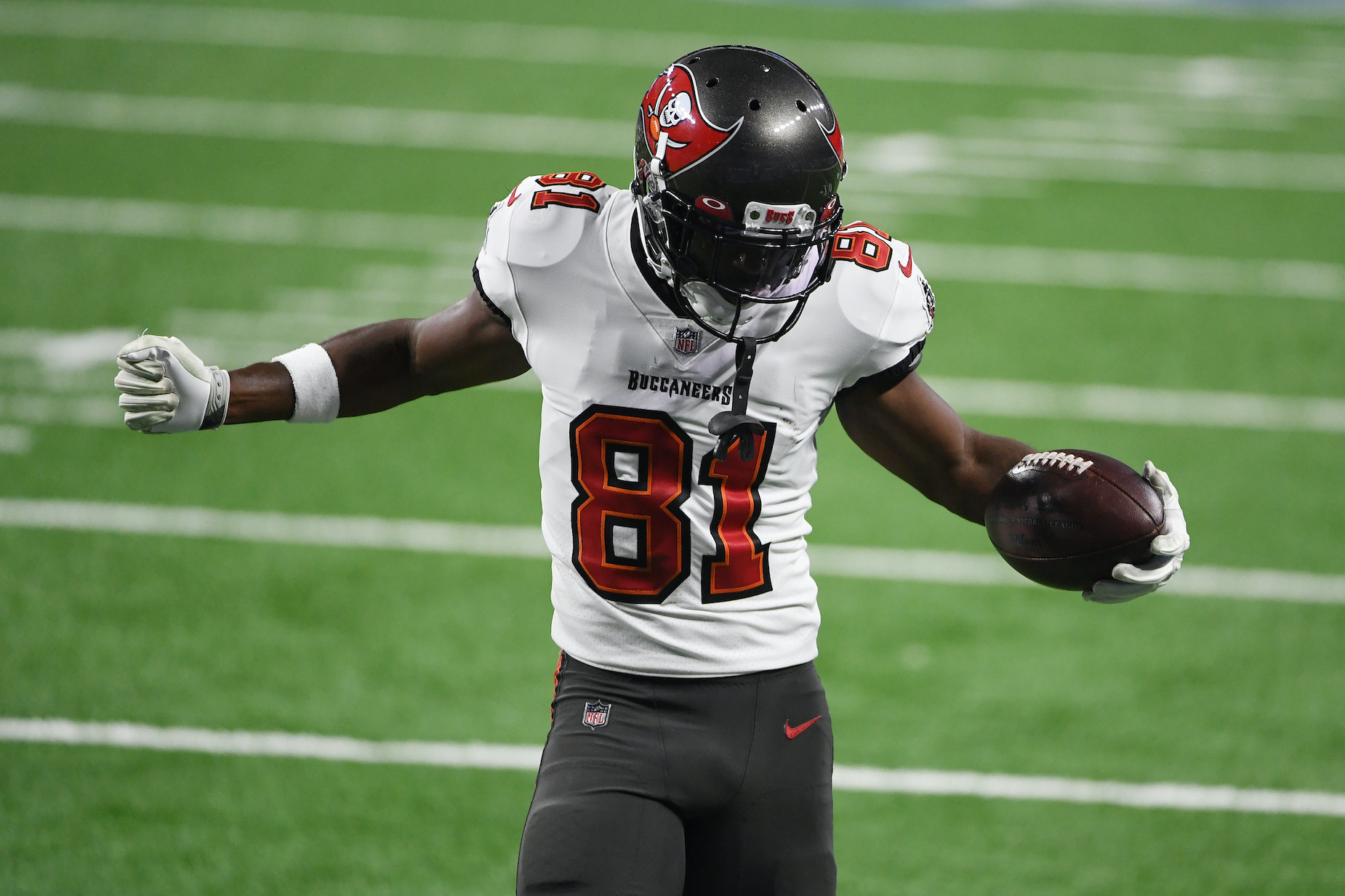 Antonio Brown's Presence at the Super Bowl is A Painful Sight for Some NFL Fans
After serving an eight-game suspension, Antonio Brown joined the Tampa Bay Buccaneers and made it to the Super Bowl. Calling it a comeback, though, can be problematic.
The world of sports is full of comeback narratives. Ahead of Super Bowl 55, Antonio Brown's presence in the big game is being framed as one of those. After a disastrous 2019 campaign, the story goes, the Tampa Bay Buccaneers receiver pulled himself together, got back on track, and earned himself a shot at the Lombardi Trophy. In reality, though, that's only part of the story.
Antonio Brown didn't crash out of the league due to injuries or personal issues. He was accused of rape, then served a suspension related to a burglary charge. That reality pokes some holes in his comeback narrative and makes the receiver's presence at the Super Bowl a painful sight for some NFL fans.
Antonio Brown was accused of rape during a dramatic fall from grace
During his time with the Pittsburgh Steelers, Antonio Brown proved to be an incredibly talented, if somewhat disruptive wide receiver. During the 2019 NFL season, though, he took things to the next level.
After joining the Oakland Raiders via a trade, AB turned out to be nothing but a problem. He showed up to camp with frostbitten feet; he then threatened to retire over helmet-related issues. The receiver then ended up clashing with GM Mike Mayock and was cut from the team before playing a single game.
Brown then joined the New England Patriots, teaming up with Tom Brady. His time in Foxborough only lasted one game.
As reported by the New York Times, a woman who worked as the receivers trainer accused him of sexual assault and rape. After those allegations went public, Brown also sent the woman "intimidating text messages," according to SI.com.
While those text messages prompted the Patriots to cut Brown, the receiver's downward spiral didn't stop there. According to an NFL.com story from July 2020, he pleaded no contest "to burglary and battery charges;" that, combined with the intimidating texts, earned him an eight-game suspension.
Joining the Tampa Bay Buccaneers and reaching the Super Bowl
Despite whispers of retirement, Antonio Brown didn't call it a career. He served that eight-game suspension and then hit the field for the Tampa Bay Buccaneers.
During his time with the Buccaneers, Brown has been portrayed as somewhat of a model citizen. After joining the team, the receiver moved in with Tom Brady in an attempt to stay on the straight and narrow; he's also received plenty of praise from Bruce Arians, despite the coach's previous comments that there was no room in the locker room for Brown.
That narrative continued ahead of the Super Bowl during Brown's media availability. As explained by Michael Rosenberg of SI.com, the receiver's quotes sounded like someone who had overcome a serious injury or a bad break, not someone who had self-destructed and been accused of some serious crimes.
"I want my legacy to be a guy that was persistent, a guy that never gave up, no matter the odds, no matter the hate," Brown explained. "A sixth-round kid from Central Michigan that never gave up. A guy who had the will of a champion."
Antonio Brown's presence at the Super Bowl doesn't sit well with everyone
In the week leading up to the Super Bowl, there have been some questions around Antonio Brown's ability to play in the Super Bowl due to a nagging injury. Whether he's actually able to take the field or not, though, doesn't change the reality of the situation for some.
In a New York Times column, Kurt Streeter revisited Brown's rap sheet and his presence at the Super Bowl. In the piece, he quotes multiple women who take issue with the receiver's presence on football's biggest stage.
"I won't be watching the Super Bowl this year," Brenda Tracy, "who describes herself as the survivor of a 1998 gang rape by a group of men that included two Oregon State football players," explained. "With Antonio Brown out there, it's just too much."
Mindy Murphy, who runs "the largest shelter serving domestic violence survivors in Hillsborough County," shared similar sentiments.
Seeing Brown chase a Super Bowl ring is a "disservice to what survivors have experienced," she said. "When a team in the N.F.L. says, 'We are going to hire him, and he deserves a second chance,' or they say, 'We don't know for sure what's happened, because it happened behind closed doors,' they reinforce the idea that it's not a good idea to speak up.

Kurt Streeter, New York Times
Heading into the Super Bowl, the easy narrative is that Antonio Brown has 'come back' from his issues and is on the brink of football immortality. Every story, though, has two sides. On-field success shouldn't erase what happens outside the white lines.
How to get help: In the U.S., contact the Substance Abuse and Mental Health Services Administration helpline at 1-800-662-4357.