Antonio Brown's Recent in-Game Antics Elicited a Vulgar Response From Buccaneers HC Bruce Arians
Antonio Brown's recent in-game temper tantrum against the New York Jets was one of the oddest occurrences in NFL history. The league has never seen a player strip down and dance his way off the field in celebration. It was all incredibly strange, and it brought a lot of unwanted attention to the Tampa Bay Buccaneers as they gear up for another deep playoff run.
While many were quick to write off Brown's antics as him simply being immature, the since-released wide receiver had another side to the story. He claims the blame belongs on Buccaneers head coach Bruce Arians.
Antonio Brown says Bruce Arians tried to make him play injured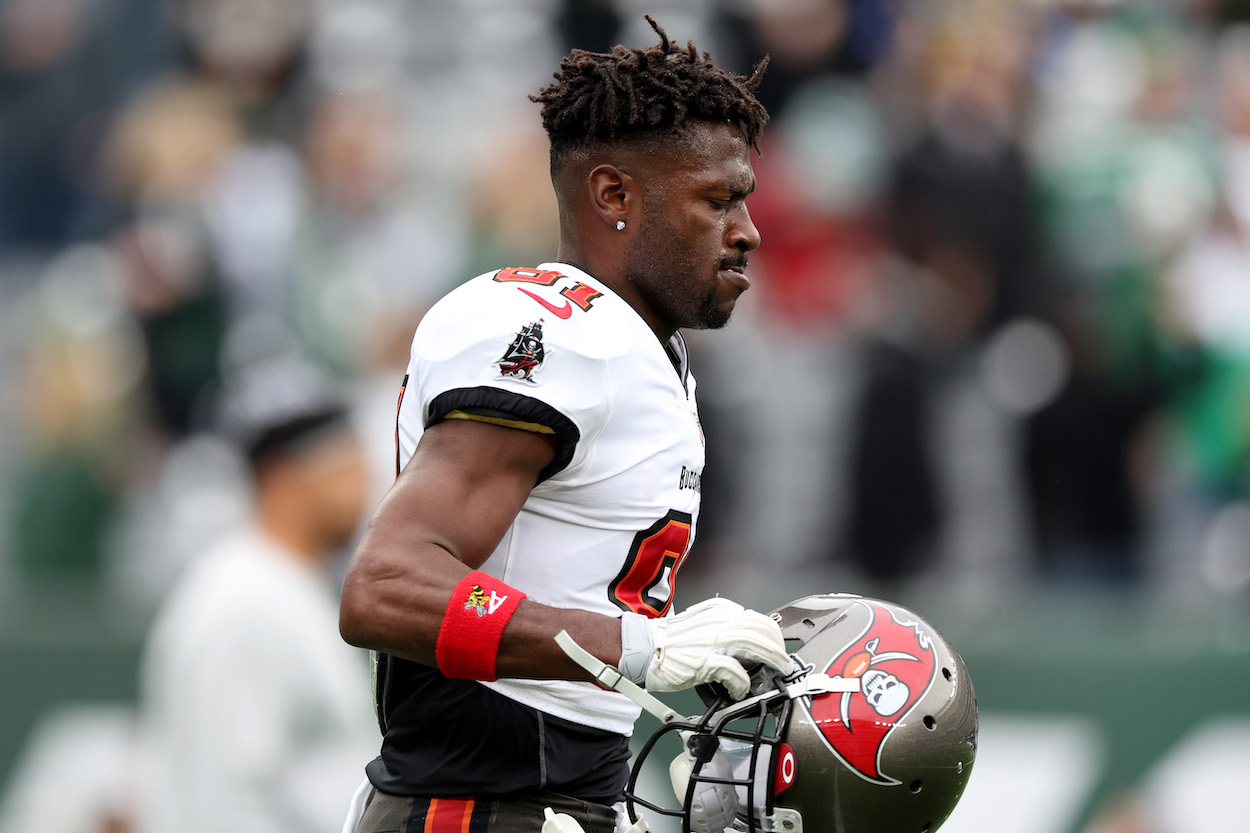 Following his departure from the Buccaneers on Sunday, Brown began going into damage control mode. Through a string of screenshotted messages and social media posts, he made the overarching claim that he was severely injured heading into the Buccaneers' Week 17 game and unable to play.
Brown claims Arians attempted to force him to play through the pain, leading to his impromptu exit from the field.
Obviously, speculation has already started running rampant regarding the logic behind this explanation. Not only were there no pre-game reports detailing a potential Brown injury, but he also danced off the field in a normal-looking manner. It's hard to imagine someone in intense pain would've looked so happy jumping around.
Regardless, the truth behind AB's exit will be revealed eventually. Whether or not the NFLPA gets involved is yet to be decided. However, Arians' offered his side of the story during a recent media appearance, detailing the events leading to Brown's exit.
Buccaneers HC Bruce Arians told AB to 'get the f*** out of here'
Appearing in front of the media to discuss Brown's Thursday release, Arians gave a detailed explanation as to what took place between him and the former Buccaneers WR.
Arians claims AB was upset about a lack of targets during the first half. Bucs teammates were initially able to calm him down on the sideline. However, the frustration boiled over as the game progressed. Arians attempted to sub Brown in at one point, and the veteran WR aggressively refused.
Clearly, Arians wasn't in the mood to deal with drama, as he promptly kicked AB out of the game, telling him to "get the f*** out of here."
According to Arians, this comment is what ultimately led to Brown stripping off his gear and dancing his way to the parking lot.
What next for Antonio Brown and the Buccaneers?
For Brown, this is likely the end of his NFL career. He's technically a free agent and free to sign with the team of his choosing. However, it's hard to imagine a team willing to take a chance on him after this recent saga. Tampa Bay felt like his last shot at an extended career in football.
For the Buccaneers, they will have to find a way to replace AB's production. For as chaotic as he was at times, he was still a big piece of their offense, especially after Chris Godwin's season-ending injury.
Don't be surprised when Rob Gronkowski and Mike Evans start carrying some serious weight for the Bucs' offense moving forward.
Like Sportscasting on Facebook. Follow us on Twitter @sportscasting19.