Antonio Brown's Walkoff Must Force Tom Brady to Accept a Frustrating Truth
Tom Brady and the Tampa Bay Buccaneers had an Antonio Brown problem they weren't willing to address. If that wasn't evident before, it became crystal clear when Brown ripped off his gear and ran across the field to the locker room mid-game in Tampa's Week 17 clash with the New York Jets.
You read that right. It actually happened. There's video of it. It was something to behold. It also signaled the end of Brown's time with Tampa.
In the past, Brady had been more than happy to go to bat for Brown, and the Buccaneers had clearly enjoyed his immense talent as a wide receiver. With that said, it's about time for the GOAT to sit down, take a deep breath, and realize what has to be a very frustrating truth.
He can't save AB's career anymore.
Tom Brady and the Tampa Bay Buccaneers had embraced Antonio Brown for a reason
The harsh reality about the NFL is that teams are usually more than willing to look the other way in regards to off-field issues if a player is talented enough. Sure, there are a ton of standup citizens in the NFL that you'd be proud to have on your favorite team. There are also a ton of not-so-great citizens in the league as well, though.
They're tolerated, if not straight up accepted, embraced, and celebrated, because they have a skill set that 99% of the rest of the population doesn't. They also get paid handsomely for that skill set.
That appeared to be the mindset Brady and the Buccaneers had taken with Brown during his time in Tampa. At least it seemed that way from the outside looking in. 
Brady and the Bucs knew Brown had off-field issues. They knew he had a questionable history as a teammate and could become a major distraction in the locker room. Heck, he jumped from the Steelers to the Raiders to the Patriots like a hot potato in one season for a reason.
They knew who they were getting in Brown, but they also knew what they were getting. If you could see through the drama, there was an elite wide receiver staring back at you.
That drama reached its boiling point in Week 17.
Bruce Arians and the Buccaneers are no longer willing to deal with Brown
The talent Brown brought to the field for the Buccaneers was undeniable, and he was a major reason why Tampa made and won the Super Bowl last season. He developed chemistry with Brady and found a way to fit into Arians' offense.
He was so crucial to the Buccaneers that Arians even backed down from a "zero-tolerance" policy he had in place for the bombastic wide receiver. The NFL recently suspended Brown for three games for faking a COVID-19 vaccination card. He was welcomed back to the Buccaneers with open arms after the suspension, though, and Arians felt no need to defend his hypocrisy.
"I could give a s*** what [people] think," he said. "The only thing I care about is this football team and what's best for us."
The incident against the Jets apparently led Arians and the Buccaneers to their breaking point with Brown. The 28-24 win wasn't enough to lift Arians' mood as it related to the wide receiver that he once bent over backward for.
After the game, Arians announced that Brown is no longer a member of the team.
It's time for Brady to realize a frustrating truth about AB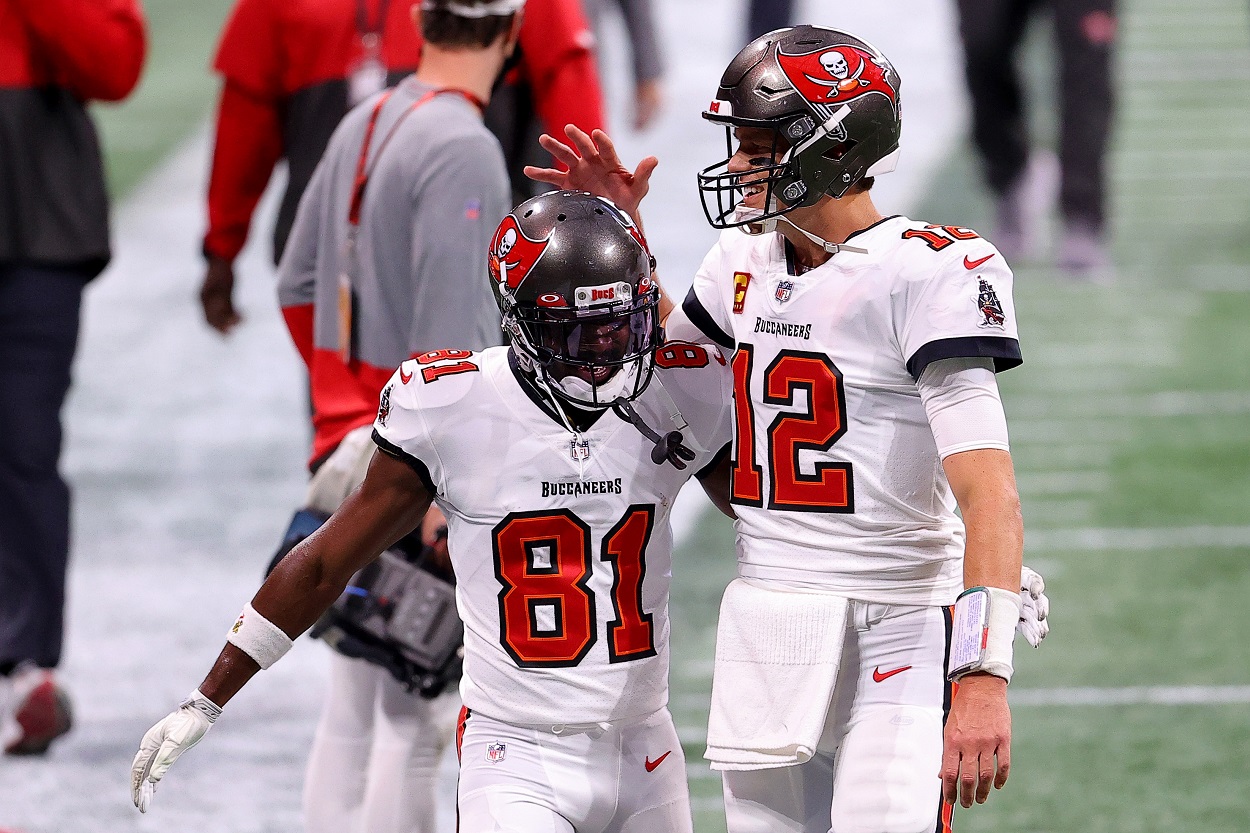 Brady has been a major advocate for Brown ever since the wide receiver forced his way out of Pittsburgh and then Oakland. In fact, he may have been the only advocate for Brown.
A day after the Raiders released Brown, Bill Belichick and the Patriots, who were still "together" with Brady at the time, picked him up off the scrap heap. The idea was that AB could thrive under the leadership of Belichick and in the championship system that he and Brady had painstakingly built over the years. Brown lasted with the Patriots for all of 11 days. He played in one game, catching a touchdown pass from Brady, but was released as allegations of sexual misconduct were brought up against him. 
When Brady chose Tampa Bay in free agency, it wasn't long before the Buccaneers signed Brown. In their short stint together in New England, the two had clearly developed some kind of chemistry, and they were close enough that AB even lived with Brady before he got his own place down in Florida. Brown was almost like a rehab project for Brady. Like an old house with a ton of potential that other people didn't see. Heck, Brady even had Brown using the TB12 system and eating like him as well.
It worked for a while. It even helped Brady another Super Bowl ring, the seventh of his carer.
The thing about people is that they rarely change, though. Zebras don't change their stripes, and neither do people. You can put them in a different location, throw them in a different jersey, and even have them eat differently, but eventually, they are going to be who they truly are.
And who is Brown, truly? He's the guy who ripped his equipment off mid-game as his offense was driving down the field. He's the guy who flashed a peace sign to the fans as he ran to the tunnel, and he's the guy who's ultimately going to have to say peace-out to his NFL career.
They'll forgive you for many things in the NFL, but walking out on your teammates, literally, is something Brown will not be able to come back from.
After the game, the legendary quarterback said that it was obviously a difficult situation, but he still backed Brown as a person.
"We all love him and care about him deeply," Brady said. "I think everyone should be compassionate and empathetic toward some very difficult things."
Good on Brady for being a decent human being and sticking up for someone who has clearly become his friend. With that said, even Brady won't be able to rehab AB's image after this incident, try as hard as he may.
Stats courtesy of ESPN and Pro Football Reference.