Aqib Talib's Unconventional Broadcasting Style Has Earned Him a Fan in Gus Johnson: 'I Think Right Now He's Perfect for Me'
Football fans watched Pro Bowl cornerback Aqib Talib torment their team's offense for years. Now they get to spend Sundays watching the Kansas product do something just a bit different.
Last year, Talib joined Fox Sports as an NFL commentator and quickly went viral for a loud and unconventional style. That is good news for Fox announcer Gus Johnson, who will work alongside the standout defensive back on broadcasts this season.
Gus Johnson is a fan of Aqib Talib's unconventional broadcasting style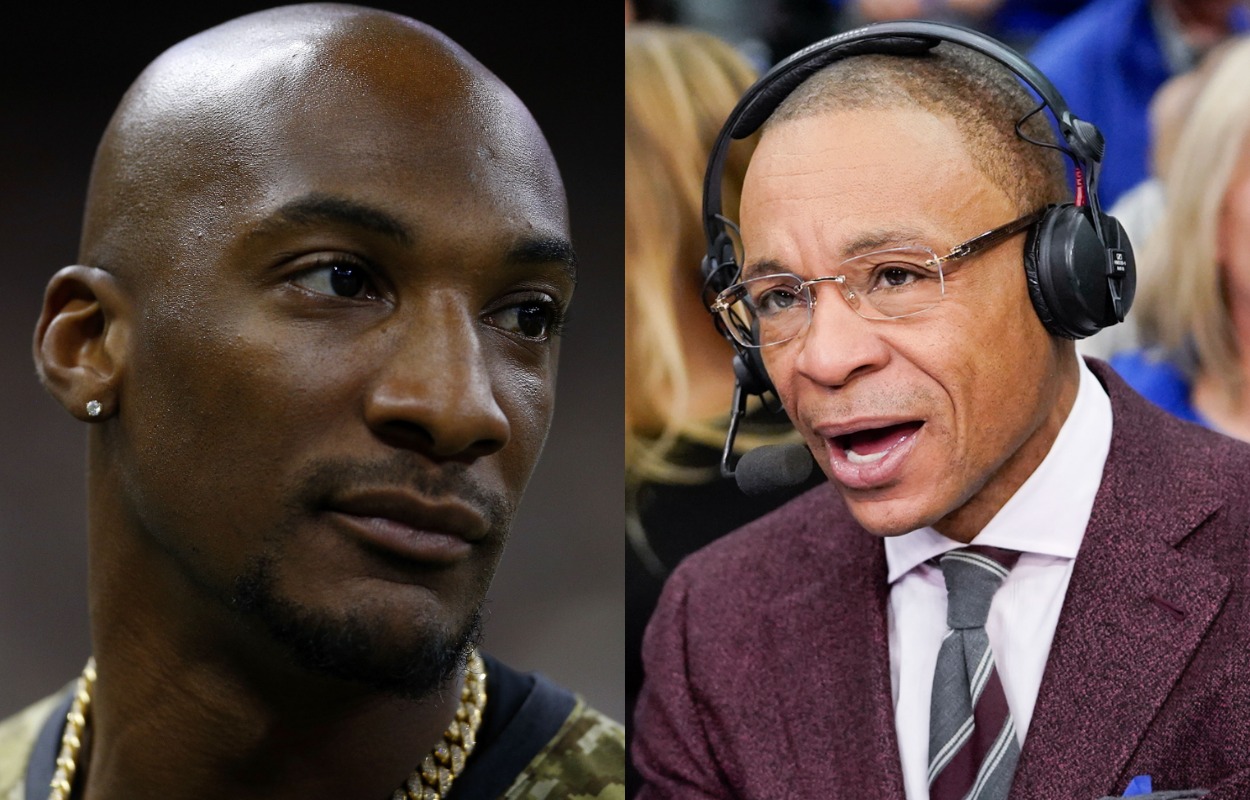 The majority of traditional sports broadcasts follow an identical premise. There's a play-by-play voice, one or two color commentators who are usually ex-players, and often a sideline reporter or analyst who provides injury updates and insightful nuggets.
Talib, who turned 35 earlier this year, certainly stands out compared to most other NFL television voices when he joined Fox in 2020. He brought a conversational and informal way of speaking to the booth, which many regarded as a welcome change.
Others, however, weren't too pleased with Talib's yelling or colorful way of analyzing a play. Luckily for the five-time Pro Bowl cornerback, his new partner doesn't want too much to change this fall.
In an interview with The Athletic, Johnson said he's a fan of Talib's work and what he brings to the broadcast. However, the veteran play-by-play voice is also working on mentoring his teammate and improving the way he communicates.
"We've already started talking about some of the things that he can work on when it comes to diction and all that stuff. But I don't specifically want to change him at all because I think right now he's perfect for me and for us at Fox."

Gus Johnson
Johnson and Talib did not call a game in Week 1. The duo, along with sideline reporter Megan Olivi, will work a Week 2 matchup between the Arizona Cardinals and Minnesota Vikings on Sunday, Sept. 19.
Talib's colorful commentary could carry him a long way in the broadcasting business
Anyone who's watched Tony Romo call an NFL game on CBS and rave about his enthusiasm knows how much broadcasts are changing. There is more room for loud expressions and, as viewers are quickly noticing, more references to gambling.
A decade ago, someone like Talib likely would not have lasted long on national TV broadcasts. He's loud and unfiltered, traits that can be divisive depending on the water. Older fans may prefer a more standard broadcast featuring familiar voices like Al Michaels and Cris Collinsworth.
The rise of social media allowed Talib to go viral at points last year. He analyzed plays with the football knowledge of a Pro Bowl cornerback and talked openly about what he had on his mind in a way he felt comfortable doing.
When he spoke with The Athletic, Talib said he wants to clean up his "lingo" and how he expresses his thoughts.
"I want to take the 'man's' and 'uh's' out of there," Talib explained. "I want to [enunciate] a little bit better, but I don't want to change who I am. When I hear myself on TV, I'm like, damn, where is my tongue at when I'm saying these "S" words. I can hear my dialect. So it's small areas that will be cleaned up."
A broadcast involving Johnson and Talib will be loud and proud
If you watch NFL games on a mobile device, we recommend using caution if you choose to use headphones rather than listen through the speakers when Johnson and Talib are on the air.
That's not a knock against either, for what it's worth. We can all agree that both, especially Johnson, tend towards being loud and forgoing inside voices when a big play occurs. It's what made Johnson so popular among football and basketball fans for years.
Both have found something that works for them, so who are we to complain? Football fans likely wouldn't tweet videos of Johnson's touchdown calls if he spoke monotonously and relied on the typical cliches. He might be loud, but he's proud of it, and he's earned a loyal fanbase as a result.
Only time will tell if Talib reaches that point, too. By the sound of things, Johnson wants to do whatever he can to make things work and keep his partner loyal and true to himself in the process.
Like Sportscasting on Facebook. Follow us on Twitter @sportscasting19.