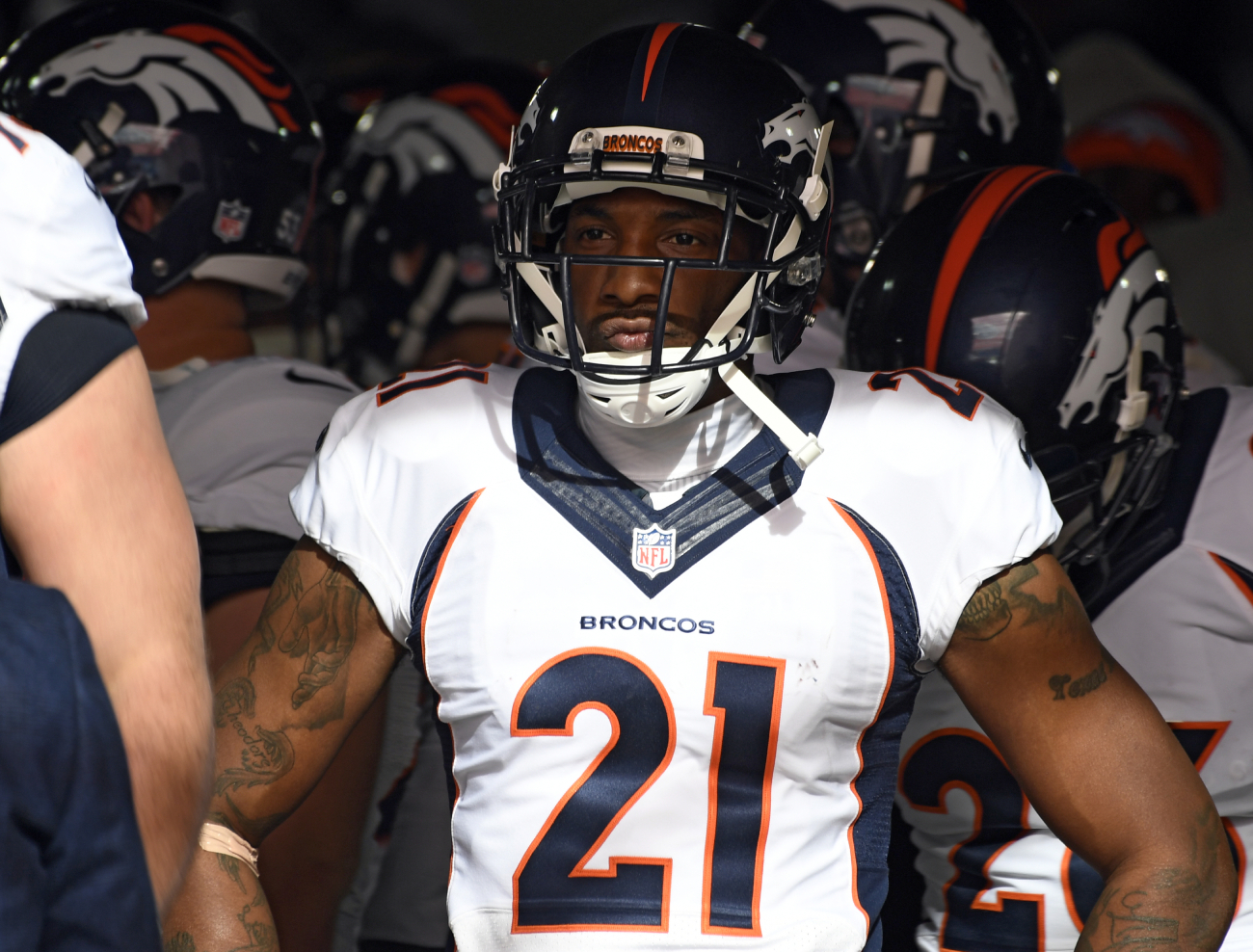 Aqib Talib's 'Little Birdie' Told Him More NFL PED Suspensions Are Coming
Former Pro-Bowl defensive back Aqib Talib said a 'little birdie' told him more NFL PED suspensions are likely to be handed down soon.
The Houston Texans were delivered a tough blow this week when leading receiver Will Fuller and top cornerback Bradley Roby were each issued six-game suspensions. The suspensions were the result of violations of the NFL's performance-enhancing drug policy. Aqib Talib, a former NFL star now in the broadcast booth, said a 'little birdie' told him there are more suspensions to come.
Aqib Talib was a five-time Pro-Bowl cornerback
Aqib Talib played his college football at Kansas before he was selected in the first round of the 2008 NFL draft. The Tampa Bay Buccaneers selected the 6-foot-1 cornerback with the 20th overall pick. Talib spent 12 years in the NFL, the first four-plus with the Bucs.
In November of 2012, Talib was traded to the New England Patriots, where he made the first of his five Pro Bowls in his only full season with the team in 2013. He played in 13 games and recorded four interceptions. In the offseason, the Denver Broncos signed Talib to a six-year deal worth $57 million.
Talib spent four seasons with the Broncos, making the Pro Bowl each season. With the Broncos, Talib finished with 11 interceptions, returning six of them for touchdowns. He finished his career with 35 interceptions and four fumble recoveries.
Talib gets a shot as a television broadcaster
Like many former NFL players, Aqib Talib made his way into the broadcast booth as a color commentator. Talib was given an opportunity at Fox in November when the network had an extra game. It was an opportunity for Talib that came without a contract. It was basically a tryout. Talib was in the booth for the Washington Football Team at Detroit Lions game.
According to The Washington Post, Talib had the same feeling prior to broadcasting as he did before a game. He got that queasy feeling in his stomach. It was an opportunity for him. "I'm trying to get me a Romo," he jokingly said, referring to former NFL player Tony Romo's reported $17 million-per-year deal with CBS.
The reviews were mixed. Some love Talib and the way he called it like it was. Others roasted him on social media. Jacob Ullman, senior vice president at Fox Sports, offered praise, calling Talib's performance "authentic." "I don't know where the next opportunity (to do a game) will be," Ullman said, according to The Washington Post. "He's certainly somebody we would consider. He will do a great job."
Talib expects more PED suspensions to be handed down soon
Last week, the Houston Texans had two key players – Will Fuller and Bradley Roby – suspended six games for violating the NFL's PED policy. Aqib Talib, who was suspended by the league in 2012 for taking Adderall without a prescription, put his media hat on once again. He said he expects more suspensions to be handed down soon.
On his Call to the Booth podcast, Talib said he was surprised to hear about the suspensions. He said Fuller and Roby put their trust in someone and it backfired. "It's not like those guys (are) out there taking steroids, trying to get advantages," Talib said. "It's just a situation where you know you're trying to take care of the body, you think you're doing the right thing, you think you got a good plug or good connection, somebody who is trying to help you take care of yourself, and he's just not being as cautious as you are because it's not him. His name isn't the one that is going to come up and be suspended."
Then Talib dropped a bomb, saying he had been told there were more suspensions likely coming. "A little birdie told me a couple more guys (are) going to come up, a couple more guys who use this dude, and there's a couple more names that are going to come up with some six-game suspensions."