Are Cowboys Stars Ezekiel Elliott and Dak Prescott Friends off the Field?
Ezekiel Elliott and Dak Prescott have become one of the NFL's best duos on the Dallas Cowboys. The two are among the best players at their positions, and they are a part of one of the most talented offenses in the league. So, since they are such popular and talented players that are on the same team, how is their relationship off the field? Are they friends when they aren't scoring touchdowns?
Dak Prescott and Ezekiel Elliott have led the Cowboys since 2016
RELATED: Cowboys Owner Jerry Jones Is Still Married to His College Sweetheart
Elliott was a top pick in the 2016 NFL draft, as the Dallas Cowboys selected him with the fourth overall pick. Prescott, on the other hand, was a steal. The Cowboys ultimately selected him in the fourth round of the draft.
The two ended up starting for the Cowboys at the very beginning of their careers and have since dominated together. In their first season in 2016, they helped lead the Cowboys to a 13-3 record and to the playoffs. They both earned Pro Bowl selections, and Elliott was a First-Team All-Pro, as he ran for an NFL-leading 1,631 rushing yards to go with 15 rushing touchdowns.
Dallas struggled in 2017, as Elliott only played in 10 games, but they were excellent again in 2018. The Cowboys went 10-6 and won a playoff game that year, and both Prescott and Elliott earned Pro Bowl selections again. Elliott also led the NFL in rushing yards again that year with 1,434.
The Cowboys then only went 8-8 in 2019, but Prescott and Elliott played great again. Elliott earned a Pro Bowl selection, and Prescott had the best season of his career. He ultimately threw for career-highs in both passing yards with 4,902, and touchdowns with 30.
They met each other at the NFL combine
RELATED: Dak Prescott Once Crushed the Hopes of Jerry Jones' Former Team
Prescott and Elliott, of course, came to the Cowboys during the 2016 NFL draft, but Prescott said that they met at the combine before they got drafted. 
"We kicked it from the beginning," Prescott said in 2016, according to The Undefeated.
Prescott and Elliott then seemed to form a quick bond once the Cowboys drafted them.
"We go out there and play for each other," Elliott said in 2016, according to The Undefeated. "Whenever one of us is down, we pick each other up. We hold each other accountable. We have that mutual respect for each other, no matter what we say to each other, good or bad."
During their first year in the NFL, Elliott would even carpool with Prescott around town because his method of transportation had not made its way to Dallas yet. According to The Dallas Morning News, Elliott even fell asleep in Prescott's truck once, and left a massive check in there.
Additionally, their numbers put together (No. 21 and No. 4) make the Dallas area code (214), so in 2016, Elliott bought them matching chains.
Are Dak Prescott and Ezekiel Elliott friends?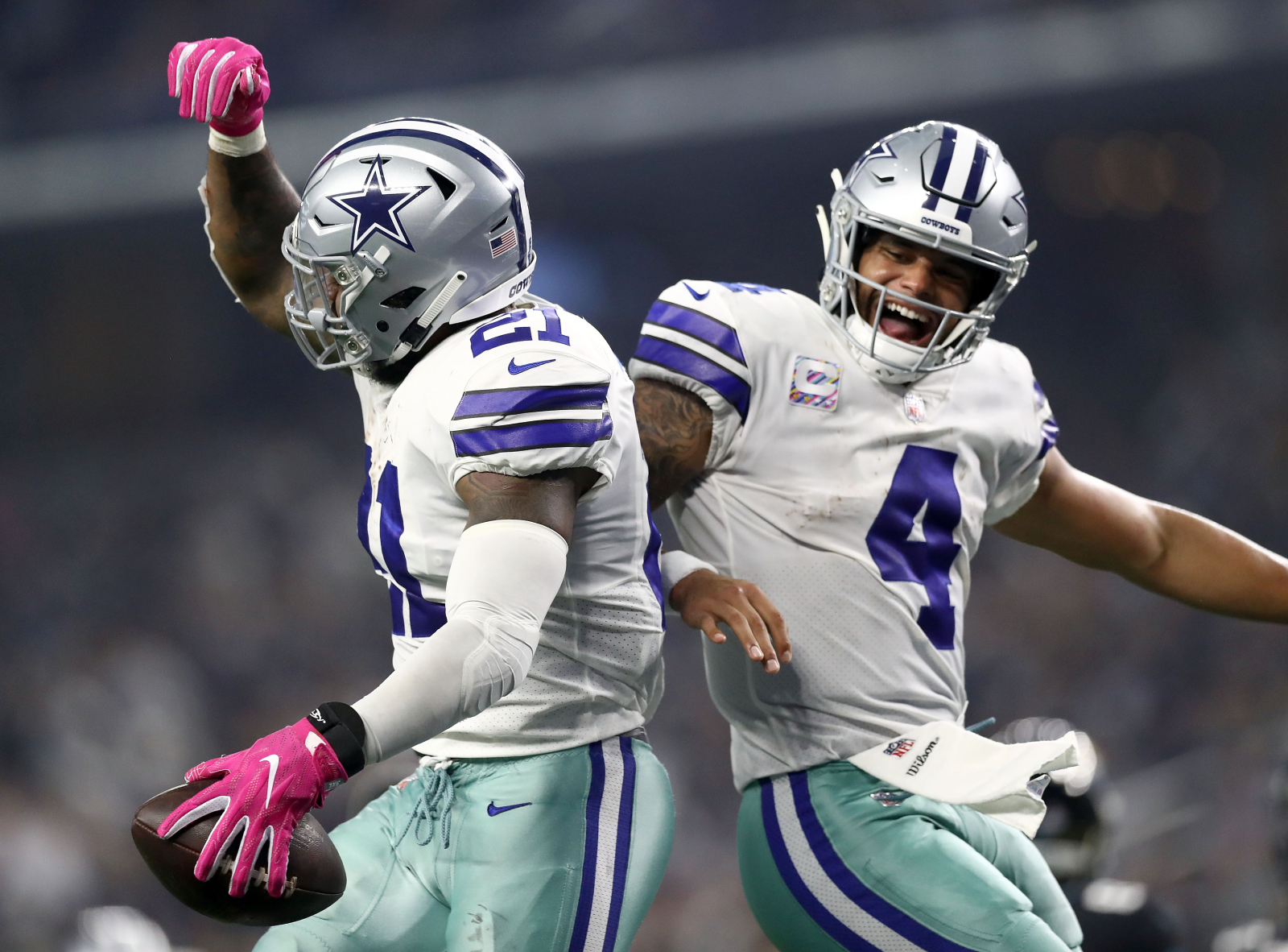 RELATED: Jerry Jones Trying to Sign LeBron James Wasn't as Crazy as You Think
Since they have been on the Dallas Cowboys together ever since 2016, are they friends off the field? It appears that's the case.
In 2019, while Elliott was holding out due to his contract situation, Prescott got aksed about how weird it was to be at training camp without Elliott.
"Zeke's a great friend. Any time a friend's not around … that's what it's been. That's what I've known for the most part. Being in these first three years, having my best friend, having my buddy Zeke in the backfield with me and going through training camp. Our rooms are next door to each other here, so I walk up the stairs and look at his room and snap my fingers. It's weird, but we're always communicating, always talking and I know he's doing well and taking care of himself," Prescott said on The Musers, according to The Dallas Morning News.
It also appears that Elliott and Prescott party together. They were caught by TMZ partying in Key West in 2018, and there was, of course, the infamous party that they had during the COVID-19 pandemic, which definitely wasn't a good idea, but just further proves the friendship that they have.
Ezekiel Elliott and Dak Prescott are two of the best players in the NFL. They seem to be the best of friends too.
Stats courtesy of Pro Football Reference