Were Kobe Bryant and Tim Duncan on the Same Level?
Kobe Bryant and Tim Duncan are legendary NBA stars. In many ways, they had similar careers, winning five titles each and spending their entire NBA tenure with a single franchise. Both stars retired, causing fans and analysts to debate whether Duncan or Bryant was the better player.
Then, on January 26, 2020, Kobe Bryant, his daughter Gianna, and seven others died in a helicopter crash, devastating players and fans everywhere. In what might be the largest gathering of NBA talent ever, Bryant's memorial saw many stars pay their respects, including Duncan.
Reflecting on Bryant's legacy, many people contend that the Black Mamba was superior to Duncan. Yet this position often reflects Bryant's fame more than anything. Many NBA fans believe Duncan had a better career — an opinion that numbers back up. Here are three reasons why you shouldn't overlook Duncan's NBA career.
Tim Duncan avoided fame and Kobe Bryant embraced it
Bryant embraced fame like few other players of his generation. He took the biggest shots at the biggest moments while representing the LA Lakers. Unfortunately, Bryant also experienced some public feuds with teammates like Shaquille O'Neal and Dwight Howard over the years.
Luckily, Bryant's approach usually worked out, even if he had some inefficient nights toward the end of his career. His approach also ensured that he spent a lot of time in front of the camera. Even in retirement, Bryant made regular TV appearances, hosting his own ESPN show, Detail.
Duncan was the polar opposite of Bryant in this regard. He shunned the spotlight, didn't like to speak on camera, and was famously mild-mannered even in high-pressure situations. Duncan focused on the game — nothing more. Unfortunately, this approach meant that his accomplishments often flew under the radar.
Duncan prioritized leading his team and younger players
Bryant excelled in many facets of the game offensively and defensively. He earned 12 All-Defensive Team appearances and 15 All-NBA selections, reports Land of Basketball. Yet, in the end, Bryant was best known for his ability to score. The Black Mamba remains the textbook example of a "shoot-first" player.
Duncan was no less gifted offensively than Bryant. He spent plenty of seasons as the No. 1 option for the San Antonio Spurs. Yet when Tony Parker arrived, Duncan had no problem putting his offensive game on the back burner for the sake of the team. He recognized that sacrifice was part of what makes a great leader.
Duncan's graciousness — whether offensively, financially, or personally mentoring young NBA players — was a huge part of the Spurs' secret to success. Of course, he could still score. And Duncan was arguably better than Bryant on defense as evidenced by his 15 All-Defensive selections.
Duncan played in a smaller market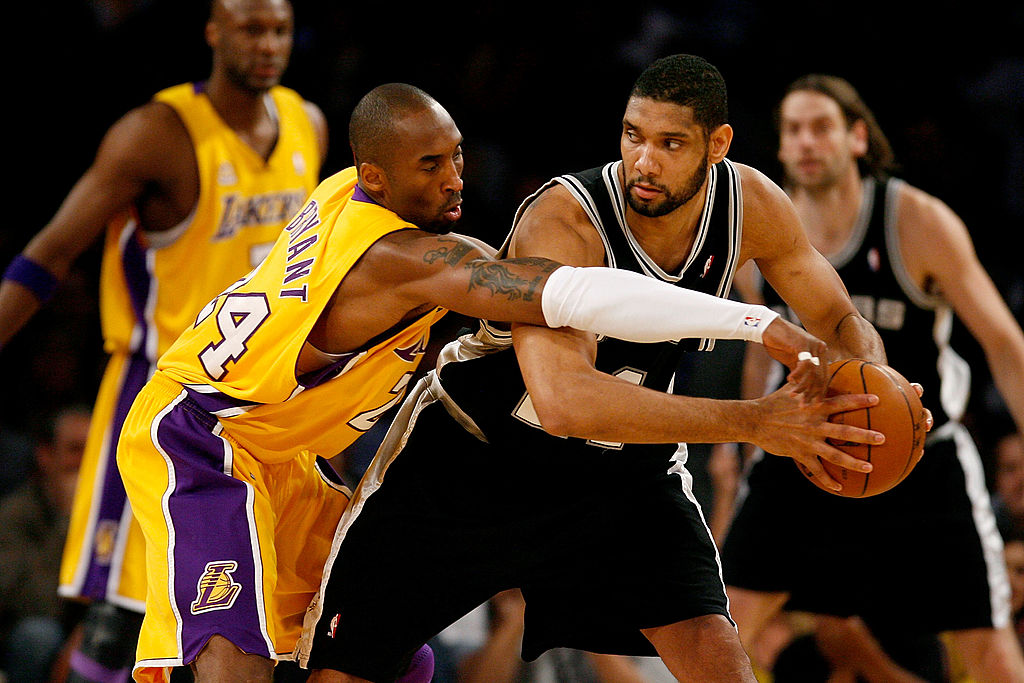 Even if Duncan had embraced fame, Bryant would still have had a huge advantage: playing for the Los Angeles Lakers. Not only are the Lakers one of the most celebrated and successful basketball franchises ever, but they also have one of the largest media markets. The exposure gave Bryant a huge boost in terms of his personal brand.
The Spurs have a fiercely dedicated fan base in San Antonio, yet they can't compete with Los Angeles in terms of national attention.
In many ways, the Spurs' relatively low profile suited Duncan's personality. After all, it's hard to imagine him playing for a team like the Lakers. Yet the lack of visibility is a factor in why Duncan so often gets overlooked in comparison to Bryant.
Follow more updates from Sportscasting on our Facebook page.