Are the Lakers Now the Favorites? Opinions Are Split Over Russell Westbrook's Impact
While it came across like a shocker, the trade of Russell Westbrook to the Los Angeles Lakers was apparently in the works for a few weeks. Westbrook's arrival in LA gives the Lakers a legitimate Big Three to join LeBron James and Anthony Davis. But will it be enough to push the Lakers to another championship?
Rumors had the Sacramento Kings prepared to send sharp-shooter Buddy Hield to the Lakers throughout the day of the draft on July 29. The Westbrook trade effectively pulled the rug out from under that. There is a difference of opinion on whether Westbrook helps or hinders James' quest for a fifth ring. Before digging into that, let's look at the effect of the trade itself.
Moving companies love Russell Westbrook these days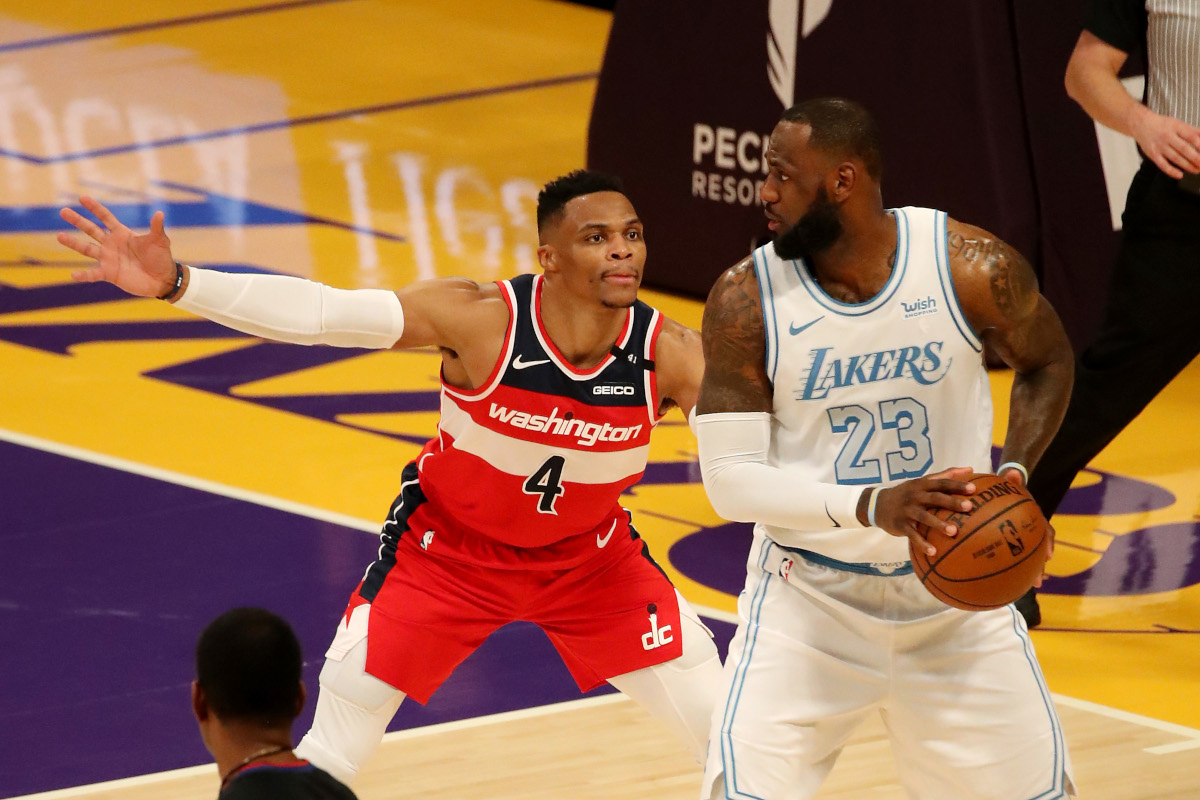 Russell Westbrook played the first 11 seasons of his career with the Oklahoma City Thunder. But the Lakers are Westbrook's fourth team in four seasons. Now he will be a Laker once the trade becomes official at the start of the new league year.
Per ESPN, Washington gets combo-forward Kyle Kuzma, center Montrezl Harrell, guard Kentavious Caldwell-Pope, and the Lakers' 22nd overall pick. The Lakers get Westbrook. Washington flipped the LA pick to the Indiana Pacers to get young guard Aaron Holiday.
Kuzma is a player Lakers fans both hated and overvalued. In the last three seasons, since his breakout rookie year in 2017–18, fans have traded Kuzma for everything up to and including prime Michael Jordan one-for-one. They just weren't that wild about Kuzma playing for the Lakers. Harrell signed with LA as a free agent and took a gigantic step back from his Sixth Man of the Year form in 2019–20. Caldwell-Pope is a solid No. 2 guard who can shoot and defend adequately.
Meanwhile, Westbrook turns 33 in November and is seen by many as an accumulator of empty stats. Westbrook, the NBA MVP in 2016–17, owns five of the six seasons in NBA history during which a player averaged a triple-double. They have all come in the last six years.
Here's why the Lakers can't win it all with Westbrook.
The Lakers can't space the floor with a James-Davis-Westbrook trio
Russell Westbrook will never be confused with Stephen Curry. He's a career 30.5% shooter from 3-point range and shot less than 30% three straight seasons before exploding to 31.5% last year. Caldwell-Pope was LA's best 3-point shooter last season at 41.0%. Big man Marc Gasol also hit 41.0%, and reserve guard Alex Caruso hit 40.1%.
Caldwell-Pope is already gone. Gasol is signed on a bargain deal for next season but is also entering his age-37 season. Caruso's an unrestricted free agent. After those players, James is next in 3-point shooting at 36.5%. There is truth to the theory that the spacing will be a considerable problem if James is your best shooter.
Stephen A. Smith, in the clip above, pointed out one key difference between the Lakers and the Brooklyn Nets, the current favorite to win the title next season, is a fatal one for LA. James hasn't topped 70% from the foul line since 2017–18, though he was close at 69.8% last season.
Westbrook's yips began four seasons ago and haven't stopped. Over his first nine seasons, he shot 82.3% from the line. Westbrook has fallen to 70.4% over the last four years, including a career-worst 65.6% in 2020–21. Conversely, the Nets' Big Three of Kyrie Irving (92.2%), Kevin Durant (88.2%), and James Harden (85.6% with Brooklyn) seldom miss.
But there are also reasons the Lakers can win with Westbrook.
The Lakers get the benefit of Russell Westbrook coming home
Russell Westbrook is an LA native who played two seasons at UCLA. Since then, he's been in the Great Plains, South Texas, and DC. Getting to come home is a potential motivator for Westbrook. So too, is still being ringless in 13 seasons. Russ has played in only one NBA Finals.
Would Hield have helped the Lakers with spacing? Of course. Is Westbrook no help at all in that regard? Absolutely.
But will it matter? Between James, Davis, and Westbrook, the Lakers have three players who can overwhelm a defense by themselves when they are on. Spacing is nice, but teams have won in the past by attacking the rim at will. Giannis Antetokounmpo's NBA Finals performance was decent, and he rarely left the paint to shoot.
Russell Westbrook will have to agree to a ball-sharing arrangement, something he chafed at while playing with Harden in Houston. But rather than long bombs, the Lakers are equipped for a pure ground assault on the NBA next season.
Statistics courtesy of Basketball Reference.