Are Lamar Jackson and Marquise Brown This Good, Or is Miami This Bad?
When the Miami Dolphins traded Laremy Tunsil and Kenny Stills away from what was already one of the NFL's most depleted rosters, it became abundantly clear that the team was going into tank mode. If losing games was the plan, the Dolphins got off to one heck of a start in Week 1 as Lamar Jackson and Marquise Brown led the Baltimore Ravens to a 59-10 victory over Miami.
Jackson finished the day going 17-for-20 for 324 passing yards and five touchdown passes. Brown caught four passes for 147 receiving yards and two touchdowns, all in the first half, in his NFL debut.
Jackson and Brown both had excellent college careers
Lamar Jackson was one of the best dual-threat quarterbacks in the nation during his three years as a starter for the Louisville Cardinals from 2015-2017. He won the Heisman Trophy in 2016 when he passed for 3,543 yards and 30 touchdowns and rushed for 1,571 yards and 21 touchdowns. He finished his college career with 9,043 passing yards, a 69-to-27 touchdown-to-interception ratio, 4,132 rushing yards, and 50 rushing touchdowns.
Marquise Brown saw action in all 13 games in his first season with the Oklahoma Sooners in 2017 catching 57 passed for 1,095 yards and seven touchdowns. He followed that season up with an even better one in 2018, hauling in 75 catches for 1,318 yards and 10 touchdowns. The 22-year-old is a cousin of Patriots wide receiver Antonio Brown.
Jackson and Brown were both late first-round picks. Lamar Jackson fell to the Ravens down to the final pick of the first round in the 2018 NFL Draft, and Marquise Brown was selected with the 25th overall pick in the first round of the 2019 NFL Draft.
Baltimore was confident enough in Lamar Jackson to let Joe Flacco go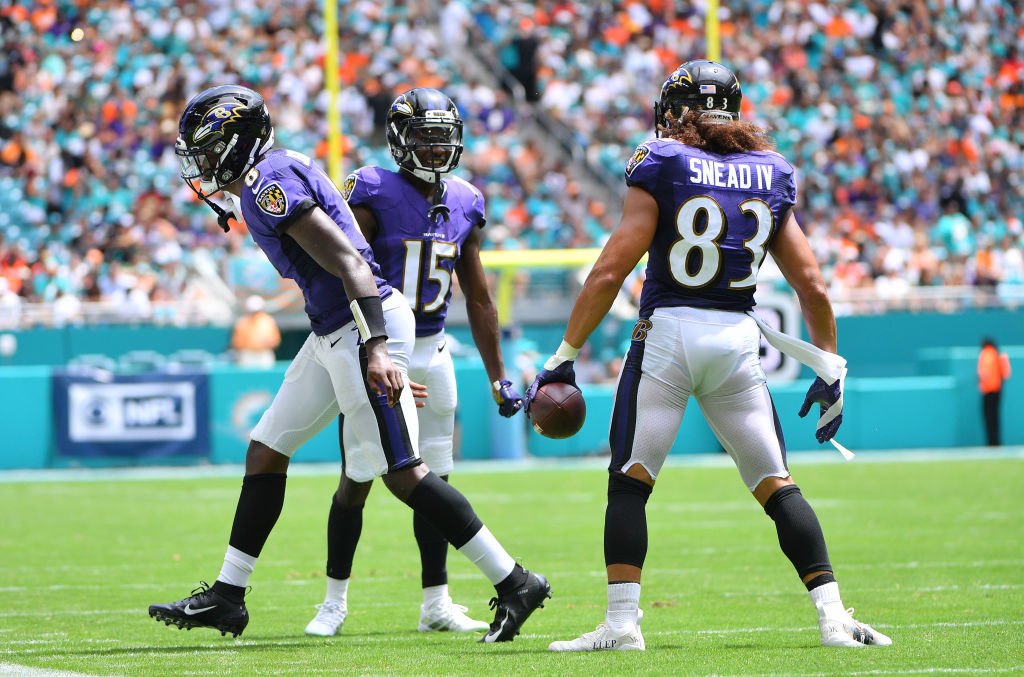 In 11 seasons with the Baltimore Ravens, Joe Flacco compiled a 96-67 regular-season record. Flacco averaged 3,477 passing yards per season and had a career 212-to-136 TD-to-INT ratio with the Ravens. He was also 10-5 in the postseason including a 4-0 run in 2012 that culminated in a Baltimore Super Bowl victory.
But when Joe Flacco got off to a slow start in 2018, the Ravens turned the keys to the franchise over to rookie Lamar Jackson. Jackson started seven games for the Ravens and led the team to a 6-1 record, passing for 1,201 yards and six touchdowns while rushing for 695 yards and five touchdowns. Baltimore let Flacco go this offseason.
Lamar Jackson rushed only three times for six yards in Sunday's win against the Dolphins, showing off his skills as a passer in this one.
But yes, Miami really is this bad
Jackson and Brown both deserve credit for their fantastic performances, and Baltimore fans should be excited for the potential of this team in 2019 in what could be a wide-open battle for the AFC North.
But it's important to remember that this is a Dolphins team who's front office built a team to lose in 2019. Mission accomplished in dramatic fashion. Not every game will be this bad, but there's no doubt this is going to be a long, long season in Miami.
Baltimore's 59 points is a new franchise record in scoring, and the defense deserves credit for staying focused and holding the Dolphins to only 10 even after the game became a laugher. The Ravens passed their Week 1 test with flying colors and will be big favorites at home next week against Arizona. Then the real test begins with a stretch of at Kansas City, Cleveland, and at Pittsburgh.