Are LeBron James and Anthony Davis Friends Off the Basketball Court?
When two NBA players make magic on the court, it's natural to wonder about their personal relationship. In 2017, John Stockton and Karl Malone were spotted (with flip phones) hanging out at an LSU game. The new Clippers, led by Paul George and Kawhi Leonard, has already established strong off-court chemistry.
However, synergy doesn't always translate into friendship. Michael Jordan feuded with Bulls GM Jerry Krause, even as the two won six trophies together (they disagree on who deserved credit). Regardless, Shaquille O'Neal and Kobe Bryant set the all-time high bar for success on the court and animosity off it.
The path Shaq and Kobe blazed
Bryant and O'Neal brought three consecutive NBA championships back to LA, and they managed to hate each other every second of the process. From 1998 to 2004, the two Hall-of-Famers were at each others' throats, surprising fans and critics as they managed to win despite themselves.
Most critics believe a more well-behaved team could have won six years straight, but what the team accomplished still impressed. Although Diesel and the Mamba eventually (mostly) buried the hatchet, Lakers fans are used to star players spending squabbling.
With LeBron James and Anthony Davis lighting up the Staples Center, it's natural for Angelenos to wonder if they've got another case of their Big Two barely tolerating each others' existence.
The start of Anthony Davis and LeBron James' friendship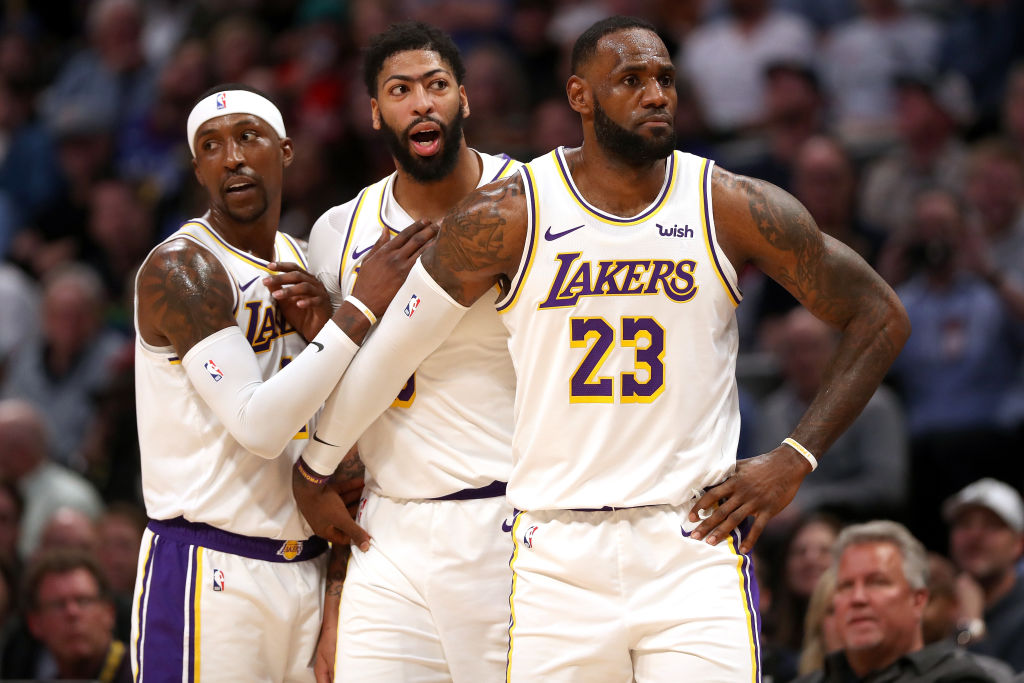 Oddly enough, the professional relationship between LeBron James and Anthony Davis went through Kendrick Perkins. He played on the same team as both men (2015 Cavaliers, 2016 Pelicans), and his constant praise of King James likely piqued AD's interest.
While any player in NBA history would jump at the chance to play with LeBron James, Perkins believes his encouragement led Davis to LA. Additionally, he introduced Davis to Rich Paul, an agent who represented LeBron.
Once it became clear that Davis wasn't planning to be a Pelican for life, Paul discussed his future with James and cleared the way for Davis to suit up for the Lakers — at the price of three developing young players and three first-round picks.
How close are the pair?
Fortunately for the Lake Show, James and Davis are bonding surprisingly quickly. In the past, James had trouble fitting in with other stars. It took a good part of the season to warm up to optimal patterns with players like Kevin Love and Chris Bosh on the court.
However, he and Davis found their groove almost immediately, even as the 2019-20 Lakers lost their first game of the season to the Clippers. They went on to rattle off seven straight victories and eventually peaked at 24-3 before faltering again.
James and Davis had previously played together on the 2012 Olympic team and at the All-Star games. But Davis downplayed those interactions when asked, according to Lakers Nation, emphasizing the importance of their time together now.
"The 2012 Olympics I was like the towel guy, just waving the towel," Davis said. "We had a little bit of time during the All-Star Game, but to get a full season … I'm excited."
The two have spent plenty of non-basketball time together off the court, enjoying dinner and Summer League games together. In 2012, Davis was only 19. Seven years later, he's at prime NBA star age and alongside James, the sky's the limit.
When they're not crushing the NBA, the two men are working on Space Jam 2, slated for a July 2021 release. The original Space Jam introduced Shawn Bradley and Muggsy Bogues to moviegoers 24 years ago. If all goes well for Anthony Davis over the next two years, he won't need an introduction.