Are Mike Evans and Chris Godwin a Better Duo for Tom Brady Than Randy Moss and Wes Welker?
Tom Brady will play for the Tampa Bay Buccaneers in 2020. After not having a good receiver corps the past few seasons with the New England Patriots, Brady will now have two of the best receivers in the league to throw to in Mike Evans and Chris Godwin. The last time Brady played with two receivers this talented was when he played with Randy Moss and Wes Welker in 2007 and 2009. Can Evans and Godwin be a better duo for Brady than Moss and Welker were?
Tom Brady made history with Randy Moss and Wes Welker
The 2007 season was the first year Brady played with both Moss and Welker. That was a historical season too. Brady led the league in passing yards (4,806) and passing touchdowns (50) that year. That is compared to only eight interceptions. Additionally, his 50 touchdown passes were, at the time, a record for the most touchdown passes thrown in a single season. However, the record was broken by Peyton Manning in 2013.
For Randy Moss that season, he caught 98 passes for 1,493 yards. He also led the league with 23 touchdown catches, which is also a single-season record. Welker also had a big season as he led the league with 112 receptions to go with 1,175 receiving yards and eight touchdowns. The three led the New England Patriots to an 18-0 start and to the Super Bowl that season.
Brady only played in one game during the 2008 season as he suffered a season-ending injury in that game, but the three played together again in 2009. Brady threw for 4,398 yards that season to go with 28 touchdowns and 13 interceptions. Moss caught 83 passes for 1,264 yards and 13 touchdowns in 2009 while Welker caught 123 passes for 1,348 yards and four touchdowns. 
Mike Evans and Chris Godwin have had a lot of success without Brady
Mike Evans has been one of the best wide receivers in the NFL since his rookie season in 2014. He has gained over 1,000 receiving yards in each of his first six seasons. He also has two seasons where he has caught 12 touchdowns and he has earned three Pro Bowl selections. For his career, Evans has 462 catches for 7,260 yards and 48 touchdowns.
Chris Godwin has only been in the NFL for three seasons, but he had a breakout year in 2019. After catching 59 passes for 842 yards and seven touchdowns in 2018, Godwin caught 86 passes for 1,333 yards and nine touchdowns in 2019. He earned his first Pro Bowl appearance too.
How good can these two be with Tom Brady?
Are Evans and Godwin a better duo than Moss and Welker?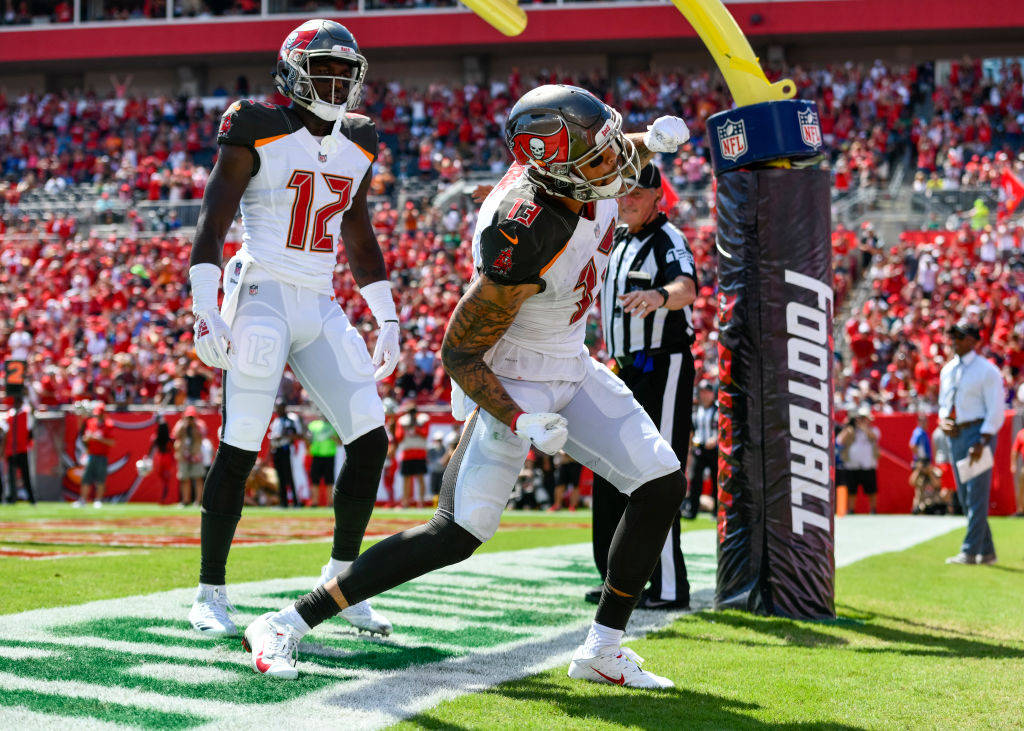 Moss was a Hall of Fame wide receiver. Like Evans, he also gained 1,000 receiving yards or more in each of his first six seasons. He ultimately ended his career with the fourth-most receiving yards in NFL history (15,292), and the second-most receiving touchdowns (156). However, Evans is comparable. If he is able to play in at least the same number of career games as Moss played in (218), then Evans could be on pace for 116 total receiving touchdowns. That would be tied for seventh all-time. He could also gain 17,585 career receiving yards, which would be second all-time.
While Moss was always known for being able to take the top off of a defense, Evans can do that too. Moss' yards per reception average for his career was 15.6. Evans' career average right now is 15.7.
Welker was also a solid receiver and security blanket for Brady. However, he never had 1,000 receiving yards or more in a single season outside of New England. Godwin, on the other hand, already has a 1,000-yard season in his career and it was with Jameis Winston as his quarterback.
Additionally, Welker was always more of a possession receiver, he was never a guy, like Moss and Evans, who could take the top off of a defense. His yards per reception average for his career was 11 yards per catch. He only had a season average of over 11.5 yards per catch twice in his career. Godwin, on the other hand, has averaged over 14 yards per catch each of his first three seasons and his career average is 15.1.
The Randy Moss, Wes Welker duo was probably the best wide receiver duo Tom Brady has ever played with. However, with Evans' Hall of Fame potential, and with Godwin being a more explosive talent than Welker, Evans and Godwin can become the best duo Brady has ever played with.