Are the Dallas Cowboys Going to Lose DeMarco Murray?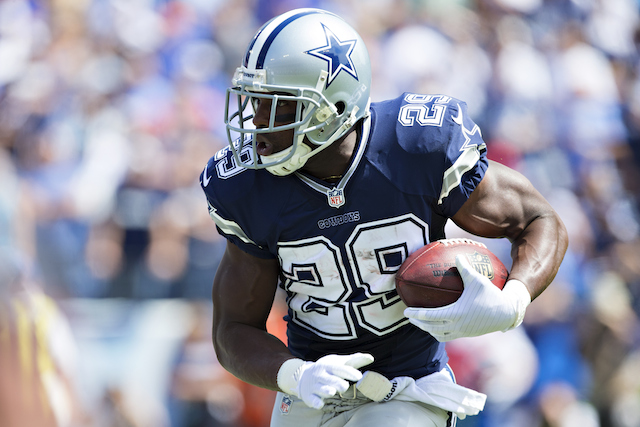 The Dallas Cowboys surprised a lot of people in 2014. They finished the season with a 12-4 record, took home the NFC East crown, and even managed to win a playoff game. They became a team that showcased real grit and toughness, and performed with an undeniable physicality. It appeared that the Cowboys had finally come to terms with their identity: a run-first team who had the means to do some serious damage on the ground. And it all started with superstar running back DeMarco Murray, who is now officially "free agent superstar running back" DeMarco Murray.
Running behind a massive offensive line that parted defenses like the Red Sea, Murray took his game to a new level and catapulted himself into elite status. His breakout season consisted of a league-leading 1,845 yards on the ground and 13 rushing touchdowns. On top of that, the former Oklahoma Sooner was named the AP Offensive Player of the Year, made it to his second Pro Bowl, and was selected First-Team All-Pro for the first time in his career. He's the type of piece that can keep the Cowboys in contention for years to come. But more importantly, he has shown a desire to continue his career in Jerry's World.
Most players coming off this type of year, especially free agents, are often times looking to cash in. And while Murray certainly deserves to get paid, he has a real desire to remain in Dallas. The unrestricted free agent has even stated that he would be willing to stay with the Cowboys should their offer be financially similar to the ones presented to him from other teams. This seems like it should be a slam dunk situation. Murray wants to remain a Cowboy and Dallas wants to keep their leading back. What are we missing? Things have become too quiet on this front. And perhaps that's the problem.
According to ESPN NFL Insider Adam Schefter, the Dallas Cowboys have not been in contact with Murray since last week. It would seem that the NFC East champs have decided to led DeMarco Murray test the free-agent market. This is a very risky strategy on the part of the Dallas Cowboys. After all, Murray will absolutely be one of the most sought after free-agent backs on the market. It didn't seem like the Cowboys were going to let anyone else get the chance to pry away one of their core players. However, it would seem that Murray is taking offense to this latest course of action. And there is no better way to express one's frustration than through the use of social media.
Now maybe we're looking too much into this, but it can't be a coincidence that DeMarco Murray has removed the Cowboys from his Twitter profile. Perhaps the star running back is trying to send a message to his employers: If they're going to leave him in the dark, then he's going to disassociate himself from them. Is this "act of defiance" going to change how the Cowboys are approaching this situation, or are they that confident that the market's value of the running back will play right into their hands? That is the question.
Only time will tell whether or not DeMarco Murray will return to the Dallas Cowboys in 2015. All signs pointed to that eventual outcome, however NFL free agency is a fickle beast, and one never truly knows how it's all going to play out. Right now, though, the Cowboys are playing a dangerous game with their star running back. For their sake, we hope they know what they're doing.
All statistics are courtesy of Pro-Football-Reference.com and ESPN.go.com.