Are the Spurs Finally Ready to Repeat?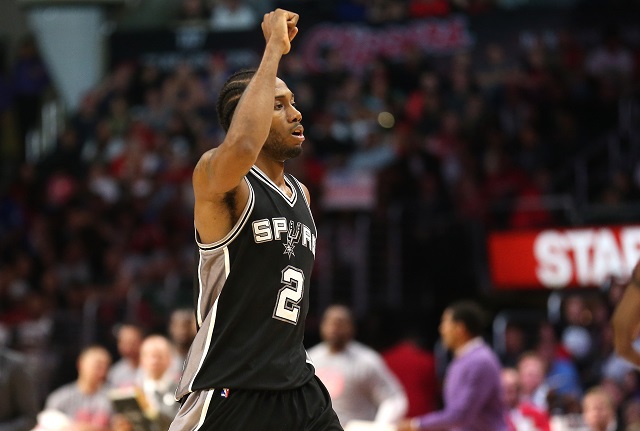 For all of their success over the past 18 years, the San Antonio Spurs aren't perfect. Sure they've won 5 NBA championships since Tim Duncan and Gregg Popovich joined forces back in the 1997-98 season, but something has always eluded this organization. You can call San Antonio the model of consistency. You can call them an NBA dynasty. But what you've never been able to call them is a repeat champion.
The Spurs know exactly what it takes to make a championship run. Even now that they're made up of aging stars, they understand the importance of saving your best ball for the end of the season. That's how they took home the trophy at end of the 2013-14 season. But they've never been able to translate this knowledge into back-to-back runs. Perhaps that has something to do with the expectations that they alway seems to carry around with them. Regardless of the reason, you shouldn't be surprised when the San Antonio Spurs begin to put it together at the end of year. And that seems to be what took place on Wednesday night.
The Spurs didn't just beat the Oklahoma City Thunder, they demolished them. With a final score of 130-91, the champs showed everyone what they're capable of when they play their best basketball. Then again, as we've pointed out, this is what they do. Even if they aren't playing top-notch ball throughout the regular season, stars like Tony Parker, Manu Ginobili, and Kawhi Leonard find a way to put it all together. And in the end, the result has been the same: no repeats in San Antonio. Yet, perhaps this is finally the year. Why? Because they're not expected to.
After their thrashing of the Thunder, coach Popovich spoke of the Spurs's need to stay consistent.
"I think in general we played the way that we have to play to win a basketball game," Popovich said. "That consistency is what we are looking for and we have not gained that yet. We see that nights like this, or in Atlanta, where we played the way we need to play and hope to play, we are a pretty good basketball team. We just have not been consistent."
It's pretty ironic that San Antonio would get called out for their lack of consistency. After all, this is a franchise who hasn't missed the playoffs since the 1996-97 season. And before that "off" season, the Spurs reached the playoff seven straight years. A lack of consistency is something that you should never hear when referring to this organization. But this season appears to have seen a shift in the power structure of the Western Conference. The Spurs may be sitting on a 45-26 record, but if the season ended today, that total would only be good enough for a sixth-seed out West. Most eyes seem fairly fixed on either the Golden State Warriors or Memphis Grizzlies coming out of that competitive conference. Which may prove to be a blessing for the Spurs, who have quietly reeled off seven wins in their last 10 games.
The parity this season in the Western Conference has been a hot topic all season. But despite still wearing the crown, there hasn't been a whole lot of faith in the Spurs remaining on top. History has shown that San Antonio follows up their championship season with impressive records, but they've never even been able to get out of the conference. Given how talented the rest of the teams out West are, what makes this season any different? The difference is now it's the Spurs who will take on the role of underdog. And that could make them extremely dangerous.
Popovich was right to say that his team needed to play more consistently. It will be a difficult road back to the NBA Finals, and the Spurs will have to play their best basketball if they hope to stand any chance of repeating. But we can forget that, if the Spurs are on top of their game, they can play with anyone in the NBA.
If you combine that with their experience, maturity, and chemistry, San Antonio has everything they need to make a legitimate run. This organization has never repeated as NBA champions before. But the fact that no one thinks they will, might be the very reason why it could happen this season. If this team remains consistent, anything is possible.
All statistics are courtesy of Basketball-Reference.com and ESPN.go.com.