Are Tiger Woods and Michael Jordan Still Friends?
In 1997, a young Tiger Woods won the Masters. Last year, he did it again. The longevity of Tiger's golf career is impressive and it doesn't look like he's done yet. Without a doubt, Woods is the golf GOAT — or at least one of two.
Also one of two? Michael Jordan. If not the greatest players in their respective sports, certainly the greatest of their era. And surprisingly? Good friends. At least, in the past. Whether that's continued into the present is less clear.
Tiger Woods and Michael Jordan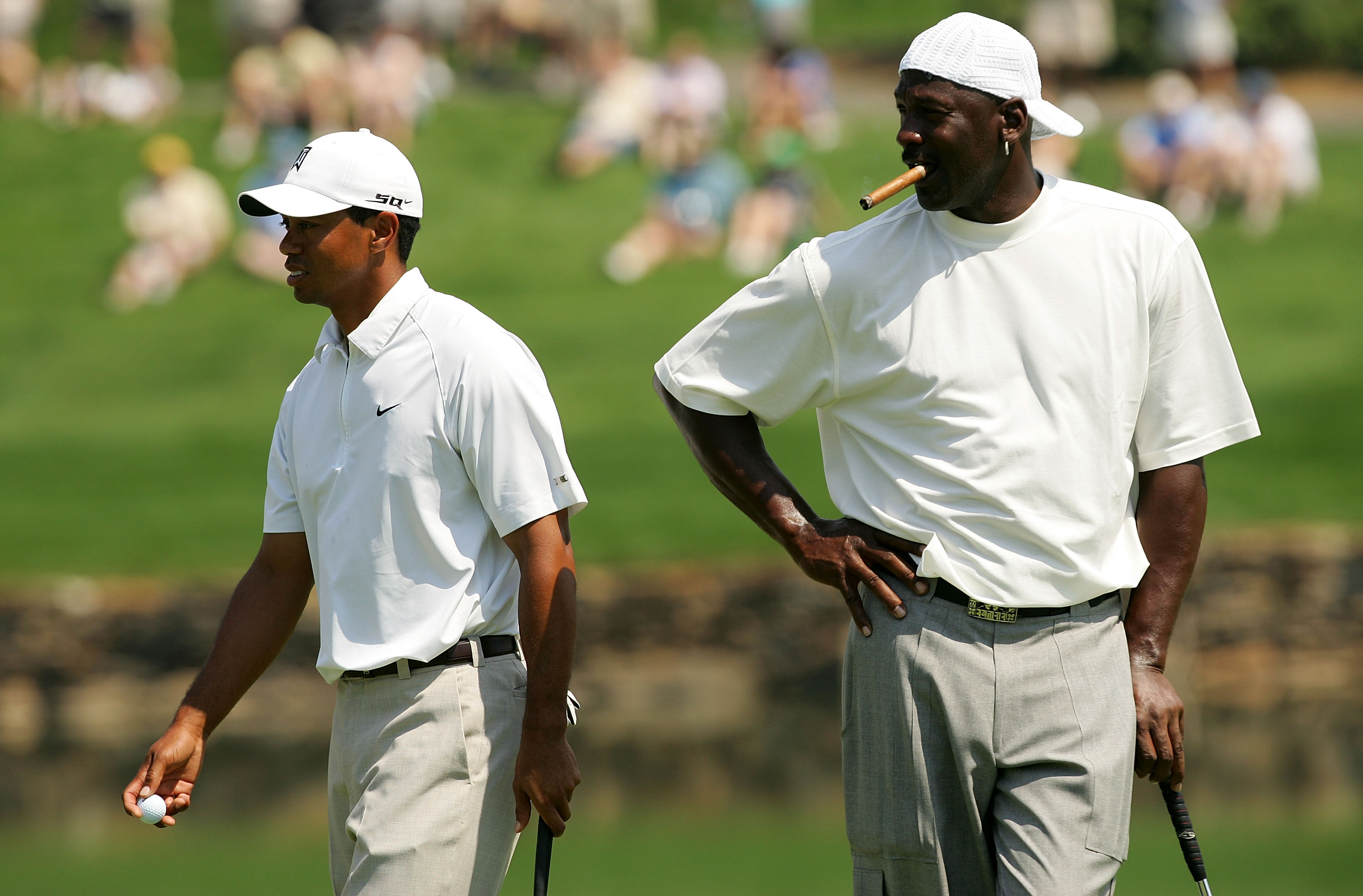 After the 1997 Masters win, Woods mentioned during an Oprah interview that he had reached out to Jordan because he saw his career headed the same direction.
A bold statement considering that Jordan was in the middle of his second three-peat, but not incorrect. Tiger went on to an incredible career (and isn't done yet), and it's clear that Jordan's friendship and guidance had an effect.
In addition to being legends in their respective sports, both men love golf. Tiger because he's the best player of all time, and Jordan because it's both earned and cost him millions of dollars over the years.
They both achieved success at a young age. While Jordan's race was never a point of contention in the NBA (which is 3/4 African-American), Woods immediately turned heads as one of the very few golfers on the PGA tour with Black heritage.
Differences between the two
RELATED: Mount Rushmore of Men's Golf: Tiger Woods, Jack Nicklaus, and …
When asked in the Oprah interview about race, Tiger Woods responded "I'm a Cablinasian." (Caucasian-Black-Indian-Asian). Many of the early discussions when Woods exploded onto the PGA tour concerned his ethnicity, but that quickly took a back seat to his incredible golf prowess.
Woods did things on the PGA tour that no one has done before or since, and it's likely his trademark red polo will be one of professional sports' most popular uniforms for a long time to come.
Jordan's career was coming to an end when Woods was just getting started — for the last 30 years, one or the other has been the most dominant force in their sport.
Tiger Woods and Michael Jordan today
RELATED: How Michael Jordan Made Hundreds of Millions from a Single Round of Golf
According to an article from Daily Mail, their relationship began to fall apart in 2009 when Woods' personal life made headlines. Wanting to distance himself, Jordan stopped talking to Woods as his career and reputation plummeted.
However, Woods turned things around over the past few years as he reappeared at the top of the PGA leaderboards. Whether this causes a resurgence in the friendship between the two men or not, it's clear that Jordan found value in his friendship with Woods 20 years ago, just as Woods did.
Both men will always be looked at as an example of focusing on greatness. And in the near future, it's possible we might see them on the links together again.
Last month, "The Match" brought more viewers to a golf competition than any previous event. Tom Brady and Peyton Manning joined Woods and Phil Mickelson to compete in front of millions of viewers for COVID-19 relief. With the football legends already having proven themselves on the golf course, Mickelson has said he wants to look into NBA players next.
Jordan and Steph Curry are rumored to be the next guests of Woods and Mickelson on the course. Curry hasn't been afraid to talk about MJ, especially in the wake of the documentary highlighting his miracle shot (and push-off) in game six.
Getting to watch the two of them on the golf course together with Woods and Mickelson would be a great treat for fans who want to see more of the friendship between Jordan and Woods.