Are Winston's Antics Going to Cost Him Anything Beyond a Heisman?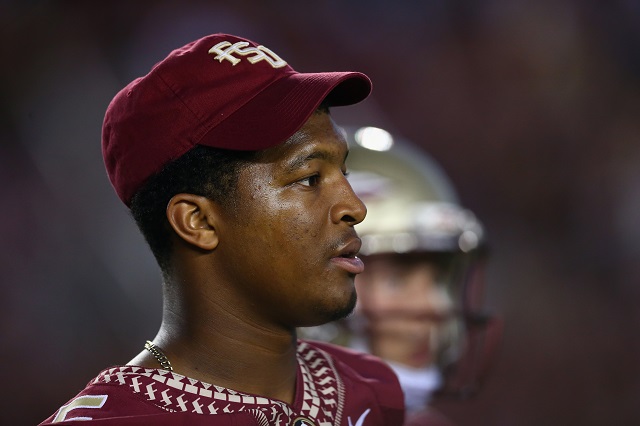 The last time we took a look at the 2014 Heisman Trophy odds, defending champion Jameis Winston was hardly looking like a lock to repeat his role as the bearer of the crown of college football's best player, even if he is, in fact, college football's best player. This isn't exclusively because Winston has become known more for his reprehensible behavior off the field than his prowess on it, since it's been almost exactly forty years since the last time someone was a repeat winner, but the quarterback's case isn't being helped by the fact that he's consistently acted like the 20-year-old that he is, which is to say, joyfully and boyishly dumb.
For anyone that's not quite so ravenous about college football as we are, Jameis Winston is an NFL prospect so talented even a layman can see he has 'it.' That's not why he's famous, though. Winston's fame is directly tied to the fact that he has spent his last two years at Florida State University getting into and out of trouble — some of it relatively harmless, and some of it extraordinarily serious. There are, as they say in pre-draft analysis, some character concerns.
While the NCAA as a whole probably cares about character concerns about as much as the NFL does (that is to say, not very much at all), the Heisman Trophy is awarded by journalists who are, in their own words, "informed, competent, and impartial," which means that there's no way he's winning the ward again. These journalists aren't impartial, insofar as their unerring belief in the perceived integrity of the Heisman Trophy award is concerned.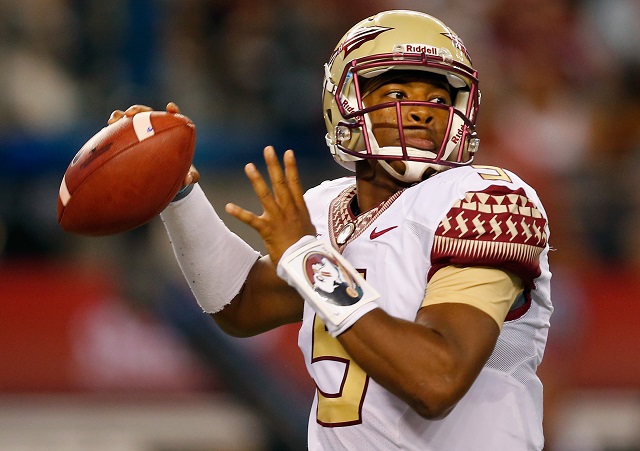 Winston's not winning the award because it would reflect poorly on college football to have him win it, and if his play continues to be anything other than superhuman (and so far it's been decidedly lackluster) then there's no reason to give it to him. No harm, ho foul, he's already got one trophy, after all. What's really going to affect him is his draft stock.
NFL teams are going to be examining every member of the 2015 NFL draft class with the finest of the fine toothed combs, and Winston's history, even if he keeps his nose clean until draft night, is probably going to cost him millions of real world NFL dollars. As of 2014, the average earnings of a Heisman winner in the NFL is more than double the average earnings of a player who didn't win the award ($5.4 million a year for the be-trophied against $2.23 million for those without), but that's contingent on a high draft position — those active Heisman winners are, for the curious: Sam Bradford, Robert Griffin (aka R.G. III), Mark Ingram, Cam Newton, and Johnny Manziel, drafted first, second, 28th, first, and 22nd.
Winston is grading out to go much closer to the Mark Ingram/Johnny Football draft level than the top of the draft, not for lack of talent or for lack of accolades, but because he seems to be the kind of goon the NFL is growing increasingly wary of: the kind who can't stay out of trouble.