Aric Almirola Trending to Give Himself a Sweet NASCAR Retirement Gift
NASCAR Cup Series' driver parity expanded to additional organizations during the Pennzoil 400.
Six more pilots added their names to the growing list of 25 drivers who have registered at least one top-10 finish during the season's opening three events.
That's the most since 1973, but only one is 3-for-3.
Aric Almirola is taking his retirement party to new heights.
Aric Almirola: 'We fight. That's the beauty of this race team' 
Almirola, who announced last January he would call it quits at the season's end to focus full-time on his family, rallied from mid-race leg numbness and poor track position to keep his personal-best streak intact. His P6 at Las Vegas Motor Speedway improved his average finish to 5.7 this season, the circuit's best mark. 
Considering his average start is 29.7, Almirola credited new Stewart-Haas Racing crew chief Drew Blickensderfer for establishing a new office culture. 
"We fight," Almirola said following the Pennzoil 400. "That's the beauty of this race team. This team has so much fight in it and so much grit that it's a lot of fun to race with these guys.
"We'll keep digging and try and keep this streak alive of all these top-10 finishes.
"It's a lot of fun when you run up front."
Almirola joins trending issue of drivers experiencing leg numbness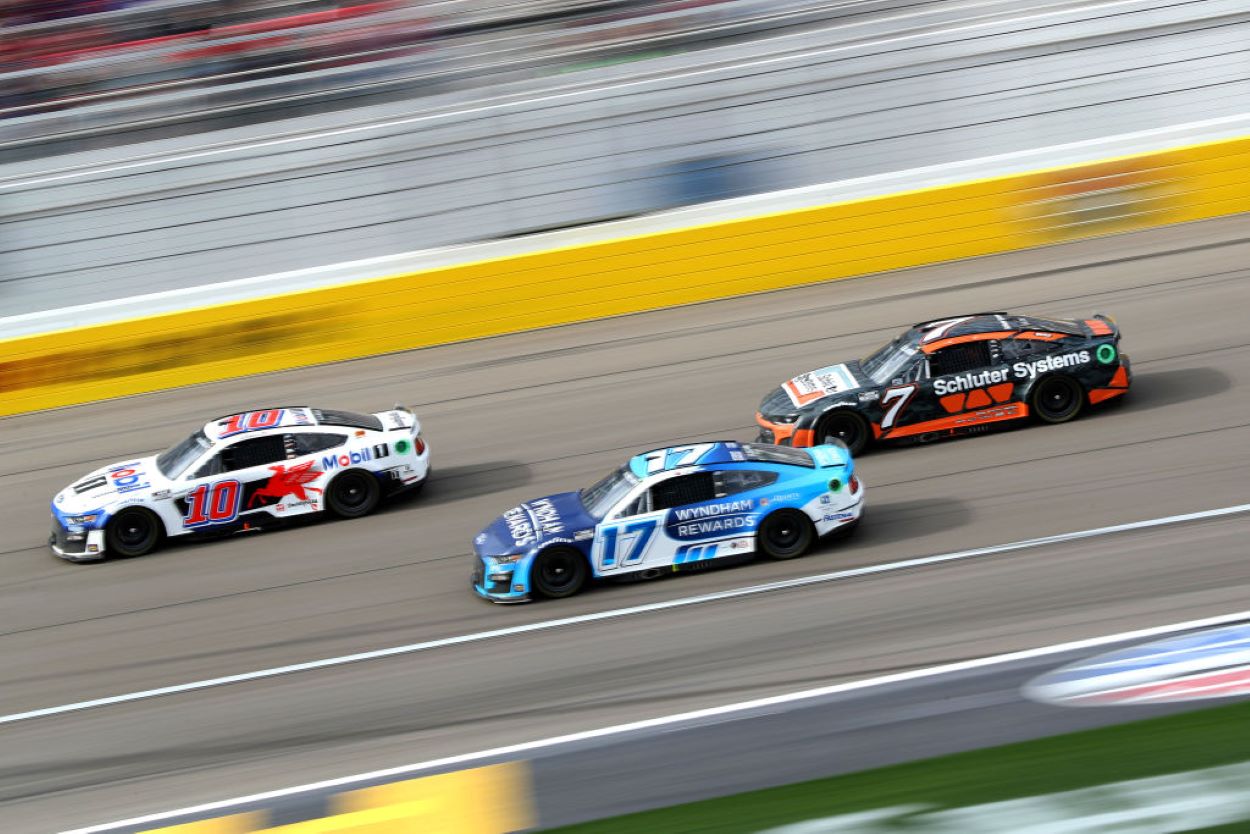 Complaining of numbness in his legs on Lap 154, Almirola pinpointed the Next Gen car's vibration of the seat and pedals as the cause of his discomfort.
After Tyler Reddick complained of numbness the past two weeks, NASCAR and team officials likely will investigate the contributing factors to something that rarely affected drivers in other gen models.
Are the seats on the new technology too far forward?
Are the seats too far back?
Is the angle of the seats cutting off the circulation?
During the Fox Sports broadcast March 6, analyst Danica Patrick spoke of the problem as it related to her experiences as a driver of various disciplines.
While she had yet to test drive the Next Gen car, she speculated what NASCAR and team officials would examine to curb the trending issue.
"There's a lot they can do inside a car," Patrick said.
She spoke of making alterations to the foot box "to change the angle of the relationship with the seat to make things a little different."
Streaking Almirola is proving to be a consistent threat at Phoenix Raceway 
Outside of a few interior alterations, Almirola doesn't want to change a thing about his retirement ride.
The team often struggles to find pace during the first stage, but it tends to grow stronger later in each race.
"Drew has been doing a great job or making good adjustments throughout the race and just getting the car better and better," Almirola said.
Entering the Ruoff Mortgage 500, the third and final stop on NASCAR's winter West Coast tour, Almirola should feel confident in extending his top-10 streak to four. During his last eight appearances at the one-mile track, he has registered two top-five finishes and five top-10s.
"Phoenix is just a fast short track," he said. "You've got to have a car that's versatile and is a good compromise for both corners."
Like Sportscasting on Facebook. Follow us on Twitter @sportscasting19.
RELATED: Christopher Bell's Struggles Don't Match His NASCAR Potential