Aric Almirola, Ty Dillon, and Daniel Suarez Among NASCAR's Most Unlikely Drivers Who Could Actually Win the Daytona 500
Leading up to the Daytona 500 on Feb. 20, most NASCAR Cup Series fans will focus on the usual front-runners.
How will Kyle Larson open the defense of his drivers' championship?
Will Kevin Harvick win his first race since September 2020 at Bristol Motor Speedway?
Will Joey Logano go 2-for-2 to start 2022?
Among the underdogs, Aric Almirola, Ty Dillon, and Daniel Suarez seek to be recognized. One of them could win.
Really.
Aric Almirola
Entering his 15th and final season, Almirola shocked the premier series last season with a surprising win at New Hampshire International Speedway, sending the 16-team playoff field into disarray. 
Suddenly, there was one fewer open spot.
"Guess what?" Almirola asked sarcastically after the race, reported by The Daytona Beach News-Journal. "We're going playoff racing!" 
How unlikely was his postseason ticket? Entering the event, Almirola ranked 27th in the drivers' standings, 232 points below the cutoff line. He was going nowhere. Fast.
For Stewart-Haas Racing, it proved to be the organization's lone win last season. 
Could Almirola pull off another shocker? He is reunited with the new crew chief, Drew Blickensderfer. The two worked together for 35 races at Richard Petty Motorsports during 2016 and '17.
Almirola captured one race at Daytona International Speedway, claiming the 2014 Coke Zero 400. But in 20 career events at the venue, he has three top-10s and seven finishes 30th or worse. 
During the 2021 Daytona 500, Almirola lasted just 13 laps because of a six-car collision. 
Daytona 500 Prediction: Almirola's drive into retirement begins with a top-15 finish. 
Ty Dillon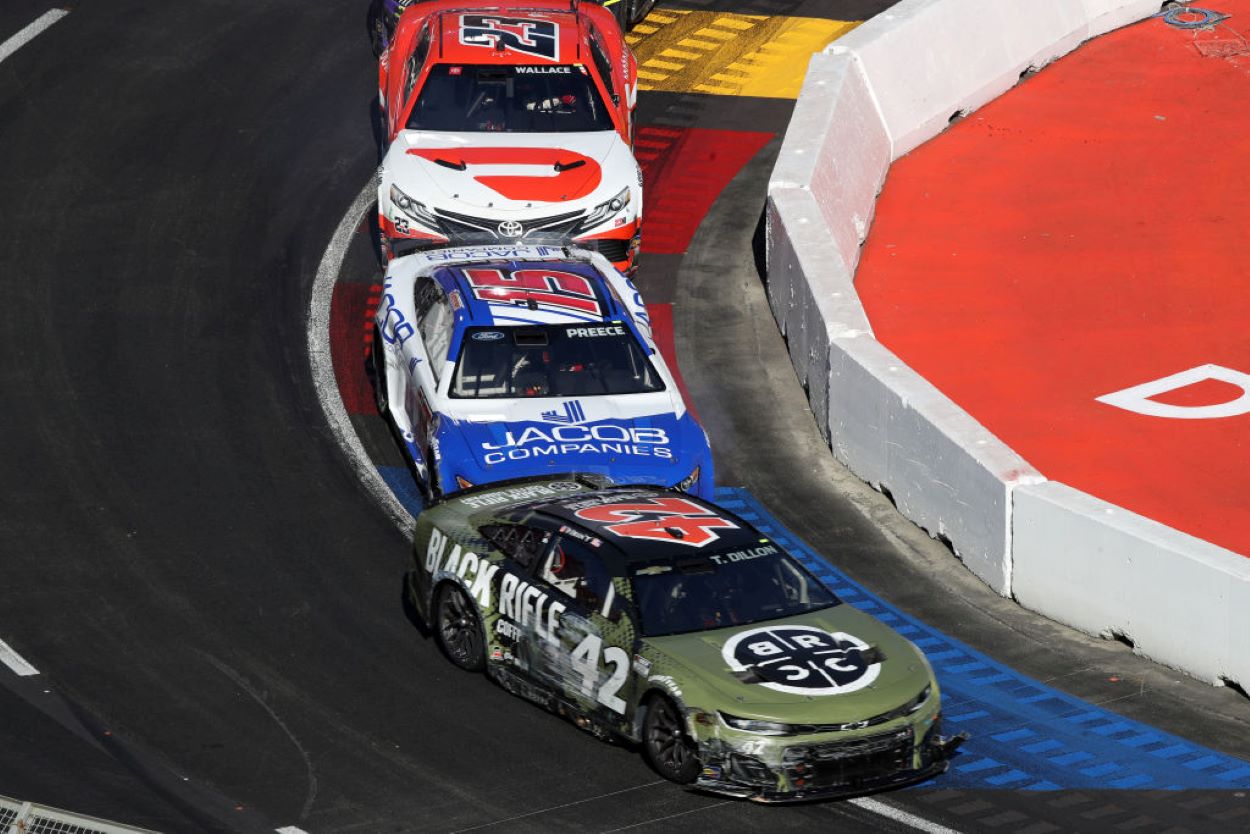 Last year in the days leading up to Speedweeks, Dillon did not have a seat, while drivers such as Quin Houff and Kaz Grala qualified for the 40-car field.
No wonder he drove so hard during the second last-chance qualifying race for the Clash at the Coliseum, causing several on-track incidents. Dillon is the grandson of Richard Childress, who maintains a lifetime passion for the Daytona 500 and brother of 2018 champion Austin. 
Talk about motivation.
After appearing in only four Cup races last season, a second chance at a career is not lost on Ty. In 166 career starts, his average finish is 22.1.
The year out of a full-time seat appeared to spark Dillon. 
Desperate? Possibly, but he remains determined to prove he can drive hard but clean and remain on the lead lap.
Daytona 500 Prediction: Dillon continues his surge and bulls his way for a spin with the leaders until the last lap. He falls short but serves notice with a top-10 finish.
Daniel Suarez
He strolled down the Los Angeles Memorial Coliseum steps with a wide grin during driver introductions. Of all drivers, he received one of the loudest cheers when he appeared wearing a sombrero. 
He clearly had fun with the inaugural Clash at the Coliseum. Throughout practice and qualifying, his No. 99 Chevrolet proved to be one of the fastest NextGen machines in the field. 
He qualified fifth and placed second in a heat race, qualifying for the main event. Suarez ran among the top 10 for most of the 150-lap race on the quarter-mile oval but faded late. He finished 14th.
"The car that won the race (Joey Logano), I was faster than him in practice," he said via press release.
But that was practice. At Daytona, he finally proves it for real. 
Daytona 500 Prediction: Winless in 179 career starts, Suarez breaks through with the first points win of the Next Gen era.
Like Sportscasting on Facebook. Follow us on Twitter @sportscasting19.
RELATED: Ty Dillon, Austin Cindric, or Harrison Burton: Who Will Be the First to Win a NASCAR Cup Race?