Aric Almirola's Quick Start Driving Career's Best Chapter During Final NASCAR Ride
Aric Almirola walks around the garage with a bit of a strut lately.
The pressure appears to have evaporated. Two weekends into his final NASCAR Cup Series season, Aric Almirola, a 15-year veteran, is enjoying the best start of his career.
While he's prepared to start his life's next chapter, he's not quite ready to turn the page.
Yet.
Could hot-starting Aric Almirola maintain momentum contend for Cup title?
Entering the Pennzoil 400 at Las Vegas Motor Speedway on Feb. 6, Almirola is coming off a fifth-place finish during the season-opening Daytona 500 and last week's sixth-place finish during the Wise Power 400. He is the lone Cup competitor to record two top-10s in 2022.
Almirola has collected only one top-five finish in the final drivers' rankings during his 11 full-time seasons. Could he maintain his early-season momentum and contend a Cup championship?
He has the motivation.
His new crew chief, Drew Blickensderfer, is well-respected.
He is the lone Stewart-Haas Racing driver to visit Victory Lane since 2020.
But …
His history does not indicate he will sustain the start.
Almirola will need better qualifying runs to remain among the leaders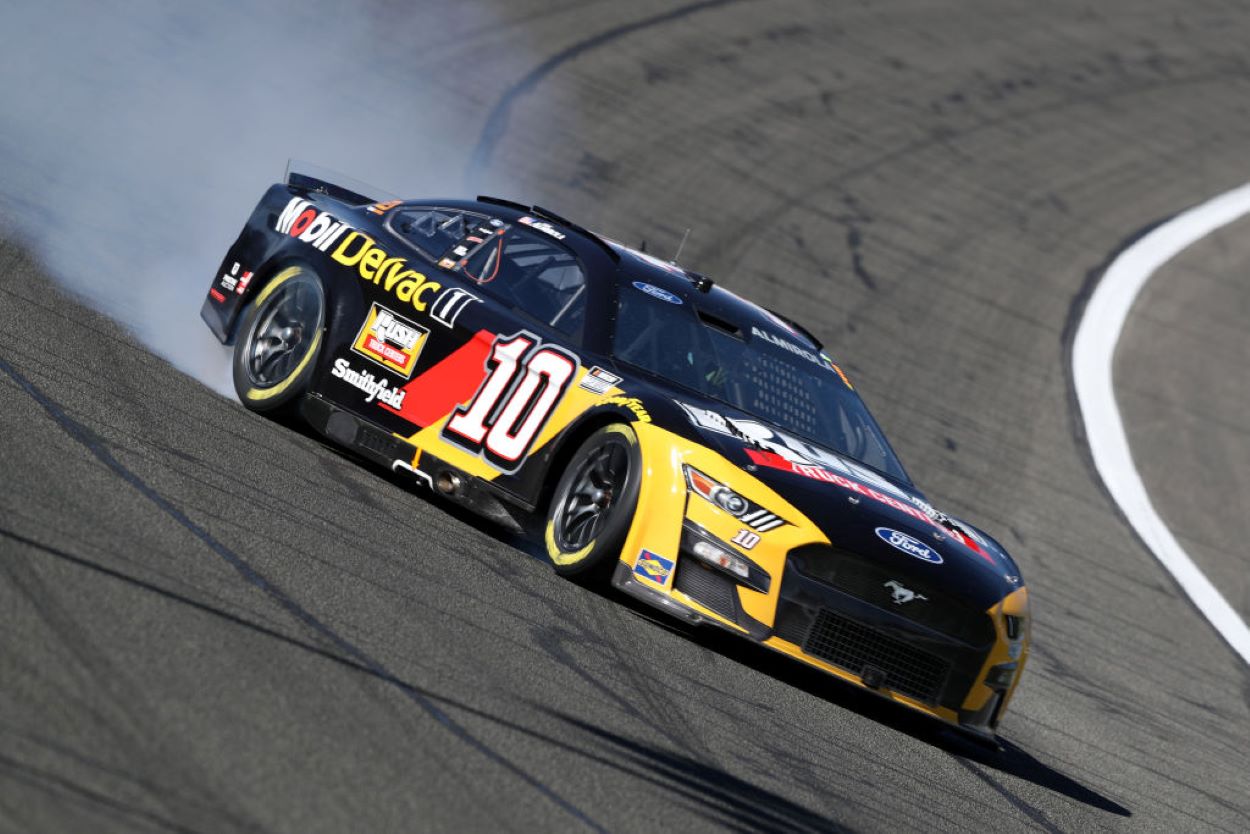 Not everything has gone right during Almirola's Swan Song. His qualifying times have been out of tune. At Daytona, he started 38th. At Fontana, he started 31st after spinning during his qualifying run.
Almirola will look to improve his starting grid during the extended practice session and qualifying at Las Vegas on March 5.
"We sure had our hands full," Almirola said following the Wise Power 400, reported by NBC Sports. "These cars are certainly a handful, and we worked on it all day (Feb. 27) and made it to where it was driving better."
Despite placing 38th in the winter event at Las Vegas last season, Almirola can look to recent history for confidence. He secured three consecutive top-10 finishes in 2018-19. Certainly, that's better than his first three appearances at the intermediate track. In 2007, he crashed out after 46 laps. In 2009, he crashed out after 143 laps. In 2010, he went over the wall after 23 laps because of engine vibration.
In 2022, Almirola's final driving chapter is unfolding. He enters the Pennzoil 400 at Las Vegas Motor Speedway on March 6 ranked seventh in the drivers' standings.
Will his hot start lead to a final scene in the playoffs?
Almirola: 'I want to be the best husband and father, and that to me means more than being a race car driver'
Last January, the 37-year-old husband, and father announced 2022 would be his final season.
Spending more time with his growing family became more important.
To remain on tour for as long as he has, Almirola told motorsport.com how much he owed his family. It's time to pay them back.
"… To be the best in this business, you've got to be selfish, and for the last 37 years, my life has always revolved around me and what I needed to do (in racing)," Almirola said. "I want to be present. I want to be the best husband and father, and that to me means more than being a race car driver. So, it's one more year where I'm all in on racing, where we'll do whatever it takes to compete at the highest level.
"But when the season is over, I'll be ready to wave goodbye. I've loved every minute of it, but it's time for the next chapter of my life."
Until then, he's developing an intriguing final act of his racing career.
Like Sportscasting on Facebook. Follow us on Twitter @sportscasting19.
RELATED: Aric Almirola, Ty Dillon, and Daniel Suarez Among NASCAR's Most Unlikely Drivers Who Could Actually Win the Daytona 500