The Arizona Cardinals Can Emphatically Fix Their Biggest Roster Hole by Giving the Philadelphia Eagles a Call
Thus far, the Arizona Cardinals' 2021 season is off to a perfect start.
That's not even an exaggeration. The Cardinals are a perfect 5-0 to kick off the season — the last remaining undefeated team in the NFL. Kyler Murray is a leading MVP candidate, Deandre Hopkins is still one of the best wide receivers in football, and Kliff Kinsgury is seemingly finding his stride as an NFL head coach despite offseason rumors of him being on the hot seat.
However, following some devastating injury news in Arizona, the Cardinals would be wise to look to add to their already impressive roster to ensure they stay on top.
The Arizona Cardinals lost TE Maxx Williams to a season-ending injury
While most of the hype surrounding the Cardinals' offense has been around Murray and Hopkins (understandably so), they've quietly received a breakout performance from another one of their key pass-catchers. In his third season with the Cardinals, tight end Maxx Williams was on pace to shatter his career-high for receiving yards in a single season.
Williams was averaging 38.6 receiving yards per game with a 94.1% catch rate. His previous high for receiving yards per game was 19.1 during his rookie season with the Baltimore Ravens. Williams formed a noticeably strong connection with Murray as his safety net over the middle of the field, and it reflects on the stat sheet.
However, the Cardinals are now preparing for life without Williams moving forward. The veteran tight end suffered a torn ACL during the team's Week 5 win over the San Francisco 49ers and is presumably done for the season.
The Cardinals placed Williams on IR Wednesday, and Williams took to Twitter to announce he hopes to be back next year.
The Arizona Cardinals should aggressively pursue external help at TE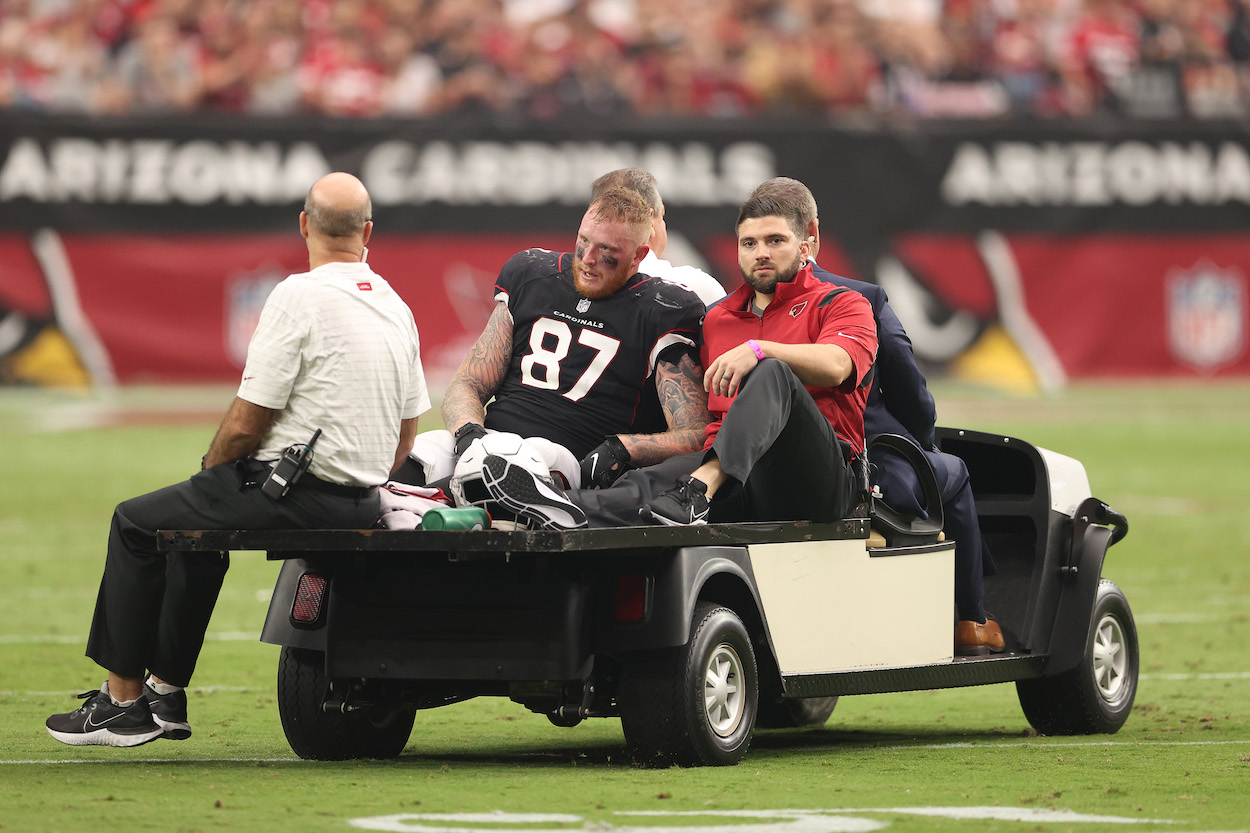 In theory, the Cardinals are built to withstand this loss to their offense. They still have Hopkins and veteran WR A.J. Green to rely on, and Kingsbury's offensive scheme improves by the week.
However, with a deep playoff run in sight, this is the last time Arizona should act passively.
If they're serious about making a run at the Super Bowl this year, they need to act aggressively to fill the void left by Williams. Practice squad call-ups and fringe waiver wire adds aren't going to cut it. The Cardinals need to swing a trade for a difference-maker at the TE position.
Eagles TE Zach Ertz should be obtainable
The consensus this past offseason was that Zach Ertz would be traded or released at some point. The Philadelphia Eagles opted to keep him around instead, a move that was met with raised eyebrows.
This season, Ertz hasn't been effective for the Eagles (14 catches for just 160 yards). He's also taking away targets from a younger TE in Dallas Goedert. Not only would Ertz benefit from a fresh start, but the Eagles' rebuilding process would benefit the same.
This is where the Cardinals enter the picture.
According to ESPN's Jeremy Fowler, the Buffalo Bills and Indianapolis Colts are the two teams most interested in Ertz at the moment. However, that shouldn't prevent the Cardinals from swooping in over the top and outbidding everyone. The Cardinals need a new pass-catching TE, and Ertz is a Super Bowl champion with a strong track record.
He's exactly what Arizona needs right now.
All stats courtesy of Pro Football Reference.
RELATED: Eagles Head Coach Nick Sirianni Is Furious With a Member of His Coaching Staff, and It Could Lead to an Embarrassing Conclusion