Arizona Cardinals Remain NFC Contenders Without Carson Palmer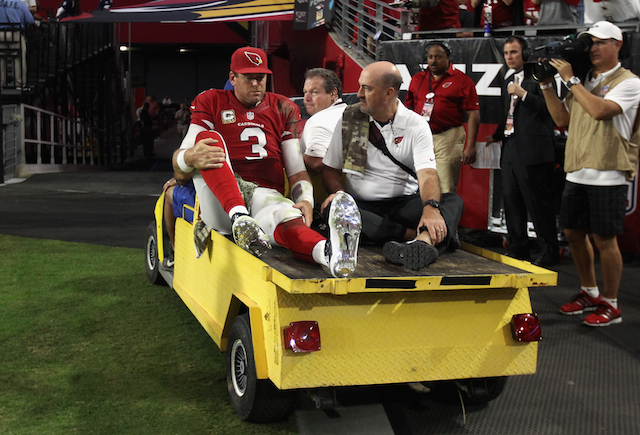 When Arizona Cardinals quarterback Carson Palmer went down with a torn ACL on Sunday, most people thought the team's playoff and Super Bowl hopes went down with him. Cardinals head coach Bruce Arians is not one of them. Arians responded to news of the injury by not only expressing his condolences for Palmer, but also by saying that he feels the Cardinals are good enough to win the Super Bowl with Drew Stanton at quarterback.
That may seem like a wild exaggeration, even if it came from a guy like Arians, who is known for making bold statements. But is it really that far-fetched to think that the Cardinals are still NFC and Super Bowl contenders with Stanton under center? Here is a breakdown of the Cardinals' outlook for the 2014 postseason and their quarterback position going forward.
Postseason outlook
The Cardinals are currently 8-1, which is good for the best record in the NFC and gives them a solid two-game lead in the NFC West. Six of those wins came with Palmer as the team's starting quarterback, and their only loss came on the road against the Denver Broncos during Stanton's three-game stretch filling in for Palmer early in the season. With three starts and a 2-1 record under his belt in 2014, Stanton could easily lead the Cardinals to a wild card playoff berth, if not the NFC West title. Here is a look at the team's remaining 2014 schedule.
Detroit Lions (7-2)
At Seattle Seahawks (6-3)
At Atlanta Falcons (3-6)
Kansas City Chiefs (6-3)
At St. Louis Rams (3-6)
Seattle Seahawks (6-3)
At San Francisco 49ers (5-4)
The remaining schedule for the Cardinals will undoubtedly be difficult, with five of their seven games coming against teams with winning records. Fortunately, they have the luxury of already owning a two-game lead in the NFC West. Arizona has four games left against NFC West opponents, including a matchup with the San Francisco 49ers, one of the teams Stanton beat in his three games as the team's starter. They have yet to play the Seattle Seahawks, but the Seahawks look like a different team than they were a year ago, and their 6-3 record shows that they definitely beatable.
Realistically, the Cardinals need to win three of their final six games to give themselves a chance at winning the NFC West, and two games to stay in the hunt for one of the NFC's wild card spots. If they can survive their remaining schedule and make the NFC playoffs with Stanton at the helm, their defense is good enough to keep them in the game against any NFC opponent they may face. With that being said, Arians may not have been that far off in his seemingly overconfident statement about the team's potential with Stanton under center.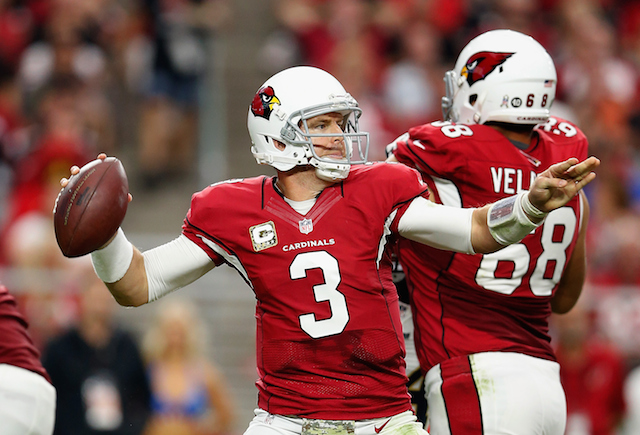 Arizona's future at the quarterback position
Palmer tore his left ACL for the second time during the Cardinals' win over the St. Louis Rams on Sunday, just days after signing a multimillion-dollar contract extension. While Palmer's contract will keep him in Arizona though 2017, the Cardinals have to start looking into what life after Palmer will look like.
Palmer's contract has the Cardinals committed to the former Heisman Trophy winner in the near term, but his replacement, Stanton, has an excellent opportunity to earn a starting job somewhere in the league if he can lead the Cardinals to the playoffs in 2014. Stanton's current contract runs through the 2015 season, so the Cardinals will more than likely choose to hold on to Stanton just in case Palmer's left ACL is slow to recover this time around. There is no doubting that there will be trade interest for Stanton if he plays well filling in for Palmer, though. Logan Thomas, a fourth-round draft pick in 2014, has flashed big-time potential but is far from being ready to be a starter in the NFL.
It's highly likely that the quarterbacks on the Cardinals' 2015 roster will be exactly the same as they are now. They are unquestionably Palmer's team when he's healthy, but his health for the 2015 season will be a major question mark. It would take a wildly underwhelming performance by Stanton over the next seven weeks or a wildly overwhelming offseason trade offer if Stanton plays well over that stretch for the journeyman quarterback out of Michigan State to not be back in Arizona in 2015.