Could the Arizona Cardinals Replace Kyler Murray With Malik Willis?
Article Highlights:
The Arizona Cardinals should consider targeting Liberty's Malik Willis if the team trades Pro Bowl quarterback Kyler Murray
Willis, who totaled 40 all-purpose touchdowns at Liberty in 2021, is currently projected to go in the 2022 NFL Draft's first round
If Arizona targets Willis, the safest play may be drafting him before trading Murray
The Arizona Cardinals want football fans to believe everything is fine and, despite any potential thoughts to the contrary, Kyler Murray will return in 2022 as the team's starting quarterback.
However, everything might not be fine, and there is no current guarantee Murray will suit up for the Cardinals this fall. If the 2018 Heisman Trophy does demand his way out, Arizona must turn its eyes to Liberty standout Malik Willis as a potential replacement.
The Arizona Cardinals could likely move up to select Malik Willis by trading Kyler Murray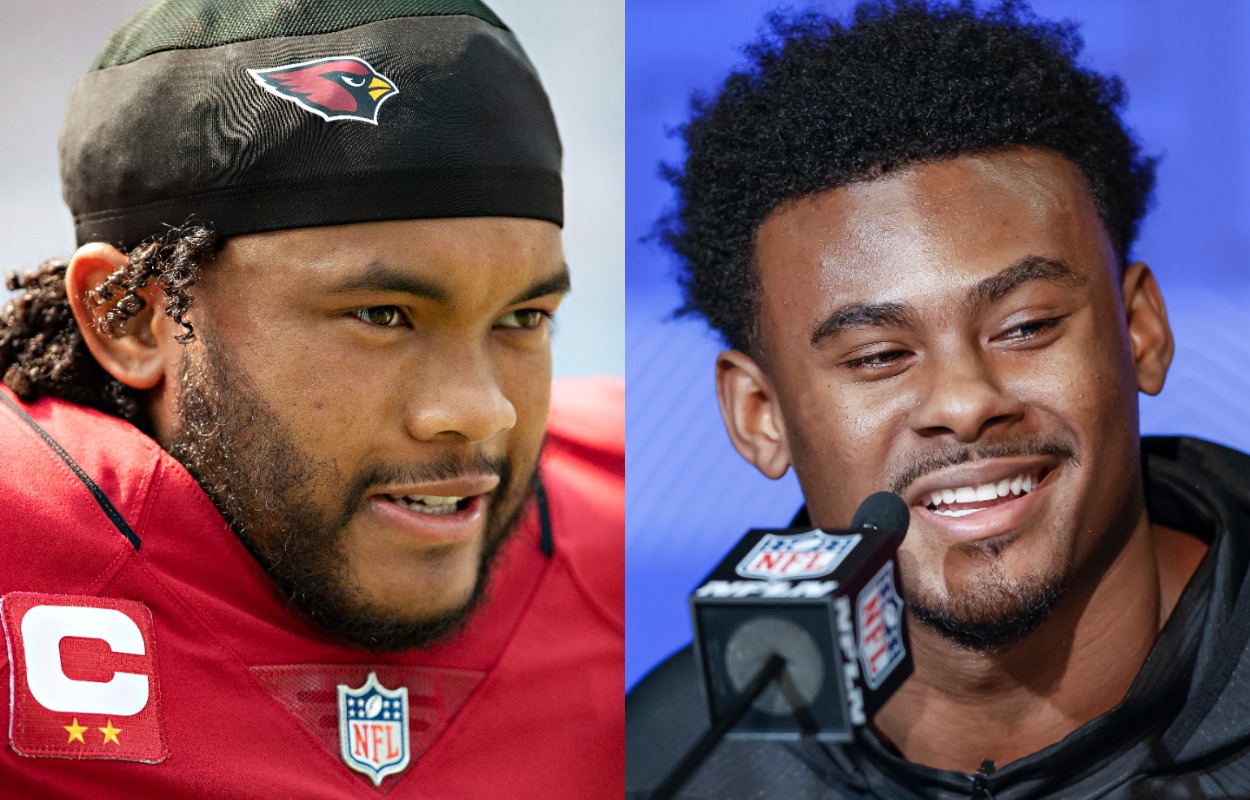 If the 2022 NFL Draft occurred today, it'd be far earlier than any draft in recent memory. More importantly, it'd also mean the Cardinals, fresh off an 11-6 season and an NFC Wild Card Round appearance, wouldn't pick until 23rd overall.
It's too early to know if Willis, who totaled 40 all-purpose touchdowns (27 passing, 13 rushing) at Liberty last season. Although he is widely regarded as one of the 2022 draft's top two quarterbacks, it is unknown how early he or Pittsburgh's Kenny Pickett will go in next month's draft. Neither is Murray or former Clemson star Trevor Lawrence, both of whom were widely considered No. 1 overall picks for months before the draft.
If the Cardinals traded Murray to a quarterback-needy team such as the Denver Broncos (who hold the ninth overall pick) or Washington Commanders (No. 11), they'd likely have an excellent chance of moving up and selecting Willis.
According to WalterFootball's Walter Cherepinsky, the Cardinals met with Willis at the NFL Combine. However, the 6-foot, 219-pound quarterback reportedly met with every team, so we can't read too much into things there.
Is trading Murray worth acquiring Willis? That depends on who you ask
In instances such as the ongoing Murray-Cardinals standoff, the team must ask themselves if the quarterback they can acquire as a potential replacement is a better option. Replacing Murray with backup Colt McCoy or the Broncos' Teddy Bridgewater would be less than ideal.
In fairness to Murray, there is no guarantee Willis would be better in 2022 or even 2023. The likes of Andrew Luck, Justin Herbert, and even Mac Jones have created the impression that every rookie quarterback is destined for greatness. Some players don't start consistently playing up to expectations until their second year, which in most situations is perfectly fine.
At this stage, the Cardinals likely could not afford to give Willis a year or two of development if it means trading Murray. Although the Oklahoma product struggled in the season's second half and played terribly in the NFC Wild Card Round, he's been an explosive dual-threat quarterback when healthy. Those aren't the types of players who grow on trees.
Although Willis is himself a dynamic weapon who has earned comparisons to the Philadelphia Eagles' Jalen Hurts, he's not Murray. Not yet, at least, and for a team that will enter the 2022 season facing significant pressure to win a playoff game, that might not be enough.
Should the Cardinals essentially trade Murray for Willis?
In retrospect, perhaps the argument here isn't if Willis would be a better option than Murray. Maybe the conversation we need to have involves who has a better chance of wearing the Red and White next year.
Conversely, some might argue the time has to come to start over in Arizona by trading Murray and finding a new quarterback. If the 2019 Offensive Rookie of the Year considers sitting out the 2022 season to get a new contract, then, yes, Willis would arguably be a better option because he'd at least be on the field.
The Cardinals locked themselves into a difficult situation by re-signing head coach Kliff Kingsbury, who has repeatedly seen his teams falter late in the season. Had the organization not done so, it would have been slightly easier to trade Murray and sell the 2022 season as a transitional year before possibly finding a new head coach next offseason.
But there's no sense playing what-if here. This is the situation the Cardinals find themselves in, and essentially trading Murray for Willis could be the right play. However, Arizona would need to guarantee themselves a shot at Willis, which might involve trading assets on draft night and dealing Murray later.
As strange as it sounds, drafting Willis with Murray still on the team might be a safer move than trading Murray for, say, the 11th overall pick and watching the Detroit Lions shock everyone by drafting Murray second overall.
Actually, that sounds like exactly what would befall the Cardinals.
Like Sportscasting on Facebook. Follow us on Twitter @sportscasting19.
RELATED: Clay Travis Rips 'Malcontent' Kyler Murray Over Recent Contract Demands