Arkansas Receiver Trey Knox Announces 1st Ever Paid Partnership of a Student-Athlete and His Dog
A recent development changed the NCAA irrevocably when student-athletes learned they can now profit off of their own likeness. This was a long time coming and will no doubt lead to some exciting and interesting partnerships between existing brands and college athletes.
One of the first athletes to profit off of the rule change will make money from an unlikely source: a pet store. Let's look at the curious story of University of Arkansas wide receiver Trey Knox and his endorsement deal. 
Arkansas receiver Trey Knox signs an endorsement deal with PetSmart
Trey Knox plays football for the University of Arkansas Razorbacks. Along with being a student-athlete, he's also a dog owner. According to 247 Sports, he and his dog Blue have signed a lucrative agreement for an endorsement with PetSmart. 
The junior has joined the company for an ad campaign executed via social media that will shine a spotlight on his relationship with his pup. In a statement, Knox talked about his excitement for the deal: "I have always been proud to be a student-athlete and an Arkansas football player, but I am just as proud to be a dog dad to Blue … It was a clear fit to work alongside PetSmart in this game-changing opportunity showcasing my love of Blue and how PetSmart fills all her needs."
Knox also posted a picture of himself and Blue on Instagram, announcing the deal. It's apparent that Knox has a lot of love for his dog, so the partnership makes a lot of sense. So how did this even become a possibility? 
How NIL rule changes have opened the door for college athletes to make money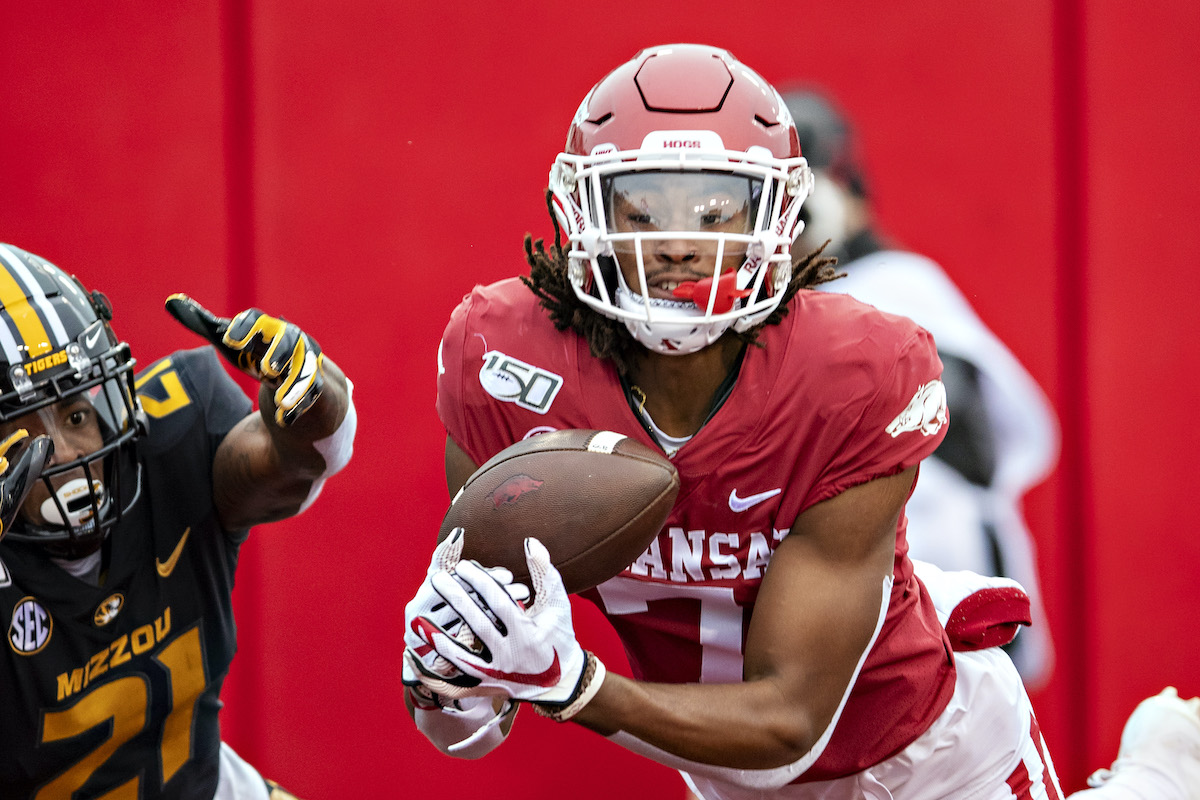 As of Thursday, July 1, college athletes could begin profiting off of their name, image, and likeness (NIL). In the past, college athletes could not receive any money relating to their play or performance on the field (i.e. jersey sales, autograph signings, etc.). A scholarship was the only form of compensation these athletes could receive. The scholarship could then pay for their school tuition, meals, and room and board. They couldn't get a job outside of their athletic activities. 
It's been a hot-button issue for years, used as an example of the NCAA's hypocrisy when it comes to fairly compensating student-athletes. While a scholarship is worth plenty, critics of the NCAA point to the fact that the NCAA, its member universities, and corporate sponsors made billions off the backs of these athletes while the compensation received by the students was paltry in comparison to the overall profits. 
Now the game has changed. College athletes like Trey Knox can make money off their likeness. There will be plenty of rules and regulations that pop up around these new rule changes, but the initial NCAA ruling is a good start. 
College athletes around the country are benefiting from the recent rule changes
If you think Knox will be the only athlete to cash in on this new rule, think again. There will be plenty of others to take advantage of it, and plenty already have. 
For just one example, look at University of Miami quarterback D'Eriq King. According to a tweet from Front Office Sports, King has started a podcast, a website, an apparel line, a NIL marketplace, and signed a deal with a company called College Hunks for $20,000. He also stated plans to share that money with his teammates. 
With these new changes in their infancy, look for athletes to figure out how to navigate this new landscape and make more money than ever. It's hard to argue with this development. Despite the fact that the NCAA took too long to implement this rule hiding behind an outdated concept of amateurism, it's a great step forward that athletes like Knox and King are starting to take advantage of it.