Arnold Palmer's Death Inspired Tiger Woods to Rethink His Legacy, Says Former Caddie Steve Williams
The last decade hasn't been great to Tiger Woods compared to the decade before. Woods sunk about as low as an athlete can back in 2009. Yet he somehow managed to climb back up the golf mountain just last year. How did Woods do it despite insurmountable odds? According to Woods' former caddie Steve Williams, he may have emulated golf legend, Arnold Palmer.
Arnold Palmer's golf career
RELATED: Tiger Woods Gives a Rare Glimpse of His Backyard Putting Green
Palmer was one of the greatest golfers to ever live — a version of Woods before Woods ever stepped on a course. According to Britannica.com, Palmer took the game by storm in the '50s and '60s with an "unorthodox swing" and an "aggressive approach." He was the first pro golfer to net four victories at Augusta in the Masters, winning in 1958, 1962, and 1964.
Palmer also has the distinction of being the first player on the PGA Tour to earn $1 million worth of prize money. Palmer played professionally in some form or another (meaning PGA or Senior Tour events) until 2006. He ended up with 92 career tournament victories, 62 of which came on the PGA Tour. 
Palmer was one of the most well-liked and respected golfers throughout his career. He was also a successful businessman. Following his career, he served as a spokesman for many companies while also acting as a consultant and helping design golf courses.
Of course, his most famous achievement outside the world of golf may be the drink that bears his name: one day he asked his wife to mix lemonade and iced tea, and "the Arnold Palmer" was born. The drink has become a standby at golf clubs, restaurants, and kitchens worldwide. 
Tiger Woods' golf career
RELATED: Tiger Woods Once Went to Lunch With a Group of Navy SEALs and Refused to Pick Up the Tab
To call Woods the Palmer of his day would hardly be an understatement. Seemingly since before he could walk, Woods has been heralded first as a golf prospect and then as one of the game's greatest players. Woods' career has been a tale of two eras, however: pre-2009 and post-2009. 
Before 2009, Woods was sitting on top of the world. He burst onto the scene with a massive victory at the 1997 Masters when he was only 21 years old. According to Biography.com, Woods won 13 major tournaments over the next 12 years. He was also named PGA Player of the Year a whopping ten times during that span. Then came 2009. 
Woods ran into marital issues when reports of his infidelity surfaced. Woods reportedly had affairs with numerous women. His marriage dissolved. This turmoil within his personal life on top of multiple injuries and his own aging represented a significant setback for him. Eventually, through hard work and perseverance, Woods returned to form. He won the 2019 Masters after an 11-year drought of major victories. So how did Woods turn things around? 
How Woods friendship with Palmer inspired him to rethink his legacy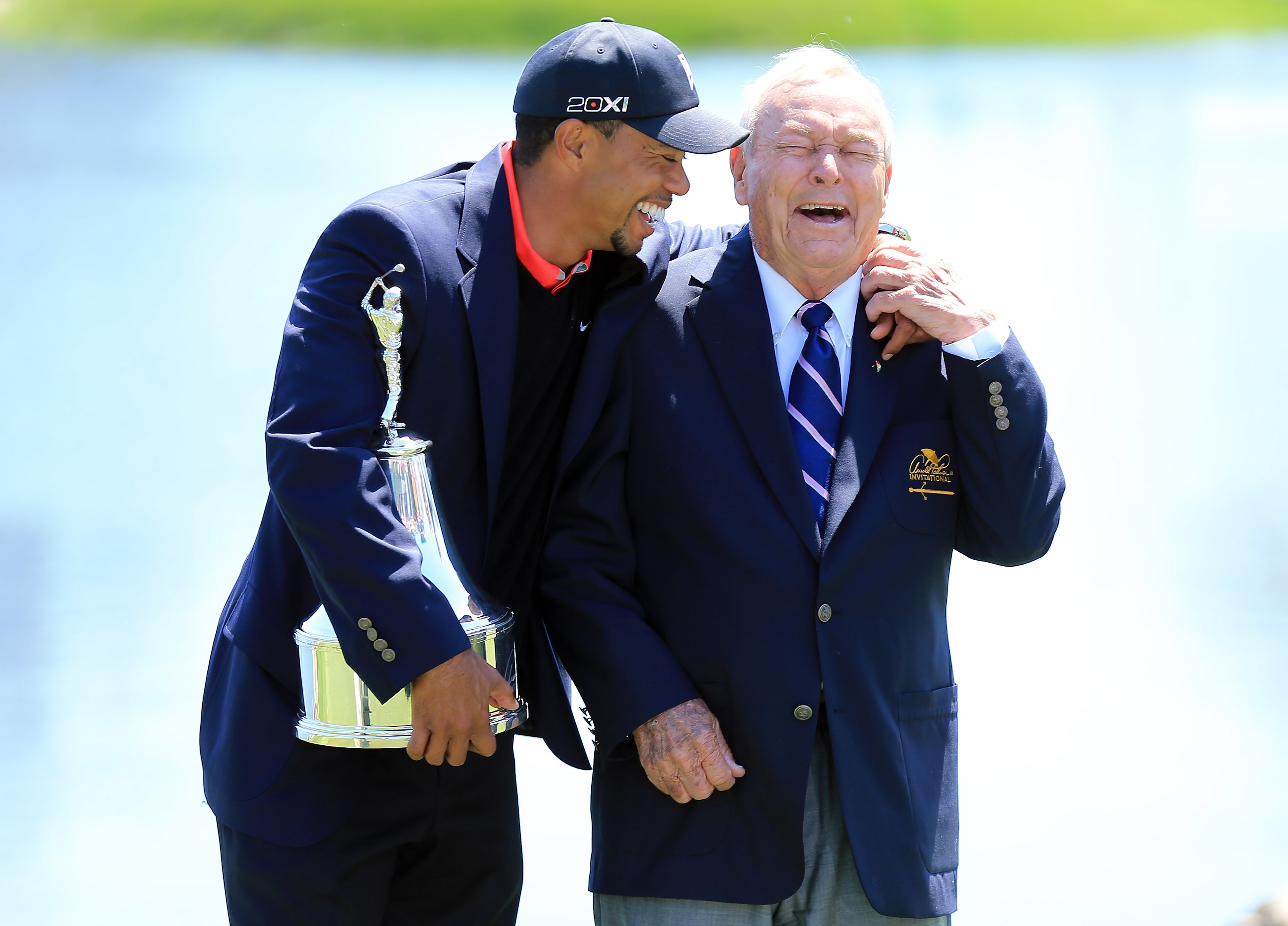 In an article for Athlete's Voice, Woods' former caddie Williams said it was Palmer who inspired Woods to change things for the better. Palmer passed away in 2016, which preceded Woods' return to form:
"It was about a year after Arnold died that Tiger started his comeback after his back surgery, and I think he may have decided that with his second chance he wanted to be remembered the way Arnold was remembered."
Despite caddying for Woods for many years, Williams and Woods did not have a great end to their professional relationship. Putting that aside, Williams still rooted for his old boss to get a victory. There's no question that Williams's insight into Woods' mindset means that Palmer likely served as a point of inspiration for him.