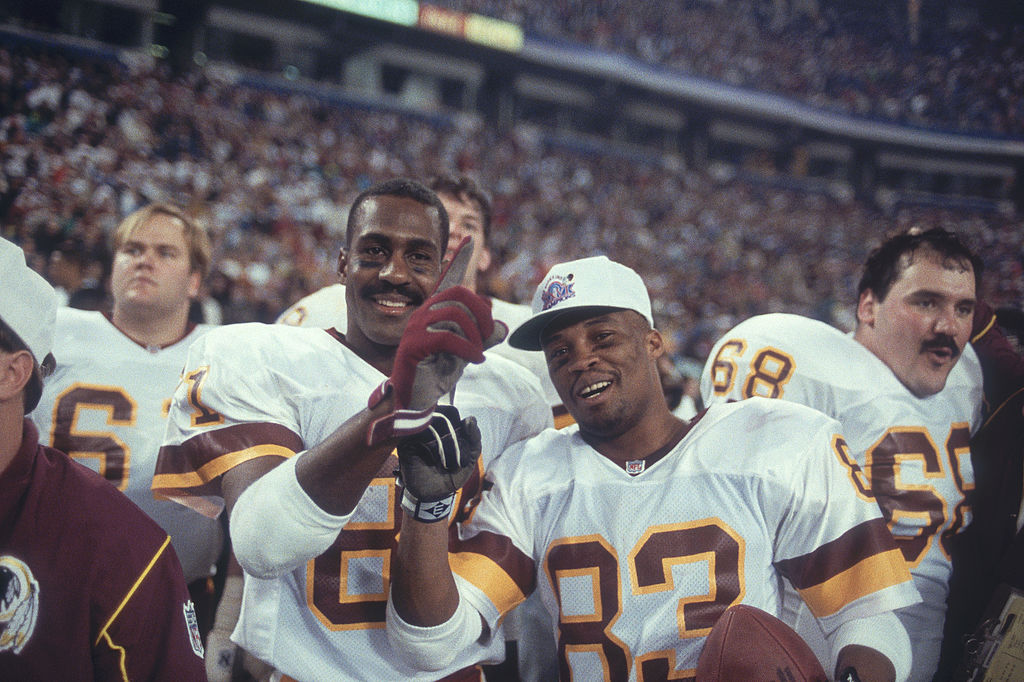 Art Monk Was Ripped Off for $50,000 by His Former Teammate
NFL Hall of Famer Art Monk had a long, successful NFL career. But the wide receiver was the victim of a scheme at the hands of a teammate.
NFL Hall of Famer Art Monk had a long, successful career in the NFL filled with lots of joy and triumphs. Off the field, however, the wide receiver was the victim of a scheme at the hands of his own teammate. What followed served as a cautionary tale for future athletes who want to help, but struggle to turn down potential schemes. 
Art Monk on the field
Monk first made waves at Syracuse University in New York. A New Yorker himself, Monk's speed and ability to catch the ball made him a valuable asset for any team he played for. The Washington Redskins selected him with the 18th overall pick after rising to the top in college. His career as a professional took off. 
Monk became a staple of the Redskin's offense for the next 14 years. Starting off the bench, he quickly showed that he had what it took to start, and by the end of the season he had the keys to the office. Although the star production didn't show up right away, by his fifth year in the NFL Monk not only a perennial starter for his team, he was one of the best wide receivers in the entire NFL. 
The Redskins won three Super Bowls with Monk on the field for them. He amassed 940 receptions for 12,721 yards and 68 touchdowns during his 16-year career. While he spent his last two years with the New York Jets and the Philadelphia Eagles, however, Monk will always be known best for his time in Washington. 
On top of his three Super Bowl Championships, Monk was a three-time Pro Bowler as well as a one-time All-Pro. Behind the scenes, however, there was drama of a different sort. 
Too good to be true
Terry Orr had a long, albeit mostly unspectacular career in the NFL. Joining the Redskins in 1986, Orr provided the team with relief off the bench. Although he briefly moved to San Diego in 1990, he spent most of his eight-year career alongside Monk in Washington. Making less money than his star teammates, he hatched a plan to change that. 
Orr asked Monk and several other teammates if they could invest in a shoe company he was starting. Monk donated $50,000 and several other players followed. There was just one problem with the entire situation, however. Orr did have a fledgling shoe company. While plans for one may (or may not) have been in the works, Orr used the initial funds to pay off personal debts, not start a company. 
As a result of this Ponzi scheme, according to the Washington Post, Orr received 14 months in prison for wire fraud after defrauding his teammates and a Georgia businessman out of $141,000.
A lesson to be learned 
Professional athletes' earnings receive a lot of attention. While several athletes see themselves as businessmen in the making, some are not cut out for this life. Monk was ultimately fine after the events that Orr had put him through, but he still helps serves as an example of what can go when poor financial decisions are made.
Orr did his time in prison and largely fell off the map in the ensuing years since 2001. Monk, on the other hand, has found himself in a better place. He is the co-founder of the Alliant Merchant Services in Virginia. Alliant is an electronic payment service that stretches across the straight. When he isn't working, however, he has taken to community service, helping kids across Virginia with their development into adulthood. 
Locker rooms are supposed to be where everyone puts themselves away and works for the best interest of the team. Still, some bad eggs can sneak in and ruin this. Monk's own teammates played him, and he paid the price. Luckily, just because there isn't a hitch in the road, there doesn't need to be a sad ending.