'As the Philadelphia 76ers Turn:' It's a Fine Time to Take More Money From Ben Simmons, Say Sixers
In what is rapidly transforming into the longest-running soap opera in the NBA, the Philadelphia 76ers are once again reportedly fining sidelined point guard Ben Simmons. The team initially fined the All-NBA player after he failed to report for training camp and for missing the team's four preseason games. The financial penalties temporarily stopped after Simmons told the team about his mental health.
Then the 76ers docked Simmons for refusing to meet with a team-recommended mental-health specialist. The latest fine involves the team's current six-game road trip. But this is merely the latest plot twist in a drama that began last summer.
It's no secret: Ben Simmons wants out of Philadelphia
After he bore the brunt of the blame for the Philadelphia 76ers early playoff exit last season, Ben Simmons requested a trade. According to reports, Simmons felt he was hung out to dry by coach Doc Rivers and superstar Joel Embiid after the Atlanta Hawks stunned the Sixers in the Eastern Conference semifinals.
Simmons isn't blameless in this affair. He's made decisions easily perceived as passive-aggressive, such as refusing to communicate with 76ers officials for several weeks, putting Philadelphia-area real estate on the market, and getting kicked out of a practice by Rivers for refusing to participate.
But the Philadelphia organization owns some responsibility, as well. The team reportedly rejected trade offers for Simmons, demanding a superstar return in a situation where the player's value continues to fall. Some of that devaluation stems directly from how the team is managing the situation.
It's not as simple as some want to portray it. One side isn't completely right; one side isn't totally at fault. This is a mess created by ham-handed decisions by Simmons and the 76ers.
Simmons has four years and $147 million remaining on the supermax extension he signed in 2019. Philadelphia can't simply waive him and be done with it; the salary cap doesn't work that way. The NBA's stretch provision allows only allows teams to exceed 15% of the salary cap in stretched salaries. Not can a team stretch a portion of a player's salary; it's an all-or-nothing deal, per NBA CBA FAQ.
Simmons' max extension afforded him 30% of the team's salary cap as his annual salary. Stretching four years of a five-year extension is not just impractical because of potential future cap problems. It's not possible under the rules.
Thus, we have the current standoff.
The Philadelphia 76ers are reportedly fining Simmons for not traveling to games
Per a tweet from Shams Charania of The Athletic, the Philadelphia 76ers reinstated fines against Ben Simmons. This time the levies are because he did not travel with the team on its current road trip. But if isn't going to be cleared to play until his mental health is deemed fit, what is the point of him visiting Indianapolis, Salt Lake City, Denver, Portland, Sacramento, and San Francisco?
Simmons' agent, Rich Paul, claims the 76ers are trying to force Simmons to play, per a report in The Athletic from Charania. However, it must be pointed out that Charania's objectivity is not entirely certain. He is represented by United Talent Agency, part of Paul's Klutch Sports empire.
It's fair to wonder why Charania is breaking almost all the news from Simmons' camp. It also begs questions as to how much of his coverage is colored by his entanglements with Paul's agency.
A trade is still the most likely exit scenario from the stare down between Simmons and the 76ers. But there are 106 players who cannot be traded before Dec. 15 because they signed new contracts last offseason, according to Hoops Rumors. Another 18 can't be moved before Jan. 15 due to when they signed new contracts.
That tightens the available trade capital considerably.
The Philadelphia 76ers want a king's ransom for Ben Simmons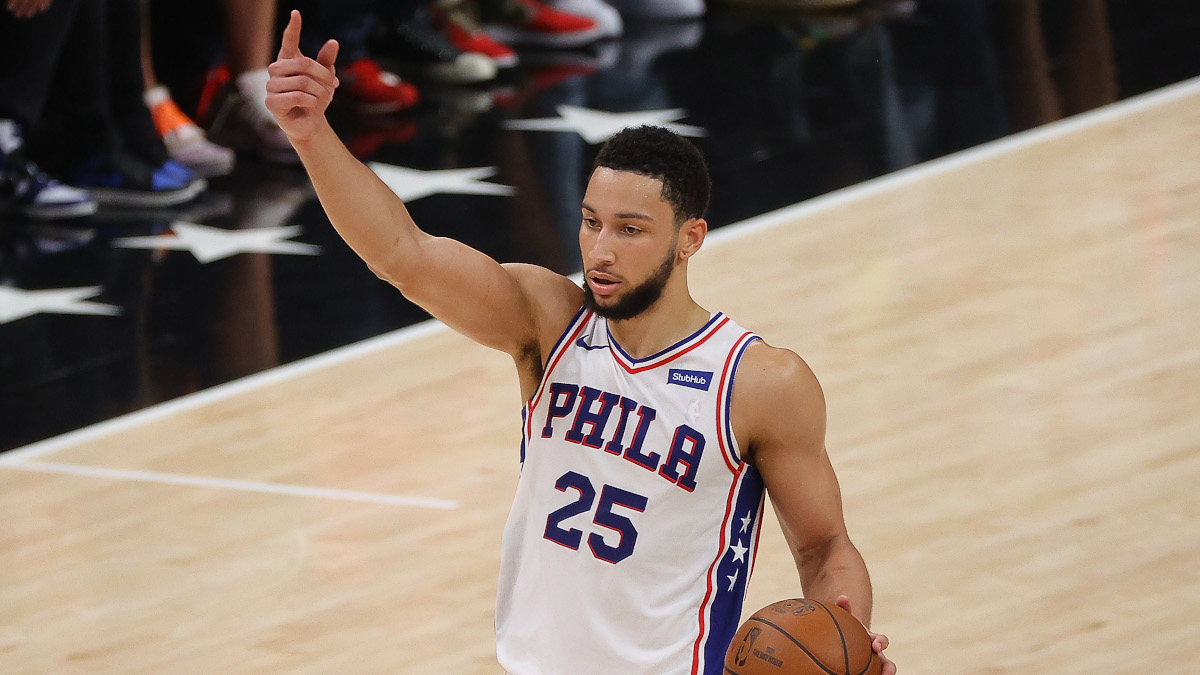 Ben Simmons is an elite player. He's a former All-NBA performer, a two-time All-Defensive player, and a former Rookie of the Year. What Simmons is not is an elite shooter. That is the crux of the problems he's having with fans in Philadelphia.
But Daryl Morey, the president of basketball operations for the Philadelphia 76ers, reportedly wants a massive return for Simmons. Given that Simmons last played an NBA game on June 20, teams are understandably leery of giving up a lot of assets.
Simmons has received treatment for a back injury as well as his ongoing mental health care. It's not as simple as trading for a player a team can immediately plug into the lineup. There are more questions than answers surrounding Simmons right now. Expecting a full superstar return may not be realistic for Morey.
Instead, we have an ongoing battle of wills, moves, and countermoves. What we don't have are the Philadelphia 76ers and Ben Simmons going about their business of just playing basketball.
Like Sportscasting on Facebook. Follow us on Twitter @sportscasting19.