Aside From His Colorful On-Field Rants, Philip Rivers Is a Focused Player and Committed Family Man
Most years, a quarterback as accomplished as Philip Rivers switching teams would be the biggest story of the offseason. With Tom Brady leaving New England, however, that's not the case this year. But Rivers is another aging quarterback with a new team trying to see how much he has left.
The Indianapolis Colts signed Rivers in hopes he can help challenge the Texans for AFC South supremacy. While no one questions his playing ability, Rivers is still a study in contrasts. He's an animated trash talker. Conversely, he's also a committed family man and a focused player. Here's how those two sides come together.
Philip Rivers' NFL career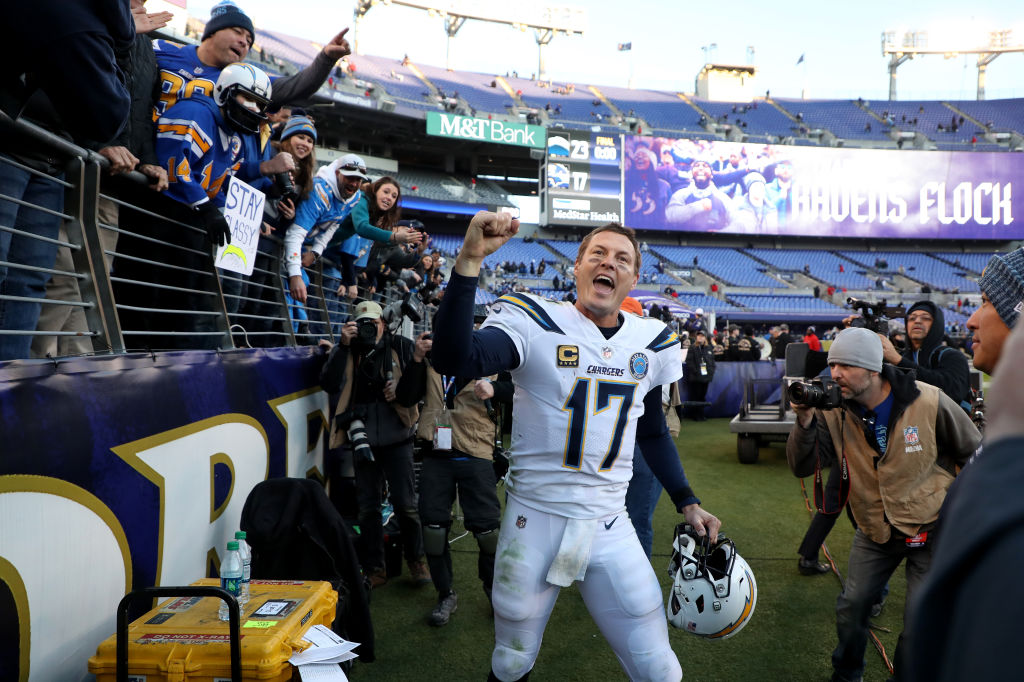 The Giants selected Rivers with the fourth overall pick of the 2004 NFL Draft before trading him to the San Diego Chargers for the draft rights to Eli Manning. Rivers has been the Chargers' quarterback ever since, displacing Drew Brees. While championships have eluded Rivers, he's been a consistent NFL quarterbacks for years.
Rivers hit free agency when the Chargers cut ties with him this offseason. He signed a one-year deal with the Colts as they were disappointed by the lackluster play of Jacoby Brissett. Now they look to Rivers to see if he can dial up some of that old magic for one more season.
It's unclear whether Rivers can or not — few players tend to improve once they hit their late 30s. If anyone can do it, it's Rivers. Whatever they have in the QB, they're sure to get someone who can talk a good game. 
Philip Rivers, the trash talker
Rivers is known throughout the NFL for being one of the league's most notorious trash talkers. USA Today provided a perfect example of Rivers' role as an "irritant" to opposing players.
In a game against the Jaguars, Rivers was pushed to the ground by defensive end Yannick Ngakoue, completing a screen pass right before the pass rush got there. The pass to Austin Ekeler went for a 90-yard touchdown. Ngakoue told Rivers not to scream in his ear, but Rivers persisted in spite of the reasonable request.
That's just one example of Rivers' penchant for talking trash. According to former safety Tony Jefferson II, Rivers is like this even when he's on other, non-NFL football fields: "Bro he coached my son's [football] team. He's the same way [with] the refs and opposing team coaches."
The Colts may not be sure what they're getting on the field with Rivers, but they're definitely getting someone who can talk smack. But is that smack talk truly indicative of the type of person Rivers in? All available evidence would indicate….not even close. 
Philip Rivers, the family man
For someone as confident, brash, and outspoken as Rivers, you'd think he'd lead a wild lifestyle off the field. But the opposite is true. Rivers has nine kids with his wife Tiffany.
According to Mansion Global's story about Rivers selling his San Diego mansion, Rivers "had plans to raise his kids and stay in this community for many, many years" until the Chargers cut him this past offseason. Rivers' Christian faith is also a big part of his life and his career as an NFL player, according to Sports Spectrum.
So what's next for Rivers? Based on his last season in Los Angeles, his swan song likely won't be pretty. He seems to be near the end of his rope. But the Colts have a solid team around him, and someone as fiery and competitive as Rivers isn't likely to go gentle into that good night.