Assessing Cade Cunningham's Rookie of the Year Chances
The Detroit Pistons have put any hope the franchise has left into point guard Cade Cunningham after selecting the Oklahoma State product with the No. 1 overall pick in the 2021 NBA Draft. No, he's not a miracle worker, so the Pistons still stink this year, but Cunningham has shown glimpses of his out-of-this-world potential and has given Detroit fans something to be excited about when looking toward the future.
But what about his chances of winning the NBA's Rookie of the Year Award?
The 2021 class is stacked with talent and has produced maybe the tightest Rookie of the Year race in years. Cunningham had a slow start to his season, but his hot play recently has put him right in the thick of the discussion.
So, here's a look at Cade Cunningham and his Rookie of the Year Chances.
Cade Cunningham has become a Rookie of the Year contender after a slow start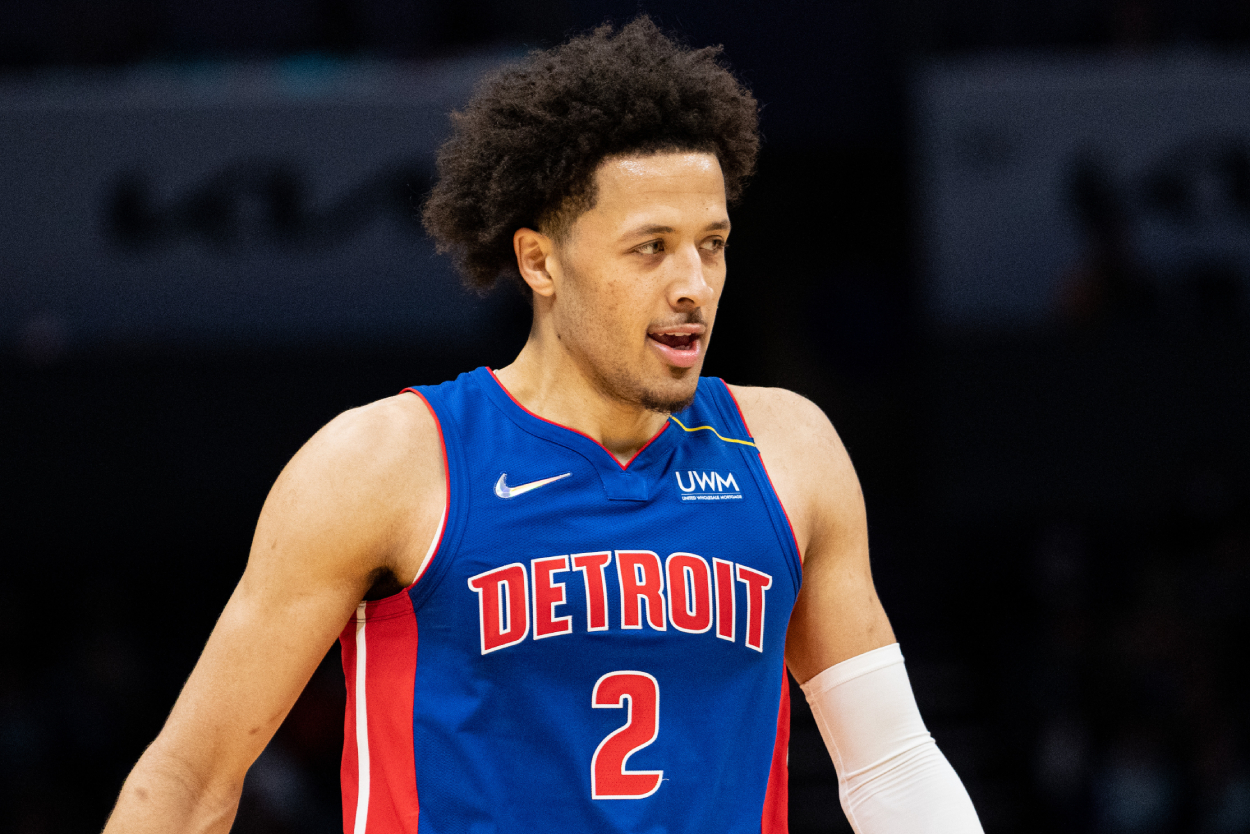 Cade Cunningham missed five of his first six games this season with an ankle injury and then had a slow start once he did take the court. He scored just two points on 1-of-8 shooting in his first game and six on 2-of-14 shooting in his second.
After those first two outings, though, Cade finally had some decent scoring nights but still struggled with his efficiency. Through his first 14 games, Cunningham averaged 12.9 points, 6.2 rebounds, and 5.0 assists on an atrocious 33.2% shooting. He was also only making 1.7 of his 7.2 long-range attempts per game, which was good enough for a 23.8% field goal percentage from deep.
Since a little after Thanksgiving, though, Cunningham has flipped a switch. While he still hasn't been as efficient a player as he would maybe like to be, the guard is now playing well on a more consistent basis. The 2021 Big 12 Player of the Year is averaging 18.2 points, 5.8 rebounds, and 5.7 assists in his last 13 games. He is also shooting a much-improved 45% from the field and 42.9% from 3-point range.
However, the Rookie of the Year Award isn't won during one specific stretch, so his overall numbers look like this: 15.4 points, 6.0 rebounds, and 5.3 assists per game on 39.2% shooting. He's also making 32.4% of his 3-pointers.
So, how does that compare to other rookies?
The NBA's Rookie of the Year race is as tight as ever
Cunningham may have been the No. 1 overall pick, but several players selected after him have shown just as much potential.
Franz Wagner of the Orlando Magic (the No. 8 pick) is averaging 15.8 points and 4.7 rebounds on 45.3% shooting and 36.9% from 3-point range. But, like Cunningham, Wagner is on a bad team with the Magic.
Toronto Raptors star Scottie Barnes and Cleveland Cavaliers big man Evan Mobley, on the other hand, have both tremendously impacted teams vying for playoff positions.
Barnes (the fourth pick) is averaging 15.1 points and 8.1 rebounds on 49.2% shooting, helping lead the Raptors to an 18-17 record. Mobley (the third pick) is averaging 14.8 points and 8.2 rebounds on an efficient 50.1% shooting and has led the Cavs to a 21-17 record. Mobley has also been great defensively, recording 1.8 blocks per game and leading the Cavs with a 2.2 defensive box plus-minus, which is an average of defensive points per 100 possessions that he provides for his team above a league-average player. He is also second on the squad with 1.9 defensive win shares, which estimates the number of wins he has contributed to Cleveland with his defense.
But with all this young talent taking over the league, what are Cunningham's chances of winning Rookie of the Year over these stars?
What are Cade Cunningham's chances of winning the Rookie of the Year Award?
Luckily for Cunningham, his team's performance shouldn't matter too much when looking at his chances of winning the award. Given that stellar rookies typically start on bad teams, there have only been two Rookie of the Year winners in the last 12 years to play for a playoff team. So, if Cunningham continues to play the way he has over his last 13 games, he will have as great a chance as anyone to earn the recognition, especially since he's not just a scorer but also a great passer and a solid rebounder.
But what could hurt him is his efficiency. Making less than 40% of your shots won't cut it when there are two players in Barnes and Mobley who make around 50%. He could also improve a little defensively, as Cunningham is recording 1.4 steals per game but has 0.9 defensive win shares and a -0.2 defensive box-plus minus.
All in all, Cade Cunningham has broken out of his early slump and has proven he can become a great NBA player. But while he has played at a Rookie of the Year-worthy level lately, he must do so for a longer stretch if he wants to claim the award.
Wagner, Mobley, and Barnes are all vying for that crown as well.
Stats courtesy of Basketball Reference