How Many Assets Will the Houston Rockets Need to Waste to Solve Their John Wall Problem?
John Wall is the last of the Houston Rockets' guards paired with James Harden in a vain attempt to win an NBA championship. The oft-injured Wall has missed 195 games and played in only 113 over the last four seasons. Harden is now with the Brooklyn Nets. Now there are reports Wall and the Rockets have come to a mutual agreement to divorce.
There are two fundamental problems the Rockets must overcome. The most obvious is that Wall is not approaching the All-NBA, All-Defensive force he was for the better part of a decade with the Washington Wizards. The second is that Wall's contract thinks he is. Wall reportedly won't play again in Houston. The Rockets brought in a ton of draft assets in the Harden trade. But how much of that treasure will general manager Rafael Stone have to give up moving Wall?
John Wall was the last in a line of ultimately failed Harden partnership with the Houston Rockets
When the Houston Rockets acquired Harden in 2012, they had just committed $25.1 million to sign the sensation that was Jeremy Lin. That partnership lasted one season with Lin as a starter. Patrick Beverley took the job for the next four years.
Future Hall of Famers Chris Paul (two years) and Russell Westbrook (one awkward, injury-filled campaign) followed. Wall came to Houston with a lottery-protected 2023 first-round pick for Westbrook.
It's not like Wall was a scrub in Houston last season. He averaged 20.6 points and 6.9 assists in a career-low 32.2 minutes per game. But he missed 32 games and shot a career-worst 40.4%. At his best he has never been better than an average deep shooter.
The Rockets are committed to rebuilding, and a 31-year-old high-mileage point guard doesn't fit that timeline. But getting a team to take Wall's contract is a huge ask, even with incentives.
Wall still has $91.7 million left on his max deal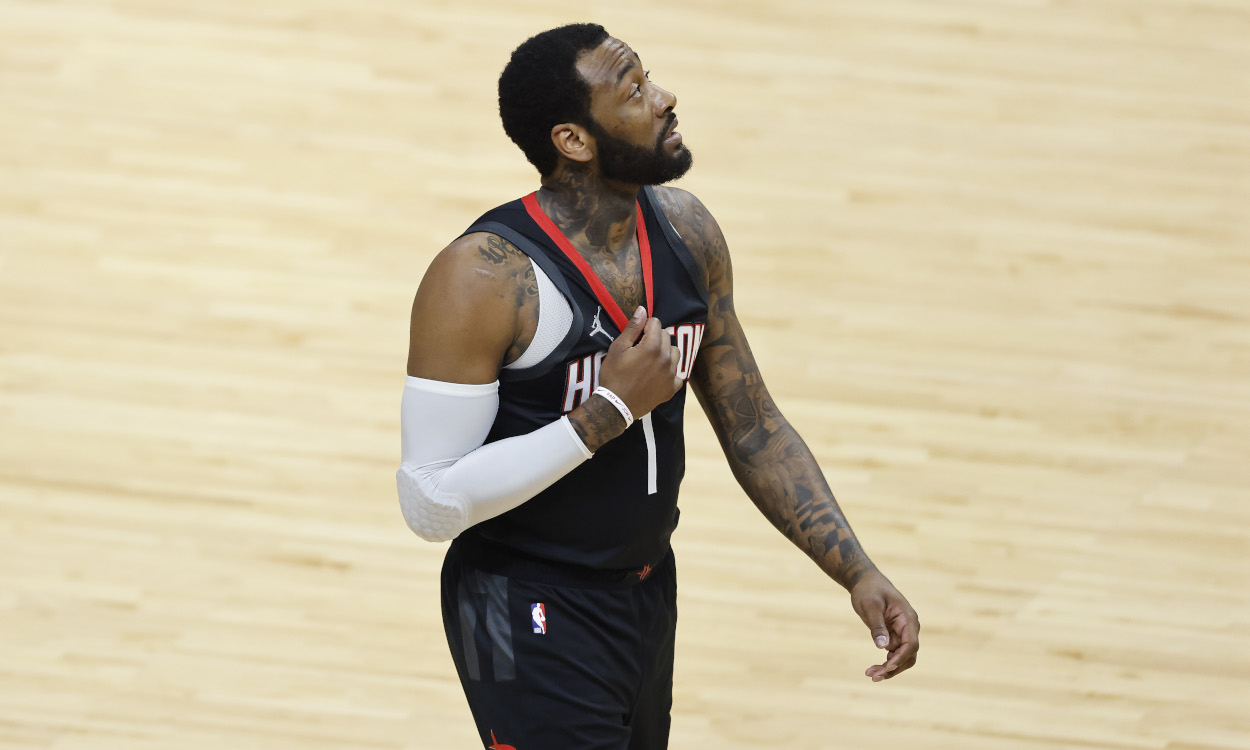 In July 2017, John Wall secured the bag in a big way. He signed a then-record four-year, $170 million extension with the Wizards that kicked in in 2019.
Washington got (checks notes) zero minutes from Wall in exchange for the first $38.2 million of that landmark contract. Tearing an Achilles' tendon navigating around your house while recovering from heel surgery is an all-time lousy break, but that was Wall's plight.
This season, Wall is owed $44.3 million and has a $47.4 million player option for 2022-23.
Essentially, the Houston Rockets are looking for a trade partner that will (a) take on Wall's $91.7 million commitment and (b) not demand every draft pick the Rockets have in their closet.
Houston's cache of picks is enormous. Next season, they hold the two best picks of theirs, the Nets, and the lottery-protected Miami Heat selection (the leftover choice goes to Miami).
They have a potential swap with Brooklyn in 2023, along with the Milwaukee Bucks' selection. They get the Nets' 2024 pick but owe theirs to the Oklahoma City Thunder if it's outside the top four. The same situation stands for 2025. They will come up with some picks in 2024, but the protections and permutations are complicated, per RealGM.
Without draft picks, a John Wall trade won't happen
Despite the return, the Houston Rockets believe they lost the Harden trade in the court of public opinion. SiriusXM NBA host Mitch Lawrence tweeted recently that one Rockets executive told him, "We have to win this trade," when swapping John Wall.
Shams Charania of The Athletic reported that John Wall and the Rockets agree that parting is the best strategy.
Houston is committed to building around Christian Wood. They also have young players Kevin Porter Jr. and Jae'Sean Tate. Then there's first-round picks Jalen Green, Alperen Şengün, Josh Christopher, and Usman Garuba.
Making Wall's $44.3 million work in a trade involves some financial gymnastics. A tax-paying team must send back at least $35.9 million to the Rockets to bring in Wall. There are 11 teams hard-capped (can't cross the luxury tax apron of $143 million). Those teams brought in a player via sign-and-trade, used their bi-annual exception, or went above the taxpayer portion of the mid-level exception.
Ten teams project as taxpayers this season. That leaves 21 of the 29 other teams facing cap restrictions in the way of a John Wall deal. If the Houston Rockets believe they can move him and not give up a large chunk of their war chest of draft picks, maybe someone can interest them in some oceanfront property in North Dakota.
Statistics courtesy of Basketball Reference. Contract information courtesy of Spotrac.
RELATED: The Cade Cunningham vs. Jalen Green Summer League Duel Gave NBA Fans a Peek Into the Future