Astros Slugger Yordan Alvarez Just Joined Carlos Correa in Icon Territory Thanks to a Massive Game 5 Performance
The Houston Astros are one win from reaching their third World Series since 2017, and it's their red-hot offense they can thank most.
Houston scored five runs during its Game 1 win over the Boston Red Sox, nine runs in its Game 4 win, and another nine runs during its Game 5 win. Despite the strong momentum Boston entered the ALCS with, it has found itself falling victim to Houstons' strong middle-of-the-order on more than one occasion.
Chris Sale is the latest Boston pitcher to feel the effects of the Astros' high-powered offense, allowing four runs in just 5.1 innings of work during Game 5.
Yordan Alvarez is blossoming into a star for the Astros
The Astros have fielded a star-studded lineup for quite a few years now. Between Jose Altuve, Michael Brantley, Alex Bregman, Carlos Correa, and George Springer (who is now with the Toronto Blue Jays), the Astros' consistent ability to draft and develop elite talent has kept them on top.
Add in a pitching rotation that's been headlined (at times) by Justin Verlander, Gerrit Cole, Zack Greinke, and Lance McCullers Jr., and it's not hard to figure out why Houston has been on top of the American League for so long.
While the usual suspects have had their fair share of moments for Houston this postseason, a new, far younger face is quickly establishing himself as the next great playoff performer for the Astros.
At just 24 years of age, designated hitter Yordan Alvarez is proving to everyone why he's the next face of Houston.
Alvarez joined Carlos Correa on an iconic list
Alvarez is currently hitting .367 with a 1.121 OPS this postseason. He's hit two home runs and driven in eight RBIs in 30 at-bats. During the Astros' Game 5 win over Boston, he went a step further, etching his place in Houston baseball history.
With his three hits and three RBIs (one home run), Alvarez joins Carlos Correa as the only Astros player 24 years or younger to record three hits and three RBIs in a single postseason game. Granted, Correa did it on two separate occasions (he truly is the king of October baseball). However, it's still a wildly impressive mark for Alvarez to achieve.
This is just Alvarez's third year in the big leagues, and he essentially missed all of 2020 due to knee surgery. What he is achieving is awe-inspiring.
The Astros smell blood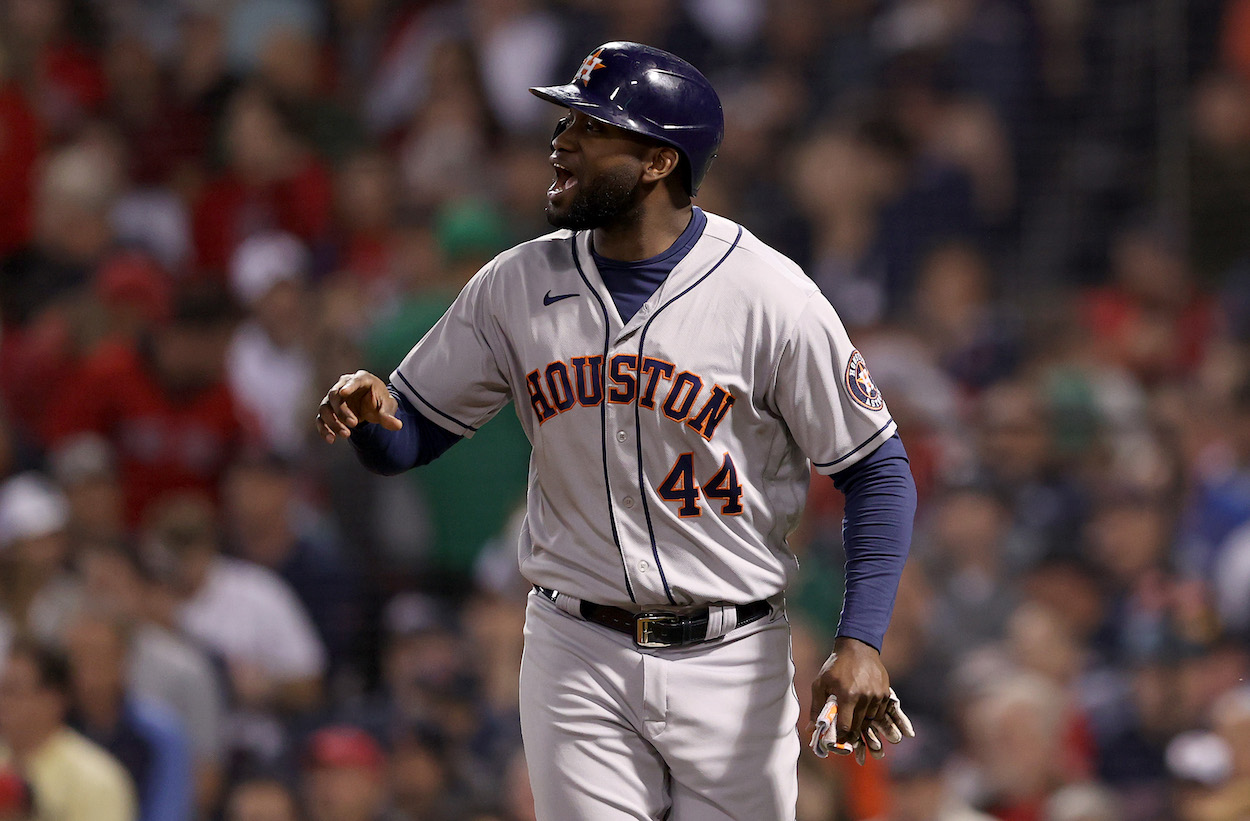 Leaving Fenway with a 3-2 series lead is a great spot for the Astros to be in, and you can reasonably assume they're already getting excited about a potential World Series appearance.
With the Atlanta Braves currently up 3-1 over the Los Angeles Dodgers, the Astros presumably feel good about their odds of winning it all. The Braves are hot, but the Astros are a better-built team from top to bottom.
The Astros haven't actually won a World Series since 2017, despite their routine success. They're hungry to make it back to the big one.
All stats courtesy of MLB.com
RELATED: When and Why Did the Houston Astros, the 2005 National League Champions, Move to the American League?