At What Age Did Brett Favre Retire, and What's He Doing Now?
Brett Favre's football career got off to a rocky start when then-NFL Commissioner Paul Tagliabue mispronounced his name as the Atlanta Falcons drafted him in 1991. Thankfully, things got better from there. Favre became one of the league's best quarterbacks of the 1990s and 2000s when he played with the Green Bay Packers on the way to the Pro Football Hall of Fame in Canton, Ohio. Favre lasted a long time in the NFL and retired at an advanced age for a quarterback. Exactly how old was Brett Favre when he retired, and what is he doing now? Let's find out.
Brett Favre's Hall of Fame career in professional football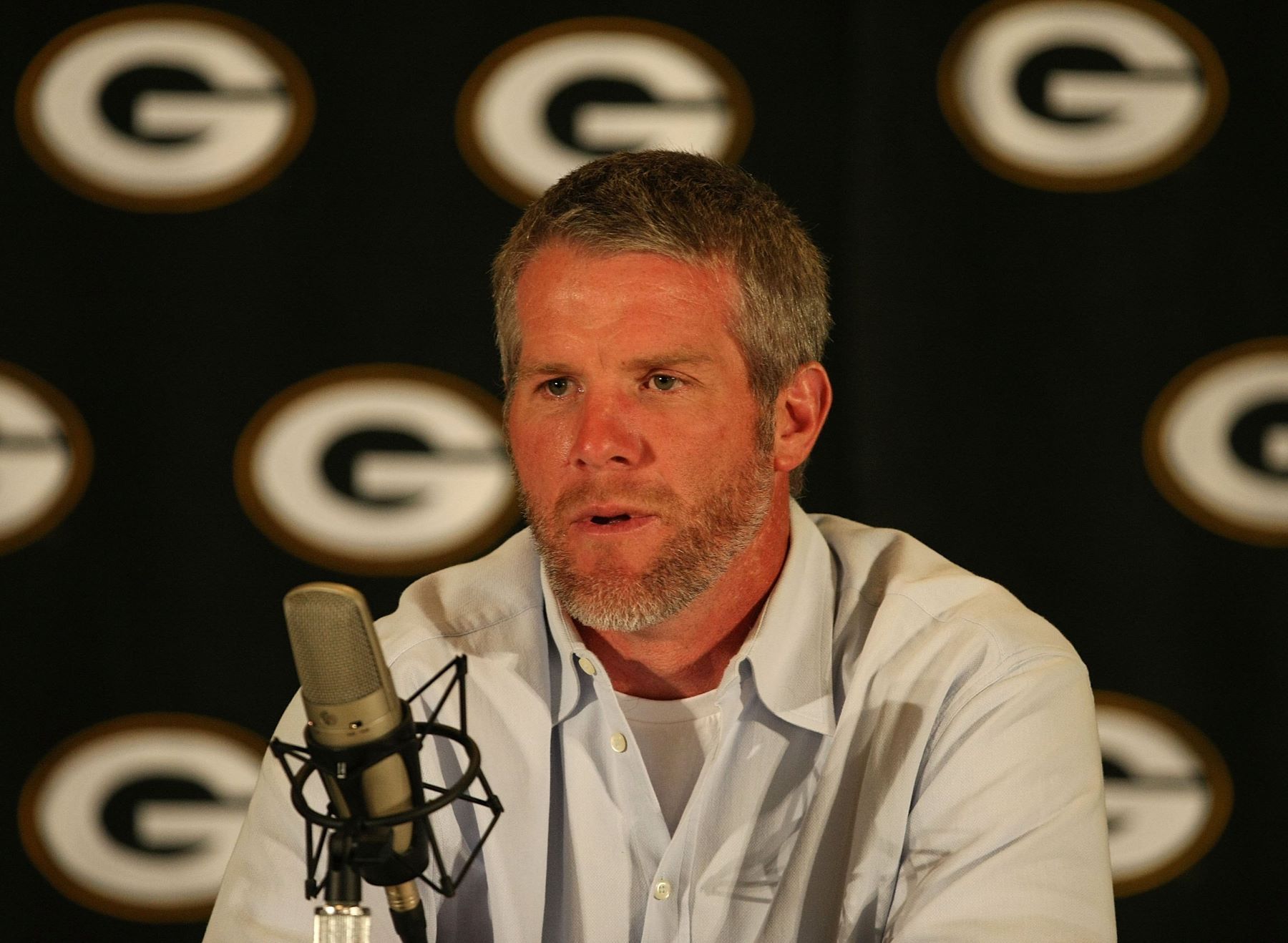 Brett Favre wasn't with the Atlanta Falcons for long, as the team traded him to the Packers in February 1992. He became Green Bay's starter that season, starting in 13 of the 15 games he played. This was the last time Favre wouldn't start all 16 games until his final season in 2010 when he represented the Minnesota Vikings.
As QB, Favre ultimately made an NFL-record 297 consecutive regular-season games (321 including the postseason). According to Pro Football Reference, Favre won 186 regular-season games and threw for over 71,000 yards and 508 touchdowns, with 336 interceptions. The three-time NFL MVP led the Green Bay Packers to a championship, beating the New England Patriots in Super Bowl XXXI.
When did Brett Favre retire from the NFL, and how old was he?
As is typical of most athletes as they age, Brett Favre's performance suffered later in his career. After a premature retirement announcement from Favre in 2008, the Green Bay Packers traded him to the New York Jets before the 2008 season. After one season in New York, Favre signed with the Minnesota Vikings and finished his career there. He started 13 games in 2010, going 5-8 with 11 touchdowns and 19 interceptions — a disappointing ending to a stellar career.
After years of speculation by the media and fans, Favre officially filed his retirement papers with the NFL in Jan. 2011, ESPN reported. How old was Brett Favre when he retired? Brett Favre's retirement age was 41, but even his that didn't stop people from talking about the possibility of him returning to the field yet again. In Dec. 2011, media reports, including ESPN, alleged that Favre would be willing to come out of retirement to play for the Bears, but both Favre and then-Chicago head coach Lovie Smith denied those reports. Again in 2013, the quarterback's agent, Bus Cook, talked about Favre still being able to play in the league, according to the NFL. However, the Hall of Famer said he was not considering a comeback despite physically being capable of it.
What is Favre doing now?
The better part of a decade has passed since Brett Favre last took a snap in the NFL, so what has he been doing since hanging up his cleats? Let's start with asking how old is Brett Favre? The now 52-year-old has largely stayed out of the spotlight. Favre still does commercials and makes occasional media appearances, as seen on iSpot.tv. However, unlike many quarterbacks at his level, Favre has not gone into broadcasting.
Now living in Sumrall, Mississippi, Favre enjoys his post-football life by doing things he couldn't do while playing, such as traveling, according to Packers News. He also attends his kids' sporting events, and he's hosted a radio show for SiriusXM in addition to other business ventures.
More recently, Favre has made a few headlines during the COVID-19 quarantine. In an interview with CBS Sports available on YouTube, he discussed his daughter making TikTok videos with her friends. One thing led to another, and Favre dyed his gray hair orange and told the interviewer that pink might be the next color he chooses.
Other more serious recent headline news involving Favre has included his comments on Aaron Rodgers' role and future in the Green Bay Packers, his thoughts on the league advocating for social justice, and news that he had to pay $288K for missing the deadline of a fraud welfare case, according to CBS Sports.
RELATED: When Aaron Rodgers Joined Brett Favre on the Green Bay Packers, It was the 1st Time in His Life 'There Was Someone Who Was Actually Better Than Me at Quarterback in the Same Room'