Matt Ryan and the Atlanta Falcons Appear Open to Making a $38 Million Sacrifice in the 2021 NFL Draft
For nearly a decade, Atlanta Falcons fans have celebrated Matt Ryan and Julio Jones connecting for touchdowns seemingly every week.
Those days could soon be coming to an end, and it likely won't involve the Falcons moving on from Ryan just yet. Instead, the Falcons could agree to part ways with Jones — one of the greatest players in team history — in the coming weeks.
The Atlanta Falcons may trade Julio Jones
RELATED: How Many 100-Yards Receiving Games Does Julio Jones Have?
After months of speculation, Julio Jones may finally have to start looking for a new home.
NBC Sports reported that the Falcons might agree to trade Jones, who turned 32 in February, within the next few weeks. Jones pulled in 51 catches for 771 yards and three touchdowns in nine games last year.
The sixth overall pick in the 2011 NFL draft, Jones has played his entire career for the Falcons. He ended the 2020 season as the Falcons' all-time leader in receptions (848) and receiving yards (12,896). 
Jones has 60 receiving touchdowns in Atlanta and is four scores away from breaking Roddy White's franchise record. He has three years and over $38 million remaining on his current contract.
The Falcons will save money by trading Jones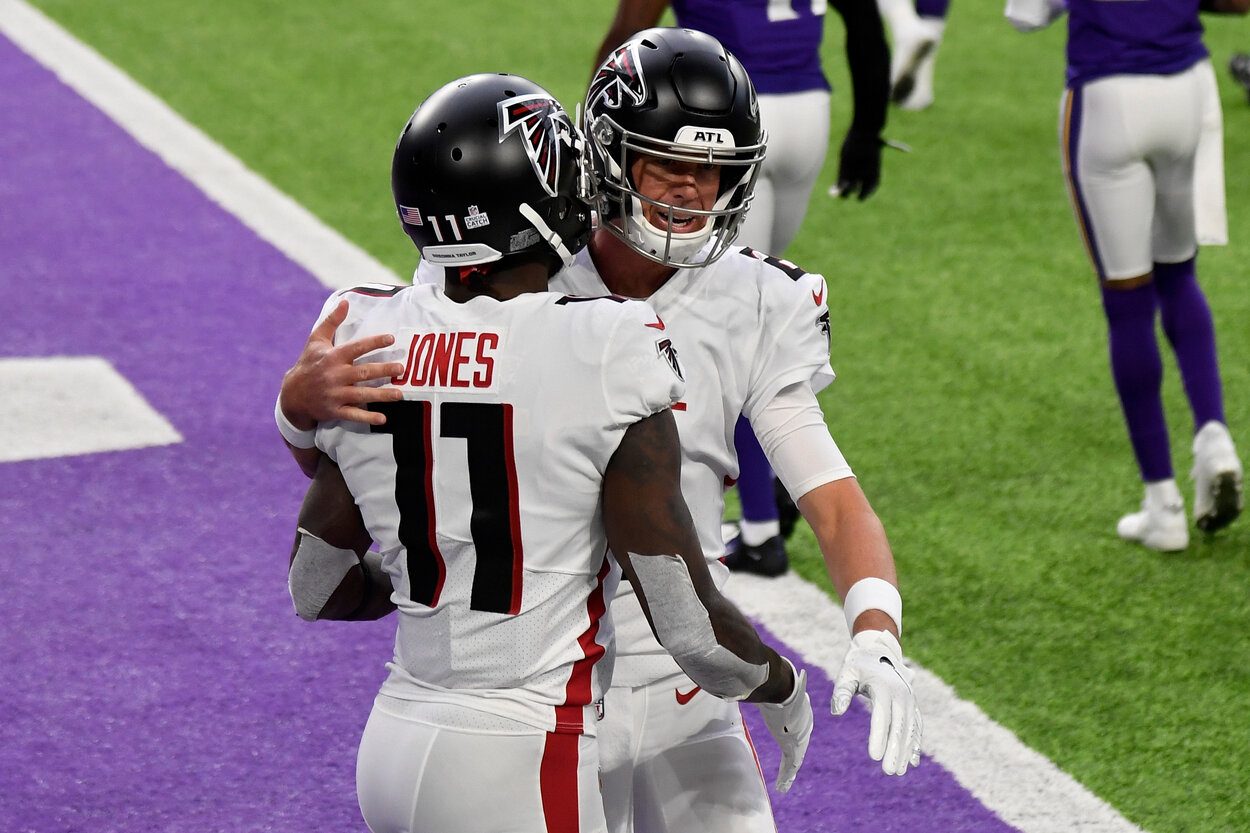 RELATED: Julio Jones' Lucrative Contract Has More Guaranteed Money Than Some Quarterbacks
Even if the Atlanta Falcons agree to trade Jones during the 2021 NFL draft, he won't be leaving the Peach State just yet.
The Falcons cannot officially trade Jones before June 1 for salary reasons. Once June 1 hits, Atlanta can split Jones' $23 million cap hit across the next two seasons.
Peter King of NBC Sports wrote that the Falcons could absorb $7.75 million in 2021 and $15.5 million in 2022 if they wait until June 1.
The June 1 factor is significant, especially if Atlanta agrees to trade Jones during this year's draft. Waiting that long to finalize the trade means that any draft picks included in the trade would belong to drafts in 2022 or beyond.
Which teams should try to trade for Jones?
RELATED: What Is Atlanta Falcons Superstar Receiver Julio Jones' Net Worth?
Jones will play nearly all of the 2021 season — depending on if his team plays in Super Bowl 56 — at 32 years old, and he's coming off an injury-plagued season.
It will be interesting to see if any team pounces on Jones, and what it would cost them in the process. Peter King believes a team wouldn't need to give up a 2022 first-round draft pick in a trade involving Jones.
The Baltimore Ravens can use a dangerous, veteran receiver to join Lamar Jackson on offense. Jones makes plenty of sense if the Ravens do not pursue Antonio Brown, the cousin of Ravens receiver Marquise Brown.
Jon Gruden and the Raiders never back down from making risky moves. Jones would be an intriguing fit in the Raiders' offense, especially after the team lost Nelson Agholor in free agency.
Jones remained with the Falcons as of publication.
Like Sportscasting on Facebook. Follow us on Twitter @sportscasting19.