The Atlanta Falcons' Risky Gamble Has Already Ensured a Sour Ending to the Matt Ryan Era and an Ugly Beginning for Whatever Follows
At least on paper, the idea of Atlanta Falcons quarterback Matt Ryan throwing touchdowns each week to former Florida Gators tight end Kyle Pitts certainly sounded like a nightmare for the rest of the NFL.
Reality should have set in moments after the Falcons selected Pitts, the 2020 John Mackey Award winner, fourth overall in April's NFL draft. Instead of preparing for life after Ryan, the Falcons' new regime made a move that already appears to be backfiring.
The Atlanta Falcons should already regret selecting Kyle Pitts so early in the 2021 NFL Draft
In fairness to Pitts, he's only four games into a career which, for all we know, could eventually earn him a bronze bust at the Pro Football Hall of Fame. The Florida product is certainly talented enough to take the stage in Canton, Ohio, one day.
It's not Pitts' fault he entered the NFL with such high expectations. He recorded 15 catches for 189 yards in the Falcons' first four games and didn't drop a single pass that Ryan threw his way.
So what's the problem, you ask? The Falcons are 1-3 and appear destined to miss the playoffs for a fourth straight season. Atlanta allowed a league-worst 128 points in those games and only averaged 19.5 points per outing. Only seven teams, including the miserable New York Jets, posted worse points per game outputs through the end of Week 4.
If not for the New York Giants' late-game failures in Week 3, the Falcons very well might be 0-4 right now. For all of the great things we heard about Pitts entering the draft, not even he can save this offense right now.
Atlanta failed to properly address preparing for the eventual quarterback transition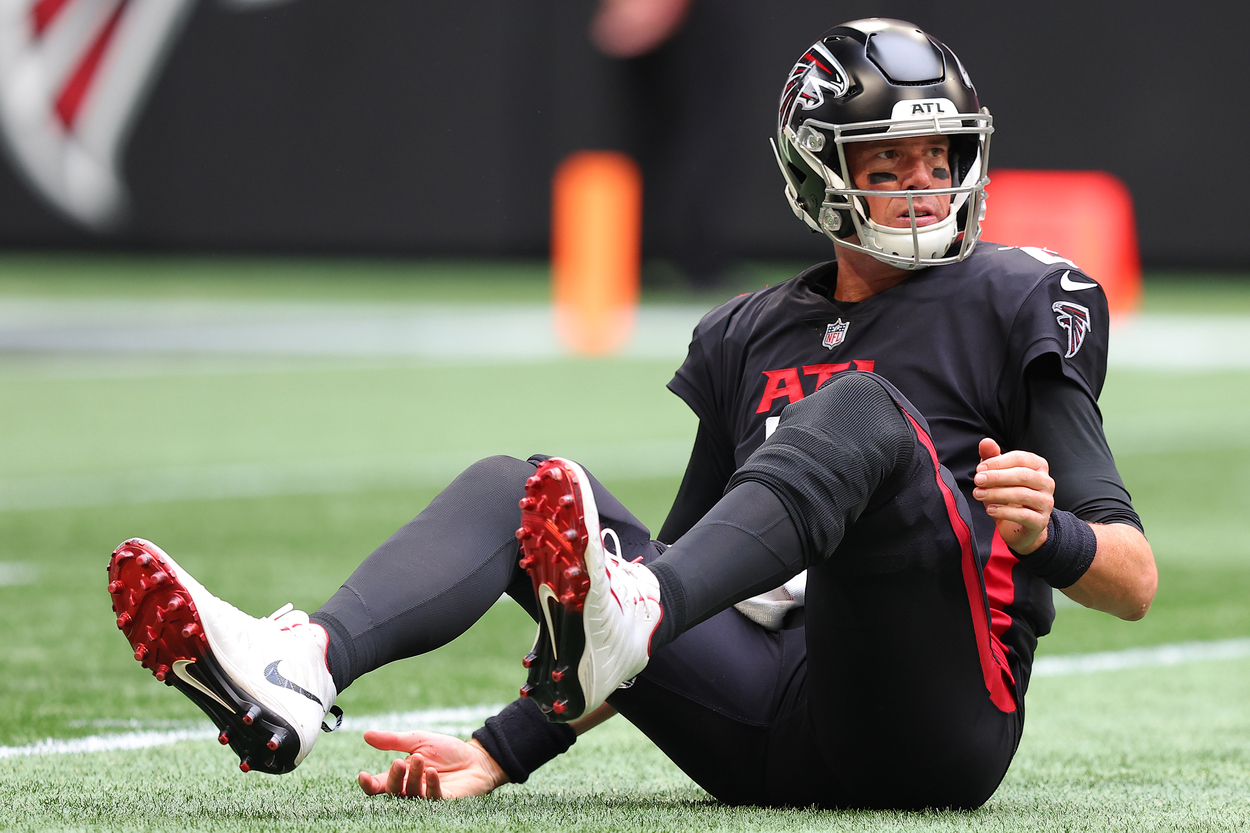 Based on what we've seen in the season's first three weeks, it appears the Falcons didn't realize that having an extremely talented rookie offensive weapon only goes so far when there is a less-than-ideal quarterback situation. Although Ryan has looked competent in recent years, he's 36 years old with plenty of mileage on him.
Ryan, to his credit, completed 67.9% of his passes through the season's first four games for 990 yards, eight touchdowns, and three interceptions. However, a four-touchdown performance against the Washington Football Team in Week 4 makes the TD-INT ratio look much cleaner.
Pitts is the type of player a team drafts in the top five when it believes it has a franchise quarterback in place. Although modern draft wisdom warns against selecting tight ends and running backs that early, one can give teams a pass when it feels like the rich are getting richer.
The problem isn't that Atlanta staked its short-term future in Ryan rather than drafting Ohio State's Justin Fields or Alabama's Mac Jones. However, if the Falcons were willing to ride with Ryan for another year or two, why not select Oregon offensive lineman Penei Sewell, who went three picks after Pitts, or Northwestern's Rashawn Slater? The Falcons probably could have even traded down and still selected Slater, who the Chargers drafted 13th overall.
Again, the Falcons are eventually going to need to replace Ryan. It'd certainly make more sense to add Ole Miss quarterback Matt Corral in 2022, knowing the team addressed its offensive line ahead of time.
Instead, the Falcons gambled and took a tight end fourth overall. Corral will love throwing Pitts' way when the offensive line is constantly collapsing.
The New York Giants made a similar mistake with Saquon Barkley in 2018
Perhaps the worst part of the Falcons' choice to draft Pitts is that other teams have recently provided a precedent in similar situations. Look no further than the New York Giants' decision to select Penn State running back Saquon Barkley second overall in 2018?
The 2018 NFL Offensive Rookie of the Year, Barkley has been an electric player at points in his career. He also joined a team that didn't have a long-term quarterback plan in place for when Eli Manning retired. The team foolishly opted for a running back rather than either adding a quarterback who could develop with Manning or even selecting Notre Dame guard Quinton Nelson.
The Giants missed the playoffs in Barkley's first two seasons, and then again in 2020 when he only played in two games before tearing his ACL. Daniel Jones, a first-round selection in 2019 who replaced Manning early that season, hasn't captured the franchise quarterback role just yet. Nelson, who the Colts selected four picks after Barkley, earned AP All-Pro honors each year and started in three playoff games.
The Falcons could have learned from the Giants', well, giant mistakes and began preparing for a return to their winning ways. Instead, both teams should expect to be picking extremely early in the next few drafts.
Like Sportscasting on Facebook. Follow us on Twitter @sportscasting19.
RELATED: What if the Denver Broncos Replaced Peyton Manning With Matt Ryan in 2016?