Atlanta Hawks Guard Kevin Huerter Brings a Refreshing Perspective to His $65 Million Extension as He Prepares for Potential Breakout Season
Contract talks can get sticky in any sport, including the NBA. But the Atlanta Hawks hardly had a strenuous time coming to terms with their young talents who were eligible for rookie-scale extensions before the start of the 2021-22 season.
Handing out the max to Trae Young was reasonably straightforward. Ice Trae had emerged as one of the best point guards in recent seasons. Coming to terms with shooting guard Kevin Huerter might have been slightly more complicated, but the 23-year-old approached the talks with a somewhat meek and refreshing outlook, resulting in a pretty painless resolution.
Now, Huerter is firmly entrenched as a key piece in Atlanta's bright future. He might also be on the cusp of a breakout season.
Kevin Huerter signed a $65 million extension with the Hawks after stellar playoff run
Kevin Huerter showed his quality during the playoffs as the Hawks made a surprising run to the Eastern Conference Finals.
The 2018 first-round pick had decent numbers during the regular season, averaging 11.9 points, 3.5 assists, and 3.3 rebounds. His abilities as a secondary ball-handler and playmaker capable of spacing the floor and banging on the boards were once again notable facets of his game. He really put Hawks fans on notice during the conference semifinals.
Huerter burst from the gates against the Philadelphia 76ers, averaging 17.5 points on a combined 14-of-19 shooting from the field in the first two games. After a somewhat underwhelming three-game stretch in the middle of the series, the former Maryland product closed with a bang. He had 17 points, 11 rebounds, and four assists in Game 6 and scored a team-high 27 points in Game 7, adding seven boards and three dimes.
Although Huerter struggled in the Hawks' subsequent loss to the Milwaukee Bucks, he had done enough to convince management he deserved a long-term deal. Atlanta signed Red Velvet to a four-year, $65 million extension earlier this week.
Some around the NBA might have offered surprise at the dollar value Huerter received. Mikal Bridges — who has mostly been a 3-and-D wing, albeit a promising one — got $90 million over four years, and Jaren Jackson Jr., a guy often beset by injuries, got four years and $105 million. Huerter has been healthy and provides shooting and playmaking value while taking pressure off Young in the Hawks backcourt. Why didn't he try to get more money?
As it turns out, Huerter had no interest in haggling over the money.
Huerter offered a refreshing perspective on his extension
Players across the sporting universe always want to feel valued. Money has a significant impact on this feeling.
Both players and teams tend to come to the table with dollar figures they arbitrarily believe reflect value. When those figures don't align, it can occasionally lead to tensions rising between camps. Kevin Huerter had no interest in making things contentious with the Hawks during extension talks.
The Albany native said shortly after signing the contract (h/t Chris Kirschner of The Athletic) that contracts doled out in today's NBA can minimize the impact of what he feels is "life-changing" money.
Huerter didn't come all that close to $100 million. Still, $65 million is a good chunk of change. He seems to relish the opportunity to keep proving his worth on the floor.
Every player reserves the right to stick to their guns and make their case for why they deserve big money. Phoenix Suns center Deandre Ayton is a good example. Still, it's quite refreshing to see a young talent like Huerter bring some humility, of sorts, in this arena.
Having signed his contract extension, how will Kevin Huerter make strides on the floor?
The Hawks are one of the most intriguing teams in the NBA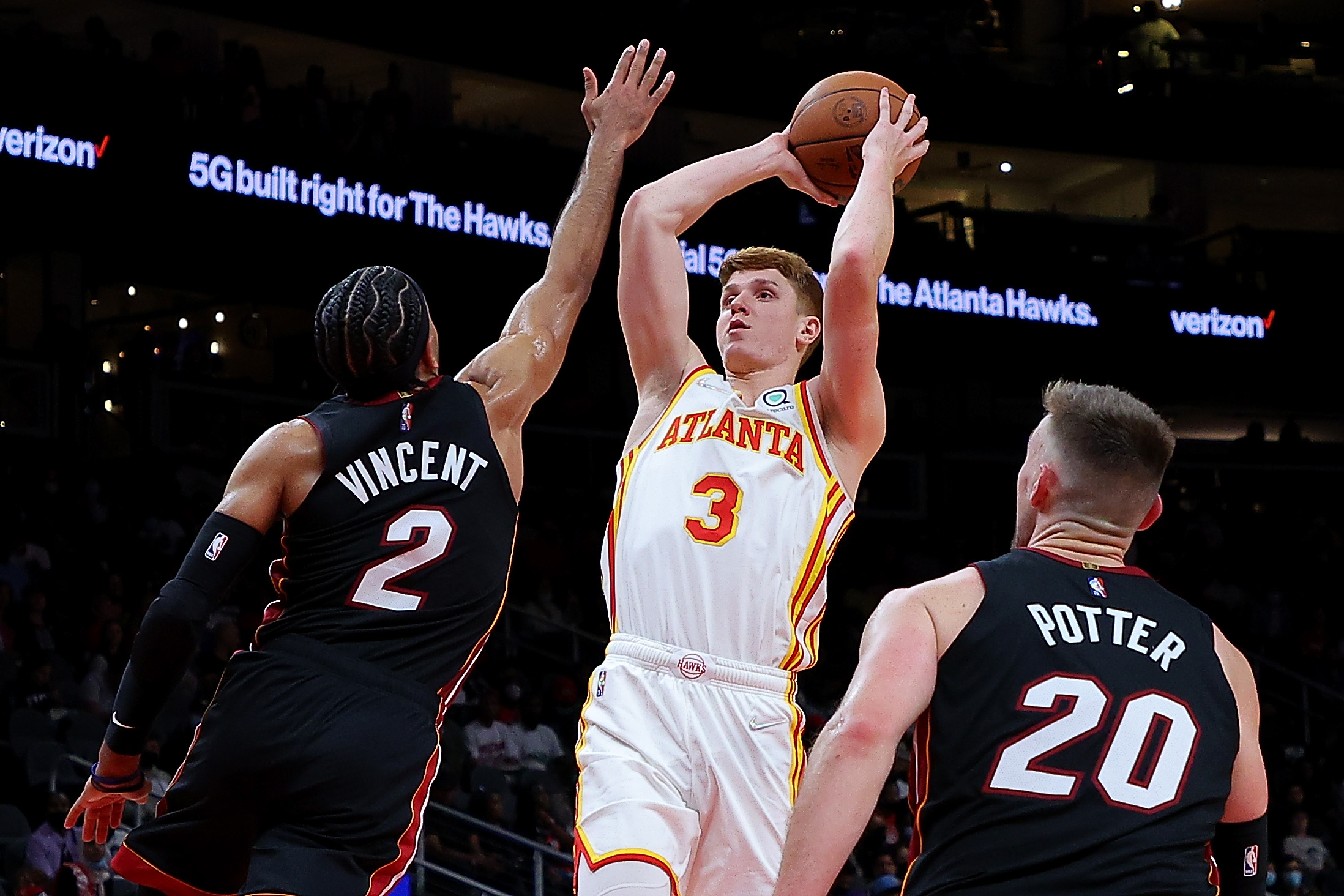 Atlanta captured the attention of NBA fans and insiders with its surprising playoff run last season. There is every bit as much intrigue to see how the Hawks will follow up on that run.
Trae Young remains the franchise centerpiece. But much of Atlanta's year-over-year progression, or lack thereof, is likely to depend on growth from players like Huerter, DeAndre Hunter, Cam Reddish, and (when he returns from a shoulder injury) Onyeka Okongwu.
Huerter, in particular, could have a resounding impact on winning with his ability to create off the bounce and make plays in pick-and-roll. He can alleviate some of Young's responsibilities while giving Atlanta length on the defensive end.
The Eastern Conference could be as good as it has been in years. But the Hawks remain one of the most exciting and promising teams in the NBA, and Kevin Huerter might be ready for a star turn, having inked a "life-changing" extension.
Stats courtesy of Basketball Reference.
RELATED: What Does the Future Hold for the Atlanta Hawks After John Collins' Five-Year, $125 Million Deal?