The Atlanta Hawks Could Make a Massive Mistake and Move Away From NBA Title Contention by Trading an Up-and-Coming Youngster
The Atlanta Hawks are just months removed from a surprising run to the Eastern Conference Finals. They have a wealth of young talent, a core defined by Trae Young. But Atlanta might entertain trading away one of its emerging youngsters, a move that could endanger their championship future.
Atlanta has plenty of wing depth, particularly after signing Danilo Gallinari and Bogdan Bogdanovic ahead of the 2020-21 season. It stands to reason, then, that it could move a wing piece if the front office feels the club can push for a berth in the NBA Finals. However, the Hawks don't want to make the mistake of giving up on young players too early.
The Atlanta Hawks could reportedly dangle Cam Reddish in the trade market
Rumors circulated this offseason that the Atlanta Hawks could shop young wing Cam Reddish. Nothing ever developed to that end, but NBA executives are still monitoring Reddish's future in Atlanta.
Michael Scotto of HoopsHype reported that teams around the league have eyes on Reddish should the Hawks try to move him. One executive told Scotto that Reddish "fits the mold" of what most teams look for in young wing players and deemed Reddish a player "definitely" worth going after. Another suggested the Hawks could get a protected lottery pick in exchange for the former Duke product.
The Hawks made Reddish the 10th overall pick in the 2019 NBA Draft. He got sizable minutes in his first two seasons but, as he had in college, struggled in terms of scoring efficiency, shooting well below 40% from the field.
Reddish is still an affordable commodity, as he is owed just over $10 million combined in the next two seasons. He can enter restricted free agency in the summer of 2023.
If the 22-year-old struggles to carve out minutes and show improvement as a scorer and creator, the Hawks might try to trade him for future assets. That said, Atlanta might be wise to hold off on such notions, judging by his opening performances in the first two games.
Reddish is showing tremendous signs early in the season
Cam Reddish showed his quality during the 2021 playoffs. After missing the Hawks' first two series victories, Reddish averaged close to 13 points and was +10 for the final three games of the Eastern Conference Finals against the Milwaukee Bucks, which included a 21-point performance in Game 6.
It was a small sample size. Still, if the first two games of the 2021-22 season are any indication, Reddish appears to be building momentum.
The Pennsylvania native poured in 20 points in just over 21 minutes in the season opener against the Dallas Mavericks. He had another strong showing in Saturday's loss to the Cleveland Cavaliers, scoring 19 points and pulling down six rebounds.
Reddish is a guy who can space the floor and create for himself off the dribble. He has good size and length to make plays on both ends. Would the Hawks give up on the youngster when he may be an increasingly important piece to their NBA title hopes?
How will the Hawks handle Reddish going forward?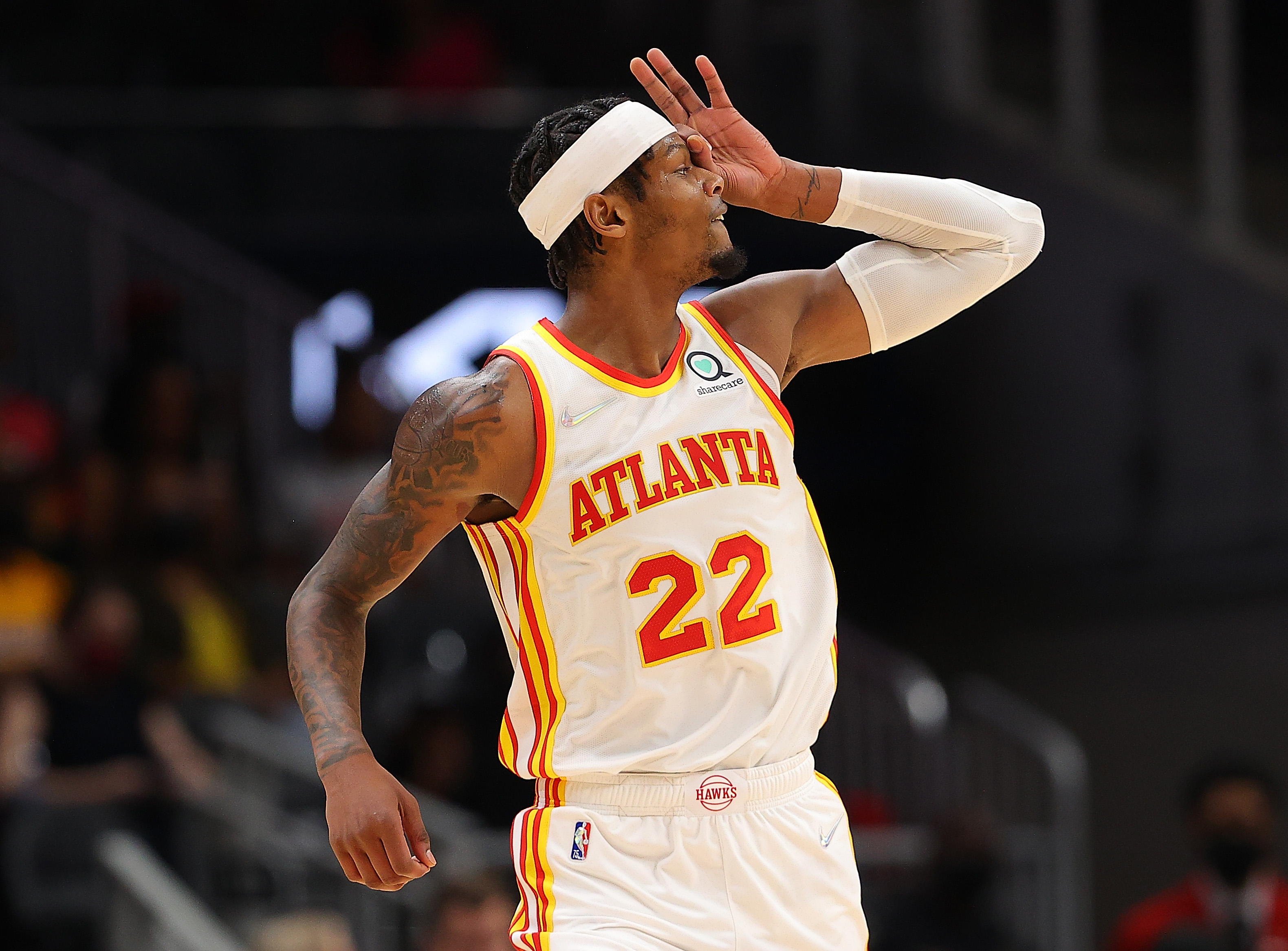 A lot of Reddish's value will be defined by his minutes.
As previously mentioned, the Hawks have wing depth with Gallinari and Bogdanovic. John Collins' athleticism and skill set also lend themselves to playing an undersized small forward, if necessary. Plus, Atlanta is likely hoping DeAndre Hunter can stay healthy and realize his potential as a wing asset.
Perhaps Reddish fails to get the minutes he needs to develop. Maybe he isn't enough of a playmaker who creates for his teammates, much as Bogdanovic can do as a secondary ball-handler.
Yet if Reddish can give the Hawks scoring and rebounding in bunches off the bench, he's almost certainly worth keeping as a guy who can extend Atlanta's championship window.
Stats courtesy of Basketball Reference.
RELATED: Charles Barkley Sends an Unpopular Message About a Recent Conference Finalist: 'They're Not Better Than the Chicago Bulls'