Atlanta Hawks Star Trae Young Sent a Message to the Eastern Conference After Historic Playoff Run
Trae Young tried to give it a go for the Atlanta Hawks in Game 6 of the Eastern Conference Finals. Young sustained a bone bruise in Game 3 of the series and missed Games 4 and 5. In his return, he was not 100%. The Hawks were eliminated from the playoffs, extending their streak without an NBA Finals appearance to 60 years.
Atlanta put together a tremendous run just getting to the conference finals. The No. 5 seed in the East defeated the fourth-seeded New York Knicks in the first round. Then they stunned the top-seeded Philadelphia 76ers in a road Game 7 victory. They won all three Game 1s during their playoff run.
Trae Young was a big part of that. A historically significant factor.
Trae Young in a highly elite group
In 16 games during the 2020–21 NBA Playoffs, Trae Young was scintillating. He averaged 28.8 points, 9.5 assists, 2.8 rebounds, and 1.3 steals while logging 37.7 minutes per game. The Atlanta Hawks reached just their second conference finals since the NBA switched to a conference format in 1970. And the run came on the heels of three consecutive seasons missing the playoffs.
Those numbers put Young in rarified air. Two players have averaged at least 28 points and nine assists per game in a single playoff run lasting at least 15 games. That list includes:
LeBron James, 2018 Cleveland Cavaliers
Trae Young, 2021 Atlanta Hawks
Any time you're on a list with LeBron James as the only player to do something, you've done something extraordinary. Now throw in that James was in his 13th NBA Playoffs and already had three rings. Young put up his 28-and-9 combination in his very first appearance in the NBA Playoffs.
So, yeah, that playoff pressure got the best of him, didn't it? But what is next for Trae Young and the Atlanta Hawks?
A bold prediction from Trae Young about the Atlanta Hawks' future
Yes, the Atlanta Hawks are out of the playoffs. But they went much deeper into the postseason than expected. Without their best player, Atlanta went 1–1. Trae Young did what he could in Game 6, but it was clear the bruised foot was still a problem. Young finished with 14 points on 4-of-17 shooting in 35 minutes. He missed all six of his 3-point attempts while handing out nine assists.
After Game 6, Young made no bones about what he thinks of his team's chances to get back there. Still, he also spoke of his frustration with being limited in Game 6, per ESPN.
"For me, not being able to be out there for my team for two games, and then tonight just wanting to battle and try to fight through it as much as I could and try to be out there for my team, it's definitely frustrating not being healthy and not being able to give my full 100%."

Trae Young
Should Trae Young have that much confidence about the future of the Atlanta Hawks? At least for the short term, the answer appears to be yes.
What does the future look like for the Atlanta Hawks?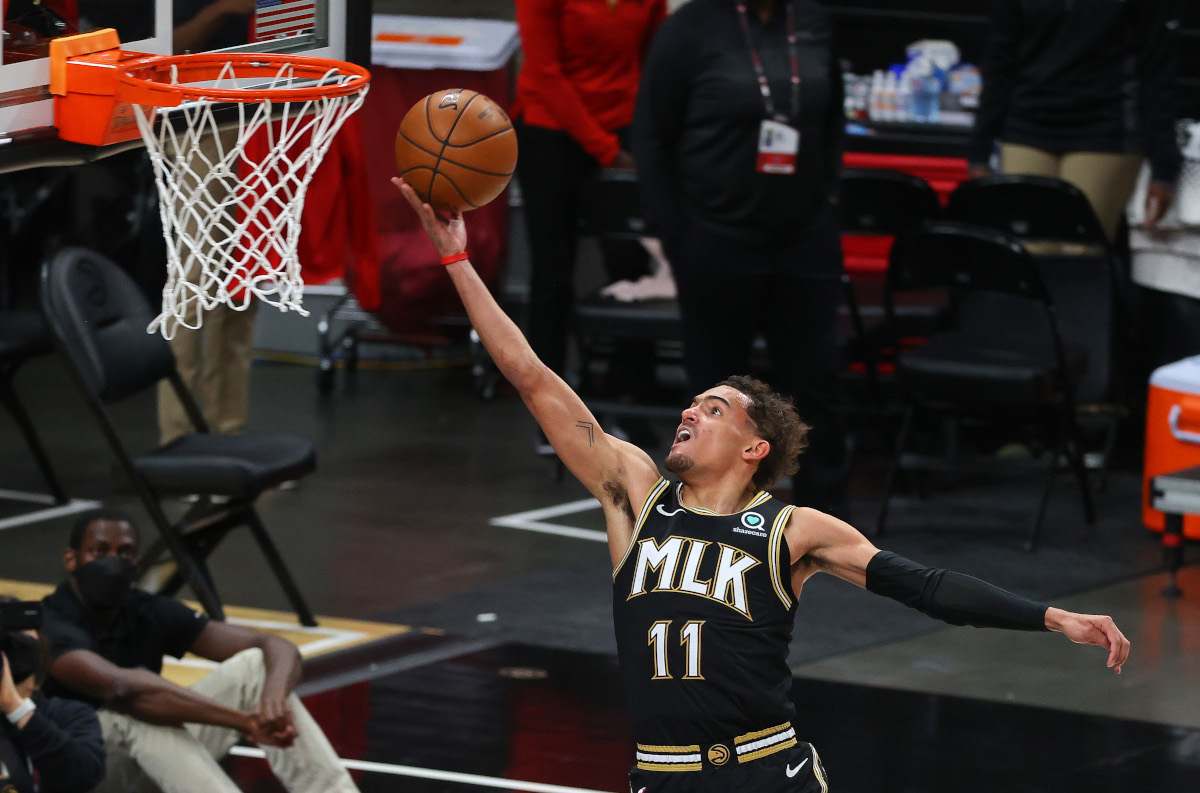 The Atlanta Hawks appear to have a strong foundation for next year. John Collins will be a restricted free agent, and keeping him might be pricey. Trae Young is eligible for an extension and can qualify for a supermax with an All-NBA selection before hitting free agency in 2022. The team's other free agents are Lou Williams, Solomon Hill, and Tony Snell.
Williams was brilliant in Atlanta's Game 4 win without Young. But Williams also contemplated retirement after being traded back to the Hawks from the Los Angeles Clippers. While he scored 38 points in the two games he started, the three-time Sixth Man of the Year produced double-digit points off the bench just once in the postseason. As for Hill and Snell, their contributions were limited.
It's the summer of 2022 that can be problematic for the Hawks. Re-signing Collins puts the Hawks over the salary cap (projected at $112.4 million) for next season.
The cost of doing business climbs in 2022, however. Atlanta owes Danilo Gallinari $21.5 million if it keeps him for 2022–23, but only $5 million of that amount is guaranteed. Atlanta has more than $58 million in guaranteed money on the books for that season already, though.
Young will be making considerably more by then. So will Collins. Kevin Huerter is, like Young, extension-eligible this summer. Gallinari must be accounted for somehow. They also have first-round picks in each of the next two years. That means guaranteed money unless Atlanta opts to trade one of them away. The Hawks can also get Oklahoma City's first-round pick in 2022 if it does not land in the lottery.
Trae Young may be right. The Atlanta Hawks might be back in 2022. It's beyond that point that it could be tricky.
Statistics courtesy of Basketball Reference. Salary information from Spotrac.
RELATED: Trae Young Is the Villain the NBA Needed During the 2021 Playoffs