Aubrey Huff Turned Nearly $60 Million Into a Charitable Art Career
Aubrey Huff went under the radar when he played for two of the American League East Divison's worst teams. Always a dangerous left-handed hitter, Huff sealed his place in baseball history with a lasting impression on the 2010 San Francisco Giants team that won the World Series.
Just how good was Aubrey Huff, and how has he used social media to his benefit in retirement? Let's take a look.
Aubrey Huff had an underrated MLB career
A sixth-round pick of the Tampa Bay Devil Rays in 1998, Aubrey Huff had a better career than many give him credit for. Huff played everywhere from third and first base to designated hitter to the corner outfield.
Huff constantly one of the Devil Rays' few bright spots before a July 2006 trade to Houston. He spent half a season there and signed with the Baltimore Orioles for the 2007 season.
Aubrey Huff served as a full-time DH in his first two seasons with the Orioles. He won a Silver Slugger Award in 2008 and, amid another productive season, joined the Detroit Tigers in late-2009.
Aubrey Huff retired with a.278 career average, 1,699 hits, 242 home runs, and 904 RBIs in 13 MLB seasons. Baseball-Reference measured Huff's career Wins Above Replacement at 20.5.
Two of Huff's three-highest seasons in terms of WAR, a 4.1 mark with the 2008 Orioles and a career-high 5.7 score with the 2010 Giants, came after he turned 30.
Huff became a Giants fan favorite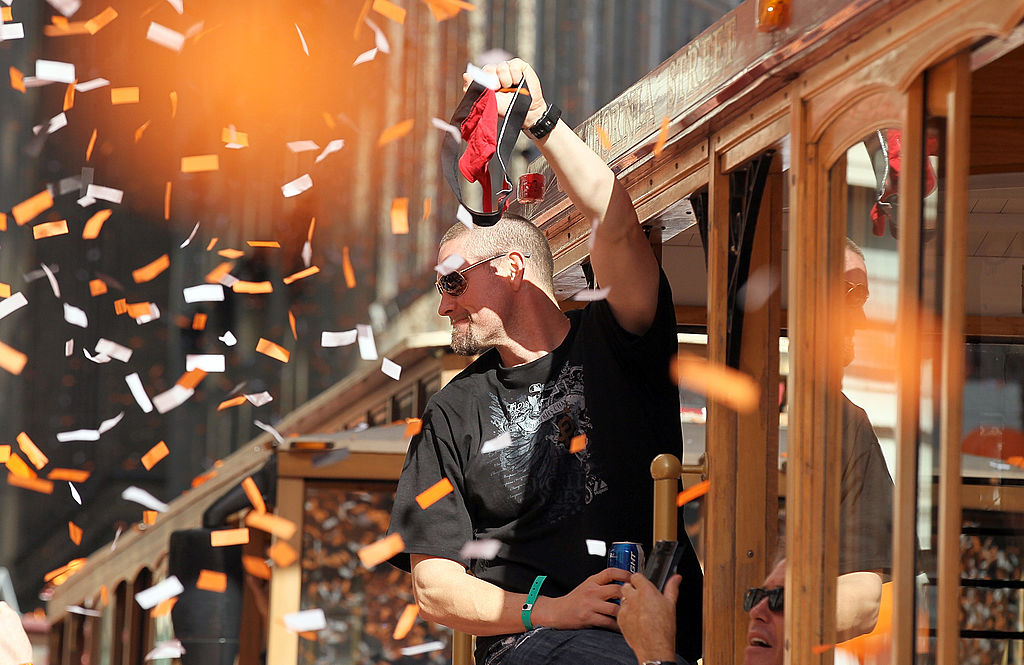 Although Aubrey Huff played seven of his 13 seasons with the Tampa Bay Devil Rays, he is perhaps best remembered for his three-year stint in San Francisco. Huff signed with the Giants in January 2010 and his presence by the bay immediately paid off.
Huff hit .290 with 35 doubles, 26 home runs, 85 RBIs, and an 83-91 walk-to-strikeout ratio in 157 games. He finished seventh in NL MVP voting and gave the Giants the left-handed power bat they'd been missing since Barry Bonds' final game in 2007.
Aubrey Huff hit two doubles, one home run, and eight RBIs across 15 playoff games that fall. The Giants ended a 56-year World Series title drought and defeated the Texas Rangers in five games.
Huff hit .246 with 12 home runs and 59 RBIs for the 2011 Giants. Anxiety issues and knee issues limited Huff to only 52 games in 2012, though he won a second World Series ring in the process.
Huff returned to San Francisco last September when his former manager, Bruce Bochy, was honored.
Huff is now a mental health advocate and artist
Aubrey Huff retired with $57.8 million in career earnings, according to Baseball-Reference. His financial earnings, though, only told part of Huff's complicated relationship with baseball.
Huff released a book in 2017, "Baseball Junkie," where he discussed his "battle with anxiety and the pressure of playing in the Major Leagues."
In a March 2017 interview, the veteran slugger told ESPN he struggled with an Adderall addiction and contemplated suicide after retiring.
"In 2014, I found myself in my closet, on my knees, with a .357 Magnum, hammer pulled back, staring at myself in the mirror … I was ready to pull the trigger. This was a low-low point in my life. I had hit rock bottom at that moment."
Huff said he was clean of Adderall since 2012 and was feeling much better at the time of that interview.
In addition to speaking out about his mental health, Aubrey Huff has also used Twitter to sell art with a twist. Instead of trying to paint in-depth portraits, Huff and his children have drawn stick-figure pictures and sold them through social media.
Aubrey Huff's right-wing social media posts have been the subject of controversy. The political takes are still there, but there is also plenty of baseballs takes that fans of any political party can enjoy.
Huff recently explained, for example, why he thought former Rays teammate Rocco Baldelli could have been the next Joe DiMaggio. He has also shared videos and pictures from his career in recent weeks.