Austin Cindric Should Share His Daytona 500 Win With Ryan Blaney
One of the pre-race favorites, Ryan Blaney, paused his post-race interview with Fox Sports. He made a face and shook his head. The Team Penske driver must have reflected on the one last-lap moment he had to win the 64th Daytona 500.
But just as quickly, the NASCAR moment faded in a haze of an out-of-control stock car, smoke, and uncertainty.
"We were committed to pushing (teammate and race winner) Austin (Cindric)," Blaney said during the Feb. 20 broadcast. "We were able to get clear off (Turn) 4." 
"It didn't' work out for us."
Ryan Blaney helps his teammate, Austin Cindric, and then gets blocked from finish line
When Blaney spotted the opportunity to make a last-lap pass, Cindric closed it.
Sensing his teammate would attempt a high-side pass, Cindric moved up to block the effort. Blaney briefly lost control of his No. 12 Ford after creating contact with Cindric's car. Blaney swerved, struck the retaining wall, and skidded into fourth place.
On owner Roger Penske's 85th birthday, two of his investments turned in top-five runs.
"I was able to get Austin in front and off of four where we were good enough to make a move. I got blocked, and I ended up getting fenced," Blaney said. "I'm happy for Roger Penske, winning the 500 on his birthday."
The next day, Cindric was asked by a member of the media if he second-guessed himself for turning aside his teammate.
"I have absolutely zero regrets," Cindric said.
Blaney had a short reply when asked about the block by motorsport.com.
"Congrats to him, I guess," he said. "You've got to throw a block in that situation."
Blaney played a big role in aiding Cindric to become first rookie to win Daytona 500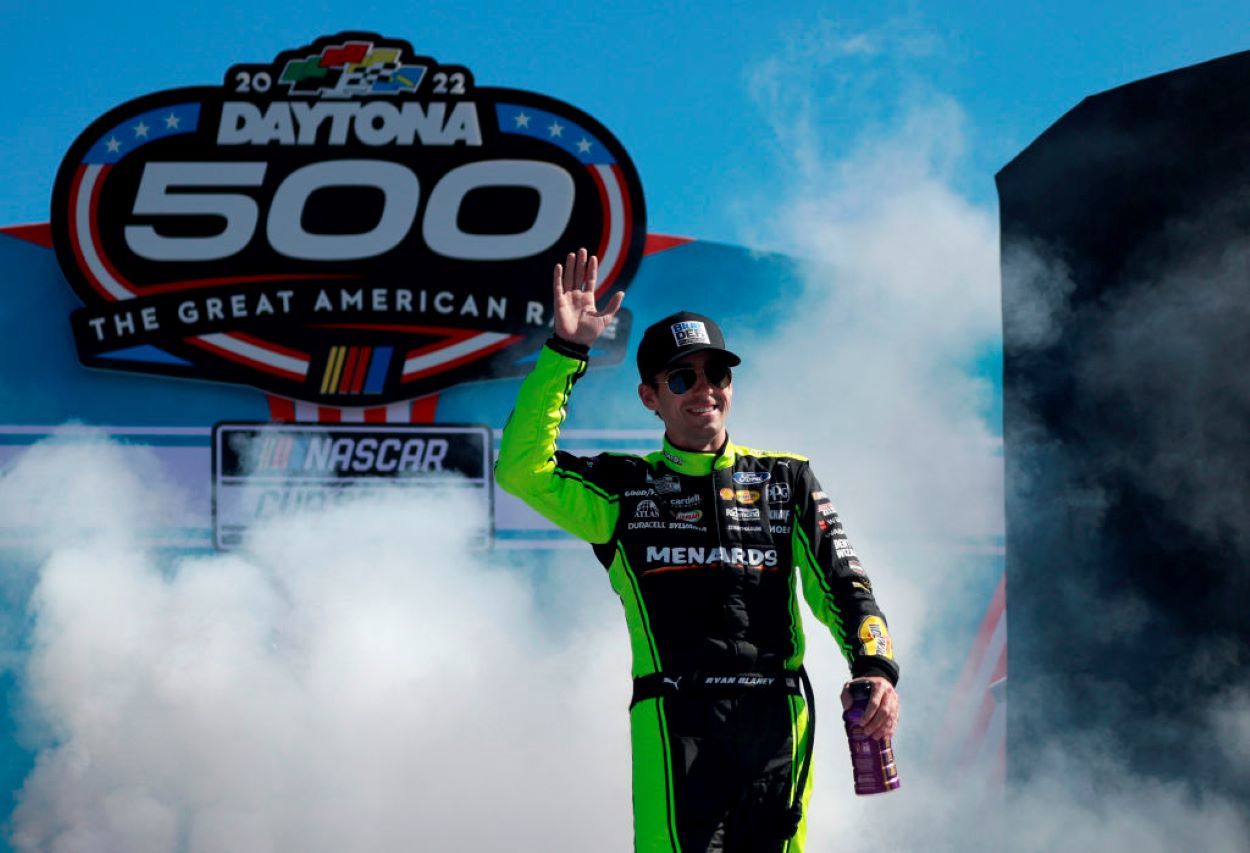 In 2017, during his second full season with Wood Brothers Racing, Blaney placed second in "The Great American Race" behind Kurt Busch. Three years later, Blaney, who moved on to Team Penske, barely lost out to Denny Hamiln by 0.014 seconds.
It may be tough to tell if Blaney's fourth-place finish on Feb. 20 hurt more than the dual runners-up. Indeed, the 2020 outcome would have to sting the worse. At least he helped his team in his latest effort, pushing Cindric into NASCAR history. He did so needing to pee.
On the final lap, Blaney received a push from behind by Bubba Wallace's No. 23 Toyota. Propelled forward, Blaney bumped Cindric ahead along Turn 4, supplying just energy for Cindric to hold off Wallace by a half-car length at the finish, becoming the first rookie to win the Daytona 500.
"I don't know another perfect position we could have put ourselves in to win the race," Blaney said. "It's just one of those things."
Blaney: 'You want to be a teammate, and you want to be the best teammate you can'
A year earlier, two Team Penske drivers closed in on a Daytona 500 title in an eerily similar situation. Still, Brad Keselowski and Joey Logano crashed out in a fiery last-lap accident. Keselowski, who is facing criticism for causing two accidents on Feb. 20, attempted to pass Logano, igniting the melee.
Blaney told NASCAR Race Hub on Feb. 22 that he did not want to experience déjà vu.
"You want to be a teammate, and you want to be the best teammate you can (be)," Blaney said. "I feel like you're committed 100% (until you're) sure one of you will win. That's what we were able to do, and it was successful."
Thanks to Blaney's push at the right time, Cindric secured Team Penske's third Daytona 500 title. Ryan Newman won in 2008 and Logano in '15.
Like Sportscasting on Facebook. Follow us on Twitter @sportscasting19.
RELATED: Austin Cindric's Win Highlights Start of Intense NASCAR Rookie Battles