Austin Cindric's Win Highlights Start of Intense NASCAR Rookie Battles
If Week 1 is any indication, the NASCAR Rookie of the Year chase between Austin Cindric, Harrison Burton, and Todd Gilliland could develop into one of the more interesting side stories this season.
One race in and …
Cindric became the first rookie to win, capturing the 64th Daytona 500.
Burton displayed the skill to ride with the leaders before being involved in a dramatic Stage 1 crash.
Gilliland clocked in an efficient, quiet Cup debut ride – for 189 laps.
Entering NASCAR's West Coast swing, look for the rookies' points battle to intensify.
Austin Cindric needed to clear Tyler Reddick to get to checkered flag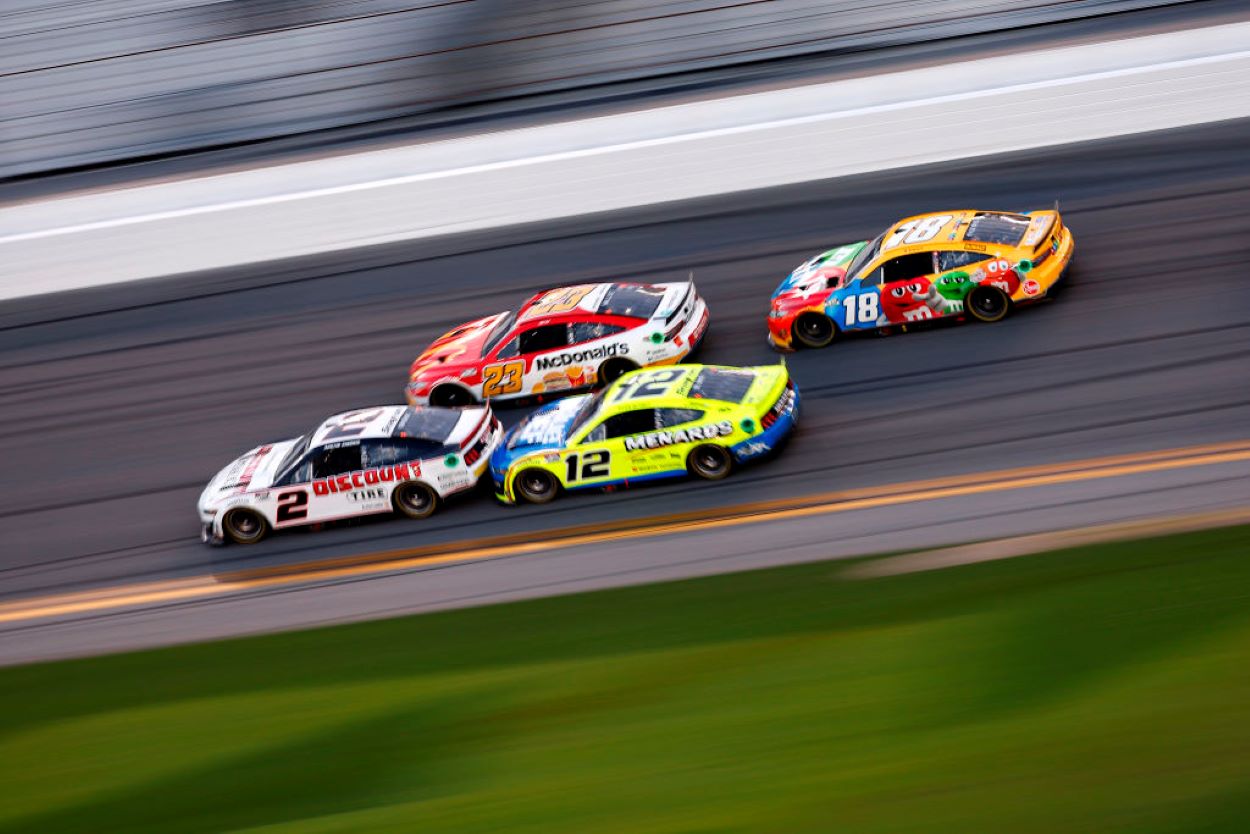 When Tyler Reddick finally got out of Cindric's way, the 23-year-old rookie made Daytona 500 history, becoming the second-youngest winner in race history. Anonymous champ Trevor Bayne was 20 in 2011.
The first time Reddick inconvenienced Cindric, most drivers heard the call for the Daytona 500's first caution period. Reddick reacted adversely to the driving conditions.
On the team radio, Cindric said: "He just stopped in front of me. Hope he's all right."
The second time developed during a pit stop en masse. As Reddick jockeyed for position along pit row, Michael McDowell's car blocked his route to his team's pit box. He missed it. Putting his No. 14 Ford in reverse, Reddick backed up, again overshooting the box and blocking Cindric's route back to the track.
The move cost Cindric time. After coasting through much of Stage 2 in second place, he emerged in 13th place. Reddick, a 2022 breakout candidate who overcame pre-race penalties to finish P3, came back in 23rd place.
On the final lap, Cindric skillfully blocked Ryan Blaney's pass attempt on the outside, edging Bubba Wallace on a race to the checkered flag.
Cindric presented his new Cup boss, Roger Penske, with a unique birthday present, the Harley J. Earl Trophy.
Penske turned 85 on Feb. 20.
Harrison Burton dip flips during his rookie debut at Daytona
Burton heard the stories from those who experienced being strapped in a speeding stock car when it rises above the track and flips over.
"It's never good," Burton told Fox Sports in the garage area. "You always hear how it goes quiet. That's true."
Burton's "quiet" moment developed after he led three laps and looked like he would develop into a challenger for being the first rookie to win "The Great American Race" instead of Cindric.
Nearing the end of the first stage, however, Burton failed to handle the No. 21 Ford After receiving a draft bump from Brad Keselowski, who was later called "too aggressive" by ousted Denny Hamlin.
Riding on the outside lane, Burton's out-of-control Next Gen car veered straight into the side of William Byron's ride and flipped over off the track. That's when it went silent for a moment for Burton.
Hamlin, Christopher Bell, Alex Bowman, Kyle Busch, William Byron, and Ross Chastain were also caught up in the crash.
Despite the 38th-place finish, Burton demonstrated front-of-the-pack potential for Wood Brothers Racing. Burton paced the field in the final practice session on Feb. 19, generating speeds up to 188.355 mph. Only 19 of 40 teams participated in the last preseason warm-up.
Todd Gilliland proved jump to NASCAR Cup Series was not too big
In his Cup debut, Gilliland showed glimpses of why Front Row Motorsports made a move to promote the rookie out of the Camping World Truck Series and skip the Xfinity Series.
But his effort ended when Eric Jones' car took him out with 10 laps remaining. Avoiding accidents through the season-opening event, Gilliland thought he would miss the one he didn't.
"That was like the one wreck that I thought I had missed from the beginning. I was going low. I was on the apron, and the 43 was trying to miss it, too, and it looked like he got hit and hit my right-rear and right-reared me into the fence," Gilliland said, reported by NBC Sports. "That's racing here at Daytona."
Like Sportscasting on Facebook. Follow us on Twitter @sportscasting19.
RELATED: Terry Labonte and 2 Other Old-School, Hard-Luck NASCAR Daytona 500 Drivers