Austin Dillon, Tyler Reddick, Daniel Suarez Promote Pit Crews as Real NASCAR Heroes at Fontana
NASCAR Cup Series driver Austin Dillon didn't have much of a shot to catch Kyle Larson on the final lap of the Wise Power 400.
Perhaps Larson will spin out? It was likely considering the 12 caution periods created, in part, by the slippery and rough track at Auto Club Speedway.
It didn't happen, and Dillon failed to generate extra momentum to chase down the series' defending champion. Nothing, including teammate Chase Elliott, was going to get in Larson's way of earning his first checkered flag this season.
Dillon was thankful for P2, and he knew which group to thank first.
His pit crew.
The pit crews worked overtime to help NASCAR drivers at Auto Club Speedway
During a race in which the abrasive condition of the track wore down tires faster than the Next Gen cars' engines sucked up gas, crew members up and down pit road worked overtime to keep the machines on fresh rubber.
Still, the record-tying 12 caution periods slowed the Wise Power 400.
With Dillon's crew keeping the No. 3 Chevrolet out of unnecessary pit stops, Dillon worked on first-stage adjustments, kept pace during the second stage, and made his move in the third.
"Huge credit to the Lord and our pit crew. Man, they were unbelievable all day," Dillon said, reported by motorsport.com. "They kept us in this race. We had to make a bunch of adjustments. We were terrible at the beginning.
"Just kind of learning the car myself and then communicating with (crew chief) Justin (Alexander), we just made it better and better. The pit crew was the story of the day today.
"They were special."
Tyler Reddick was 'gutted by how our race unfolded, but I couldn't be prouder of this whole team'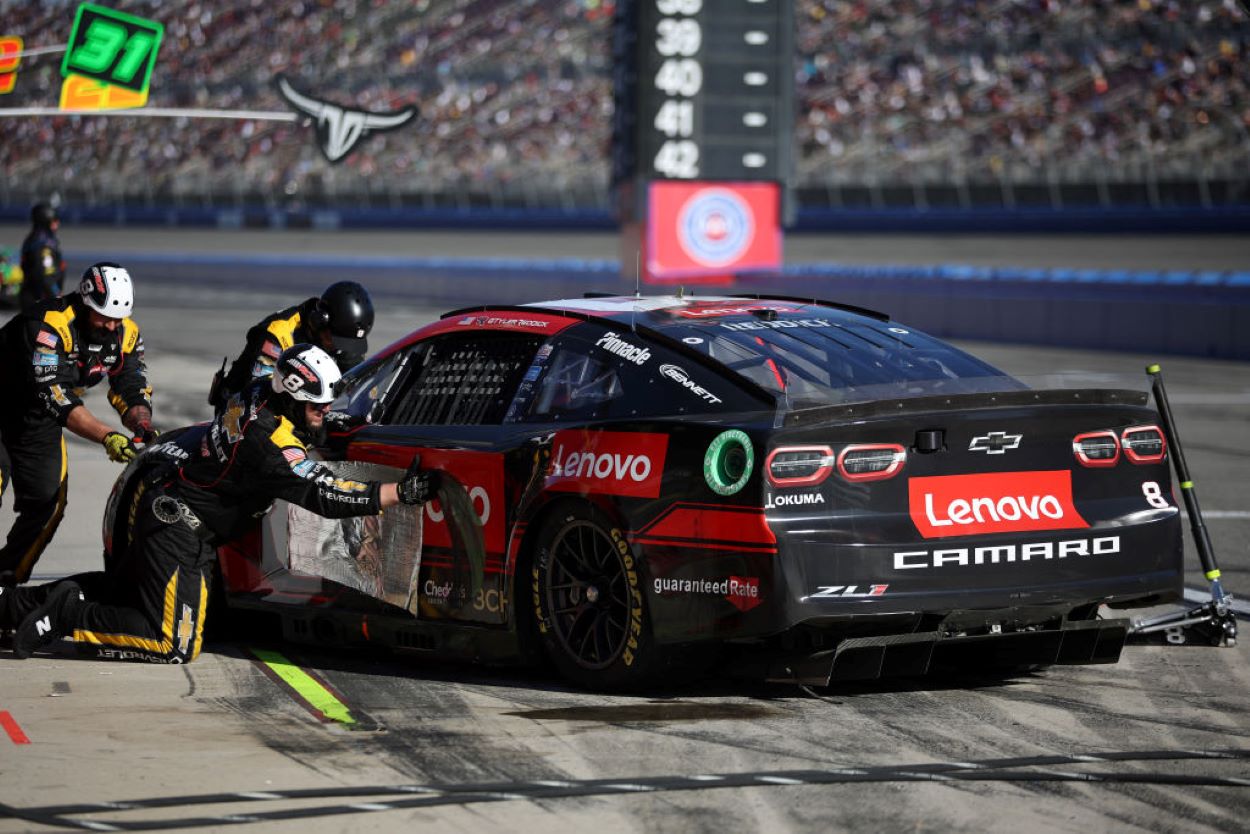 Tyler Reddick ran a race that was quite different from Dillon, his Richard Childress Racing teammate.
While Dillon struggled to find speed in the early stages, Reddick earned points for Stage 1 and 2 wins but was taken out on Lap 151 of 200 after suffering a flat left rear tire. Rolling along the wall, William Byron "got loose" on a pass attempt and collided with Reddick.
In the pits, crew members repaired the damaged right-rear-toe link. The extra time cost Reddick two laps, but he could finish running.
Despite leading for a race-high 90 laps, he finished a hard-luck 24th.
"Absolutely gutted by how our race unfolded, but I couldn't be prouder of this whole team and what we were able to do a majority of this race today," Reddick said.
Daniel Suarez's pit crew helped the driver advance five spots at Fontana
One of the surprises at Auto Club Speedway was the third-stage performance of Daniel Suarez's team.
Although he didn't earn a lap point on Feb. 27, Suarez paced the field briefly. Following Chase Elliott's revenge spin with nine laps to go, Suarez's pit crew helped the car improve five stops, leading to the fourth-place finish.
The top-five was Suarez's 10th in 181 career Cup starts. He's still seeking his first win but remains a breakout candidate.
He thanked the "legends" after the race.
"It's unbelievable," he said. "It's the best pit crew I've ever had, and it's a lot of fun to race like that.
"I can tell you that I'm going to work very, very hard to go to Victory Lane very, very soon."
How soon?
Like Sportscasting on Facebook. Follow us on Twitter @sportscasting19.
RELATED: Kyle Busch, 2 Other NASCAR Drivers Disappoint During Wise Power 400