Austin Ekeler Is Amusingly Leaning Into His Status as a Fantasy Football Fan Favorite
Austin Ekeler is a fantasy football darling.
The Los Angeles Chargers running back has established himself as one of the top fantasy backs in the league, which is different from typical NFL production. Ekeler mixes ground touches and receptions, making him a prime top-of-the-draft target in "PPR" leagues (points per reception).
While Ekeler's elite fantasy production may not always translate into wins for the Chargers, that hasn't stopped him from capitalizing on the popularity he's gained from it.
Austin Ekeler is getting involved with fantasy football
First and foremost, Ekeler is doing signed jersey giveaways for NFL fans who draft and start him in fantasy football. A rather simple gesture, but one that still adds an extra bit of excitement and fun to drafting Ekeler.
This isn't the first time Ekeler has encouraged football fans to draft him, either. Earlier this offseason, he pushed fans to select him No. 1 overall (TMZ). That isn't going to be happening in a world where Christian McCaffrey and Alvin Kamara exist, but it's still another example of Ekeler dipping his toes into the community.
"I would definitely be skeptical, too, absolutely," Ekeler said. "I'm picking myself #1 overall because I'm betting on myself. Feeling great, feeling explosive. Ready for these preseason games to be over with so we can get on the dang field."

Austin Ekeler via TMZ
Most NFL players rarely discuss "fantasy stats" and actually get annoyed when fans are critical of their production on social media. There's been more than one instance of a player lashing out on social media at the fantasy football community.
Ekeler partners with Yahoo Fantasy Sports
In addition to his giveaways and bold claims of being worth the No. 1 pick, Ekeler is also partnering with Yahoo Fantasy Sports for the duration of the 2021 season.
The LAC running back will host a weekly segment called "Ekeler's Edge," where he dishes out fantasy advice. Ekeler will advise on his own personal status while also giving insight on playing in the NFL and how that affects/translates over to the world of fantasy.
This is the first time the world has seen a partnership between a fantasy site and an active NFL athlete. Ekeler is truly a pioneer in this realm.
LA Chargers are looking to capitalize on a promising 2020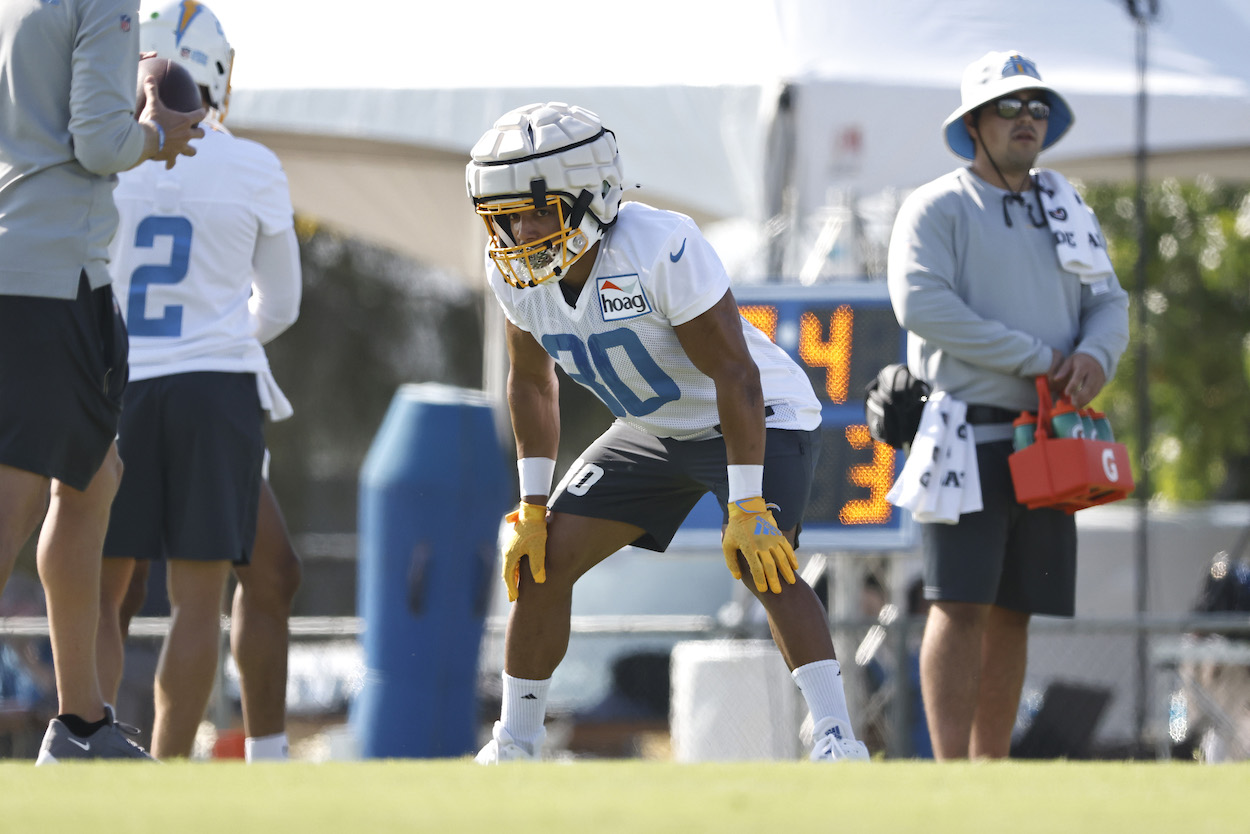 Fantasy football aside for the moment, the Chargers are looking forward to the 2021 season. Thanks to rookie quarterback Justin Herbert, they flashed signs of elite potential the year prior and are expecting to look even better moving forward.
The Chargers poached esteemed defensive coordinator Brandon Staley away from the LA Rams to be their new head coach — another reason to feel optimistic about the Chargers in 2021.
For Ekeler, he's looking to bounce back after a season riddled with injury. He missed six games and only finished with 955 total scrimmage yards. Backed by his bold claims of being worth the No. 1 overall pick in fantasy drafts, the Chargers expect an extremely productive campaign from the veteran running back.
All stats courtesy of Pro Football Reference.
RELATED: Andrew Luck and His Shocking NFL Retirement Still Haunts the Indianapolis Colts