Austin Ekeler's Hilarious Announcement Ahead of Patriots Matchup Has Fantasy Football Managers and Chargers Fans Hyped
The Los Angeles Chargers and star quarterback Justin Herbert have a matchup with the New England Patriots in Week 8. The last time these teams played, Bill Belichick and New England blanked the Chargers, 45-0, in a game all LA fans and players have been waiting to forget.
Now is time for some revenge, although those chances took a significant hit when running back Austin Ekeler popped up on the injury report on Thursday and missed consecutive days of practice.
Yes, the Chargers are fresh off their bye, but Ekeler missing two days in a row put major concern in the hearts of the Chargers and their fans. But, things took a turn for the better regarding Ekeler's playing status on Saturday evening.
The status of Austin Ekeler is good news after some massive concern
On Friday, head coach Brandon Staley shut down any legitimate concerns about Ekeler's availability. Still, "hopeful" isn't exactly as encouraging as it could be.
As dynamic as Ekeler is, it would be a massive blow to a Chargers team looking to go 5-2 and regain the top spot in the AFC West if he were unavailable.
He does it all — on the ground, in the passing game, you name it. Ekeler is explosive and a central focal point of the Chargers' offense. On the season, Ekeler has 356 yards and four scores on the ground and 242 yards and three scores in the passing game.
He is the only Chargers back to have more than 100 yards combined on the year and the team's third-leading receiver. So yes, he is extremely valuable.
Even though Staley gave optimism on Friday, there was still a concern because Ekeler missed two straight practices after being a full-go on Wednesday.
The Chargers running back eases everybody's concern in a hilarious way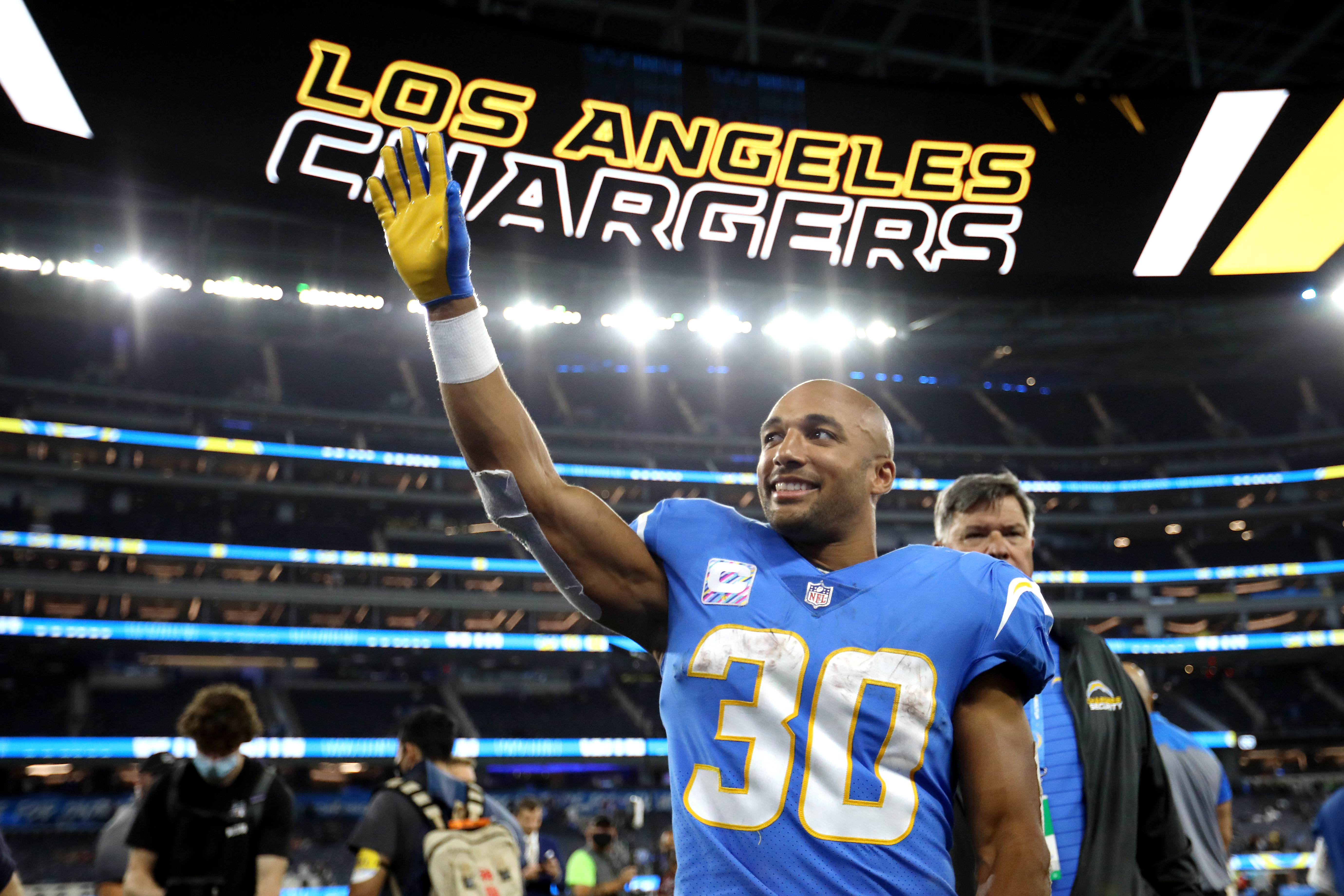 As of Saturday, nobody knew if Ekeler was going to suit up. The Chargers were concerned, the fans were worried, and fantasy football managers everywhere rushed to the waiver wire to pick up Joshua Kelley, Larry Rountree, or Justin Jackson.
But, Ekeler put all those concerns to bed before Halloween with a hilarious post — setting his own fantasy football lineup, with him inserted in the starting group.
Well, that's one way to let everybody know you're playing.
Instead of Adam Schefter or Ian Rapoport tweeting it out, Ekeler set his lineup, which is a good sign of his availability for the game.
Hours later, Schefter confirmed the "report" from Ekeler himself.
Everybody can relax. Instead of waking up Sunday morning stressing, Ekeler set everybody's minds to ease with his hilarious reveal on Saturday.
Chargers-Patriots just got way more interesting
As if Mac Jones vs. Justin Herbert and Bill Belichick vs. Brandon Staley weren't exciting enough, now Ekeler is officially ready to roll.
Oh, and let's not forget about Mike Williams and Keenan Allen. Patriots tight end Hunter Henry also makes his return to LA as well.
There are a lot of storylines, and the Chargers' offense will look a whole lot better — hopefully — with Ekeler in the backfield and doing what he does best.
On the other side, Patriots running back Damien Harris is licking his chops at the Chargers' NFL-worst rushing defense. New England also dropped a 54-spot against the New York Jets a week ago, although that is the Jets.
Nonetheless, Chargers-Patriots should be a terrific game with everybody ready to roll.
Stats Courtesy of Pro Football Reference
RELATED: Bill Belichick Hits Chargers QB Justin Herbert With Massive Praise: 'I Don't Think You're Going to Find Too Many Better Than Him'