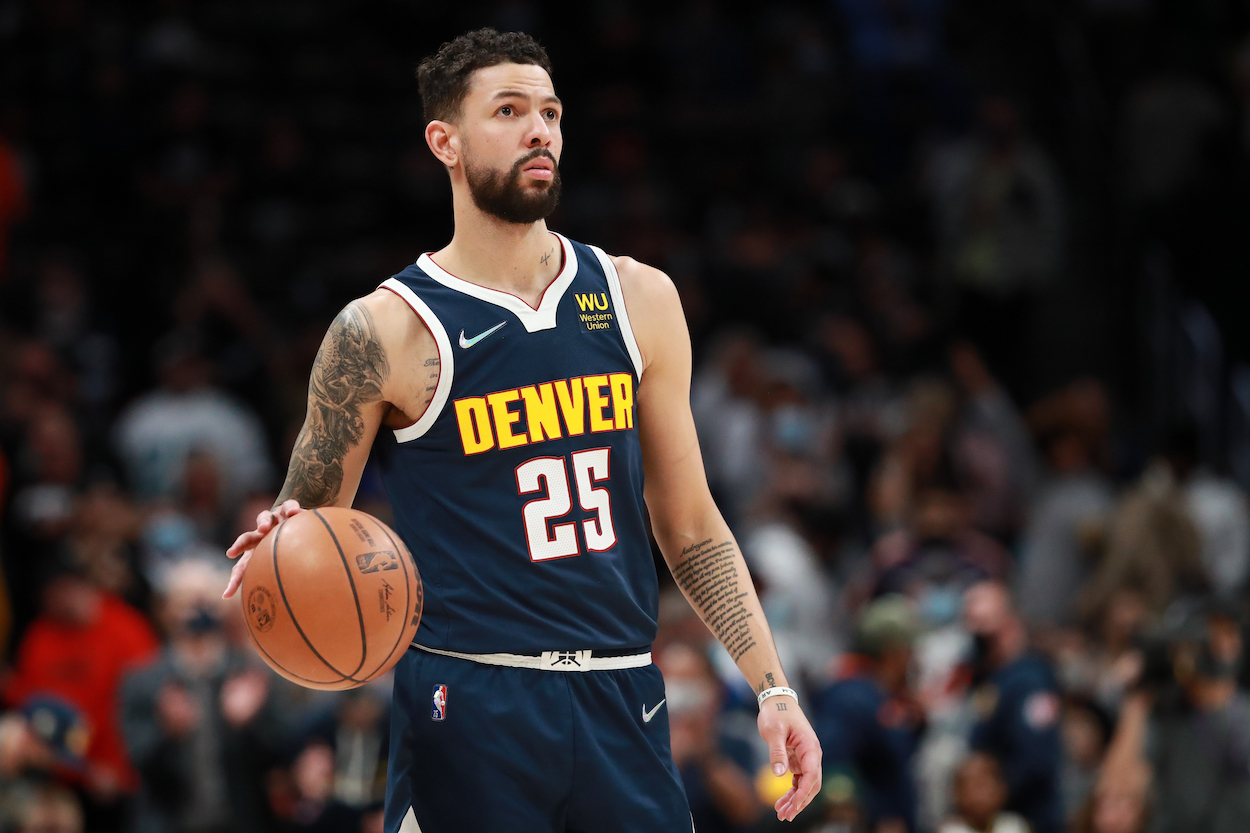 Austin Rivers Details His Terrifying Battle With COVID-19: 'I Started Getting Really Nervous and Scared'
Denver Nuggets guard Austin Rivers candidly admitted he was "really nervous and scared" while recently battling COVID-19.
The NBA has been getting hammered by COVID-19 over the past few weeks. It seems at least a handful of players enter the league's health and safety protocols every day, and now games are starting to get postponed because of the numerous decimated lineups.
Most players who have tested positive have returned to the lineup quickly without any issues, but Denver Nuggets guard Austin Rivers admitted his recent battle with COVID-19 scared him more than he expected.
Austin Rivers missed eight games due to COVID-19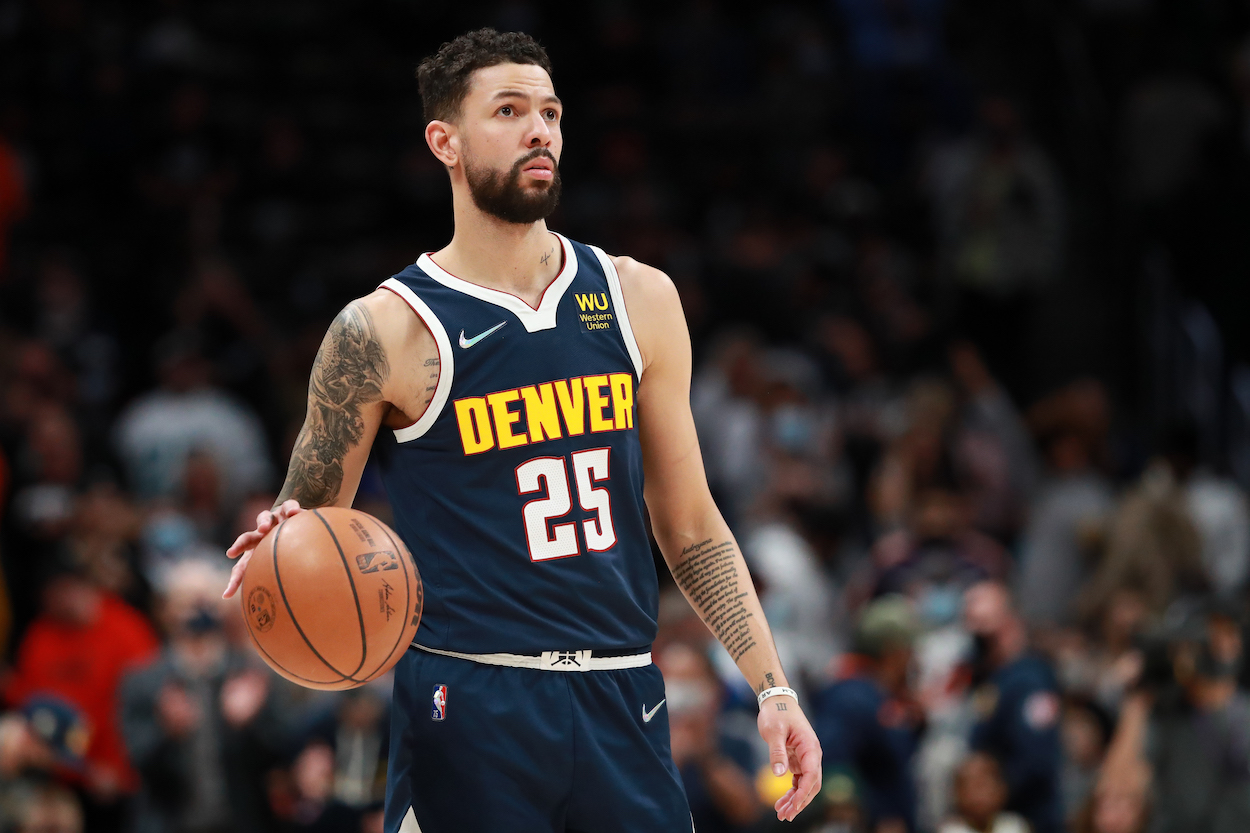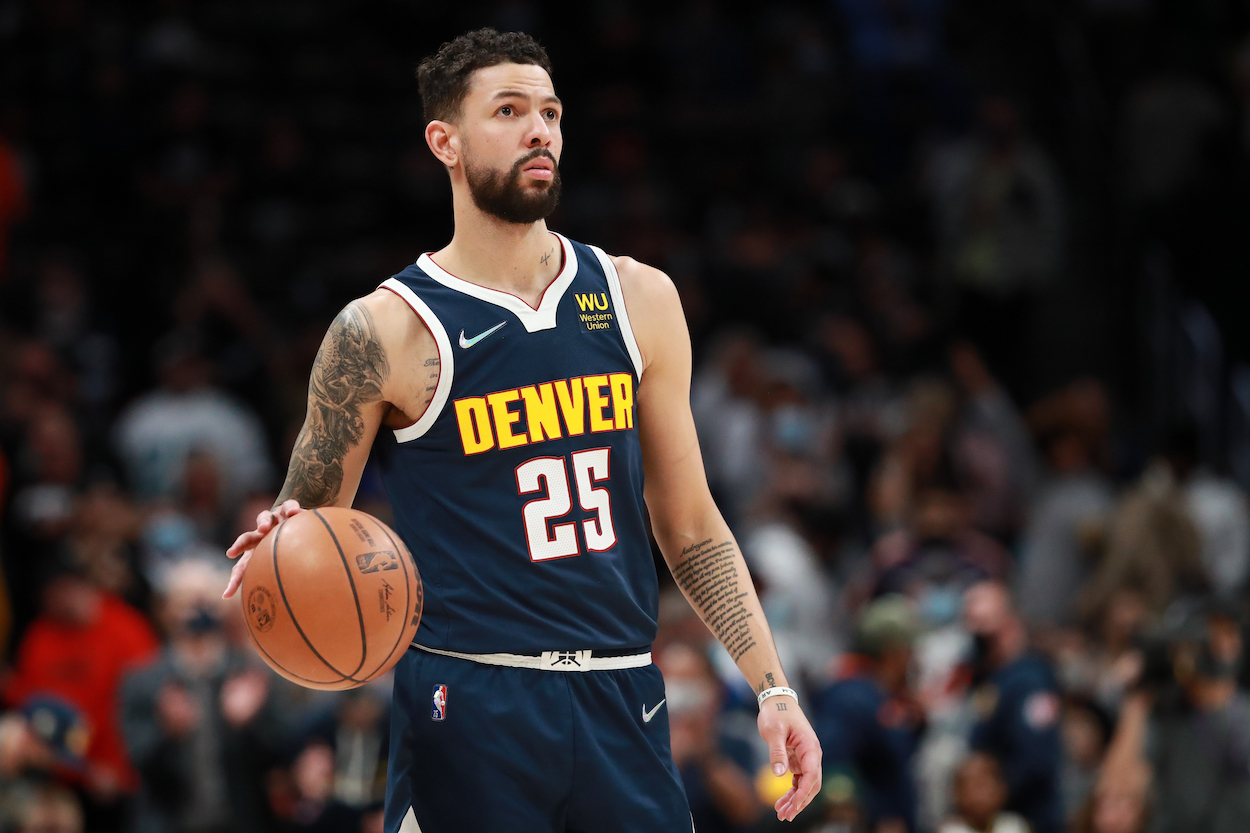 Back on December 1, Rivers tested positive for COVID-19 and entered the league's health and safety protocols. As a fully vaccinated 29-year-old in supremely good health, the Nuggets shooting guard didn't expect the virus to affect him very much.
Rivers was asymptomatic for the first few days of his quarantine in Orlando, Florida, but he started to feel sicker as the week went on. The veteran went on to miss eight straight games before finally returning to the lineup on Friday.
Many players can bounce back from a positive test and return to the court in a few days, but Rivers admitted the virus hit him hard.
Rivers was "really nervous and scared"
After a few days of having no symptoms, Rivers figured he would be back on the court in no time. But that's not exactly how it panned out.
"I started getting a little bit of body aches, then you get headaches, next thing you know I'm draining my nose, next thing you know I'm breathing really, really heavy at night," Rivers told The Denver Post on Friday.
"Especially at night, I was really struggling a little bit to where I started getting really nervous and scared. And then mentally, it plays on your head. Now that you know you have this and you're breathing hard, you're overdoing it. I'm thinking crazy, 'Is it going to get better, or like, what's going on here?'"
Rivers eventually did get better, but he wants people to know COVID-19 is nothing like the common flu.
"It was scary," he said. "COVID's the real deal. We have a lot of ignorant people out there who believe that this is nothing, but they compare it to the flu, but I've never seen the flu do what this is doing."
COVID-19 in the NBA is "getting a little bit out of hand"
The NBA was able to subdue COVID-19 for much of the first quarter of the season, but we've seen a major spike in positive tests over the last two weeks. On Sunday, the NBA postponed five games due to rampant COVID-19 issues around the league.
While speaking to The Denver Post, Rivers candidly admitted he doesn't know a solution to the problem.
"It's getting a little bit out of hand in the NBA, to be honest with you," Rivers said. "I don't know what we gotta do, whether it's go back to limiting who's in the arena, or we gotta test every day. We definitely gotta go back, obviously, to testing every day. I think that's what we're doing. The numbers are just getting scary at this point."
Don't be surprised if the NBA starts to make massive changes to its COVID-19 protocols soon.
Like Sportscasting on Facebook. Follow us on Twitter @sportscasting19.