Backup NASCAR Cup Series Driver Parker Kligerman Registered a Top 20 at Kansas, Looking for 2022 Full-Time Ride While Working on His Reporting Side Hustle
With three laps remaining during the Hollywood Casino 400 at Kansas Speedway on Oct. 24, backup NASCAR Cup Series driver Parker Kligerman was clinging to a spot on the lead lap. Driving the unheralded No. 96 Gaunt Brothers Racing machine, the run caught the attention of industry insiders.
Every Cup Series franchise has a backup plan to a backup plan for drivers. If Parker Kligerman's name was previously omitted from a few of the teams' lists of constellation contestants, he delivered a reminder. Klingerman is ready to compete.
Starting from the 40th position, Kligerman consistently moved up the field, registering the fastest Stage 1 lap.
The more teams he passed, the higher his name likely moved up the available driver lists.
NACAR Cup Series Driver Parker Kligerman waiting for a full-time opportunity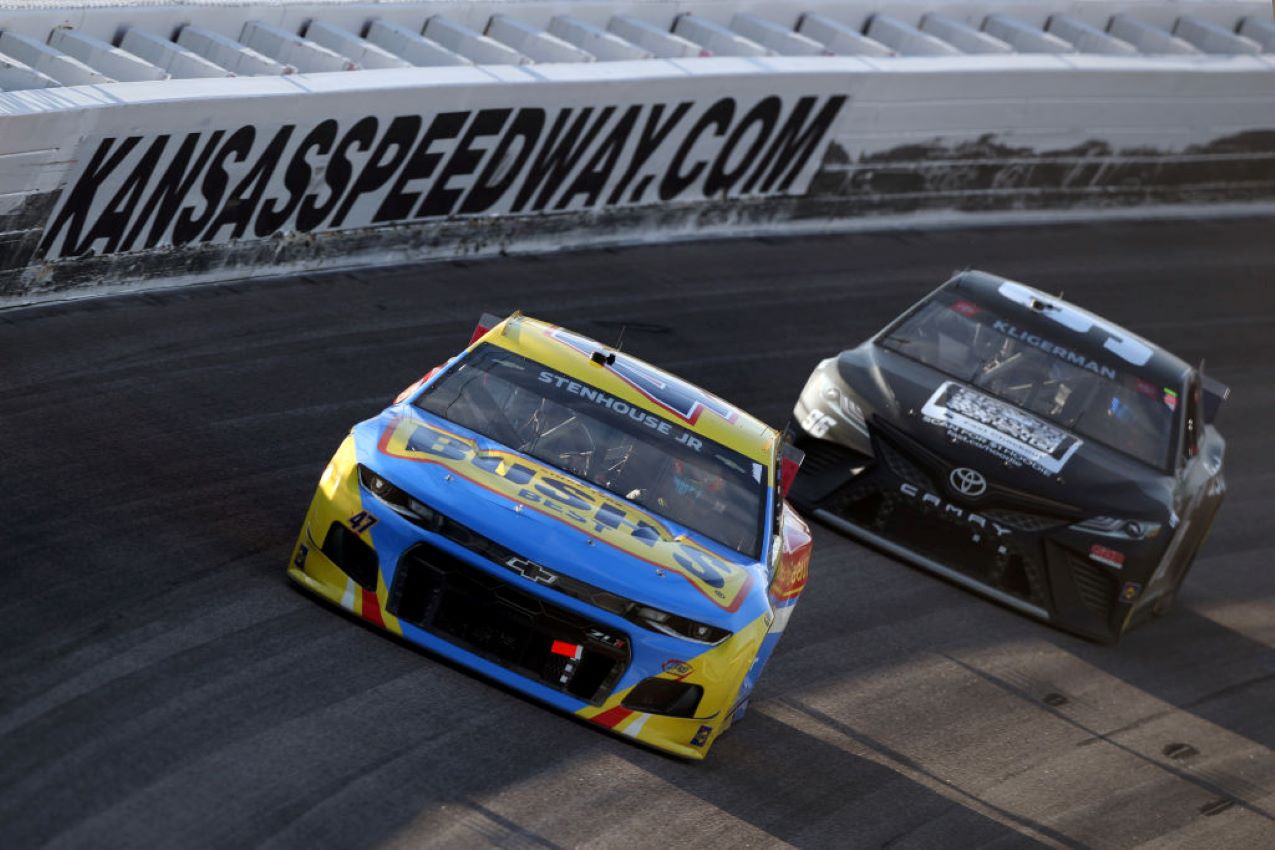 In his first Cup Series ride since 2019, Kligerman drove as high as 15th place at Kansas before settling for 20th. Over the past two years, Klingerman has mostly been overlooked. He has started 19 NASCAR Camping World Truck Series events and zero Xfinity Series appearances.
After nearly two years, Kligerman probably was getting nervous over the possibility of making another Cup Series start.
He did not appear to take the Oct. 24 experience for granted.
"It was awesome," Kligerman told theracingexperts.com. "I love the Cup level, and the talent level is the best of the best. Every move, every restart, it all makes sense. It's great to be up here." 
He wants to stay, but did he show enough?
"The other two levels are fun, but there's nothing like the Cup Series," Kligerman said.
Kligerman's side hustle involves sideline reporting, serving as a TV host
A two-time winner on the truck series, Kligerman is waiting for an opportunity at a steady day job on the Cup Series. While he waits, he has been perfecting a reporting side hustle since 2015.
His second career developed when a 2014 deal with Swan Racing to drive full-time on the Cup Series failed to materialize.
Kligerman is an on-air personality for NBCSN's "NASCAR America," a weekday show highlighting industry trends, and a part-time pit reporter for Series Cup and Xfinity races. His journalistic skills extend to writing a weekly column for nbcsports.com. He is also active on social media.
But full-time journalism can wait.
One of Kligerman's Cup Series highlights included a spot in the 2018 Coca-Cola 600, driving for the Gaunt Brothers.
Writing a motorsports story on deadline can be interesting, but compared to driving stock cars?
"I really feel like I've become more of a whole driver than I was before, and I'd love to prove that week in and week out," he said.
Kligerman: 'Man, I wanted a Top 15'
Circling the final few laps on Oct. 24, Kilgerman was aware of his position. The Gaunt Brothers previously failed to field a top-20 car this season.
Kligerman believed the machine was better because its "long-run pace was awesome and about top 15 speed," he said. "Man, I wanted a top 15."
Kilgerman raced with Chris Buescher, Bubba Wallace, and Daniel Suarez throughout the 400-mile event. Buescher ended up in 12th place, Wallace 14th, and Suarez 15th.
"The 23 (Wallace), 99 (Suarez), 17 (Buescher) all got Top 15s," Kilgerman said. "We outran those guys for a big portion of the day and would've loved to have gotten by them."
Maybe next time.
Kligerman just doesn't know when.
RELATED: Daniel Suarez Earned Best NASCAR Cup Series Finish in Years While Enduring the Most Sickening Moment of His Career in Race's Final Laps