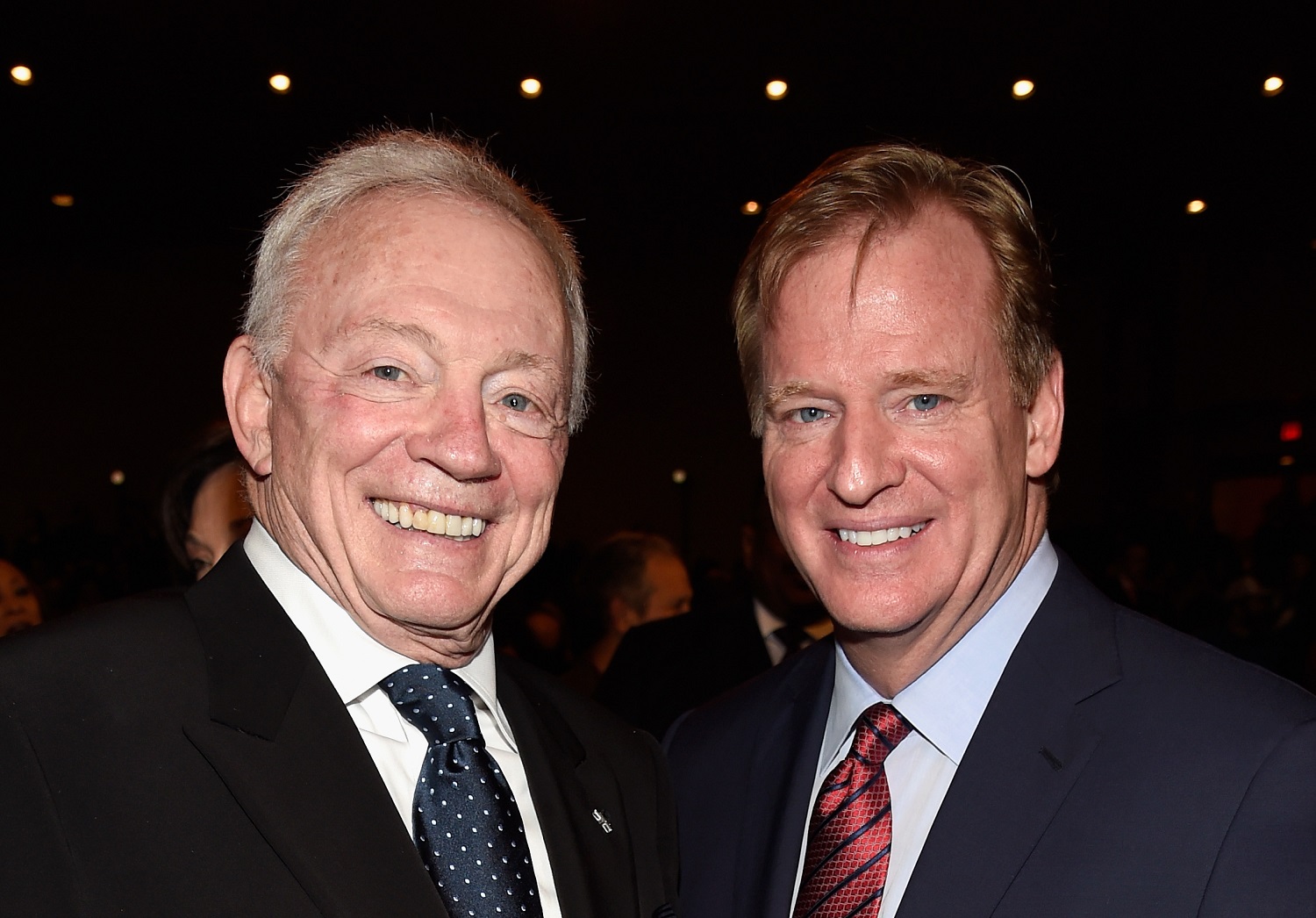 Bad Developments for Cowboys Haters: Dallas Is on Its Way Back, and Jerry Jones Is 1 of Roger Goodell's Favorites
NFL commissioner Roger Goodell practically gushes over Dallas Cowboys owner Jerry Jones' value to the NFL.
There are oh-so-many reasons why this is not the week for Dallas Cowboys haters, and it starts with Jerry Jones' team having broken into the win column in Week 2 by beating the Los Angeles Chargers, 20-17.
In fact, this could be a bad rest of the year for football fans who feel their best when America's Team is at its worst. Here are two reasons why:
The Cowboys broke a 16-game regular-season losing streak in games in which they scored 28 or fewer points. The broken defense isn't completely fixed, but it is better. Linebacker Micah Parsons, the rookie out of Penn State, moved to defensive end because DeMarcus Lawrence and Randy Gregory were unavailable, and he recorded a sack and eight quarterback pressures.
The offense is multi-dimensional. Dak Prescott has work to do to get back to his form from before the ankle injury, but he's close. Running back Tony Pollard, who didn't run for more than 69 yards in a game last fall, carried for 109 yards and caught three passes for 31 more against the Chargers. Paired with Ezekiel Elliott, he gives defensive coordinators a problem to deal with beyond the above-average passing game.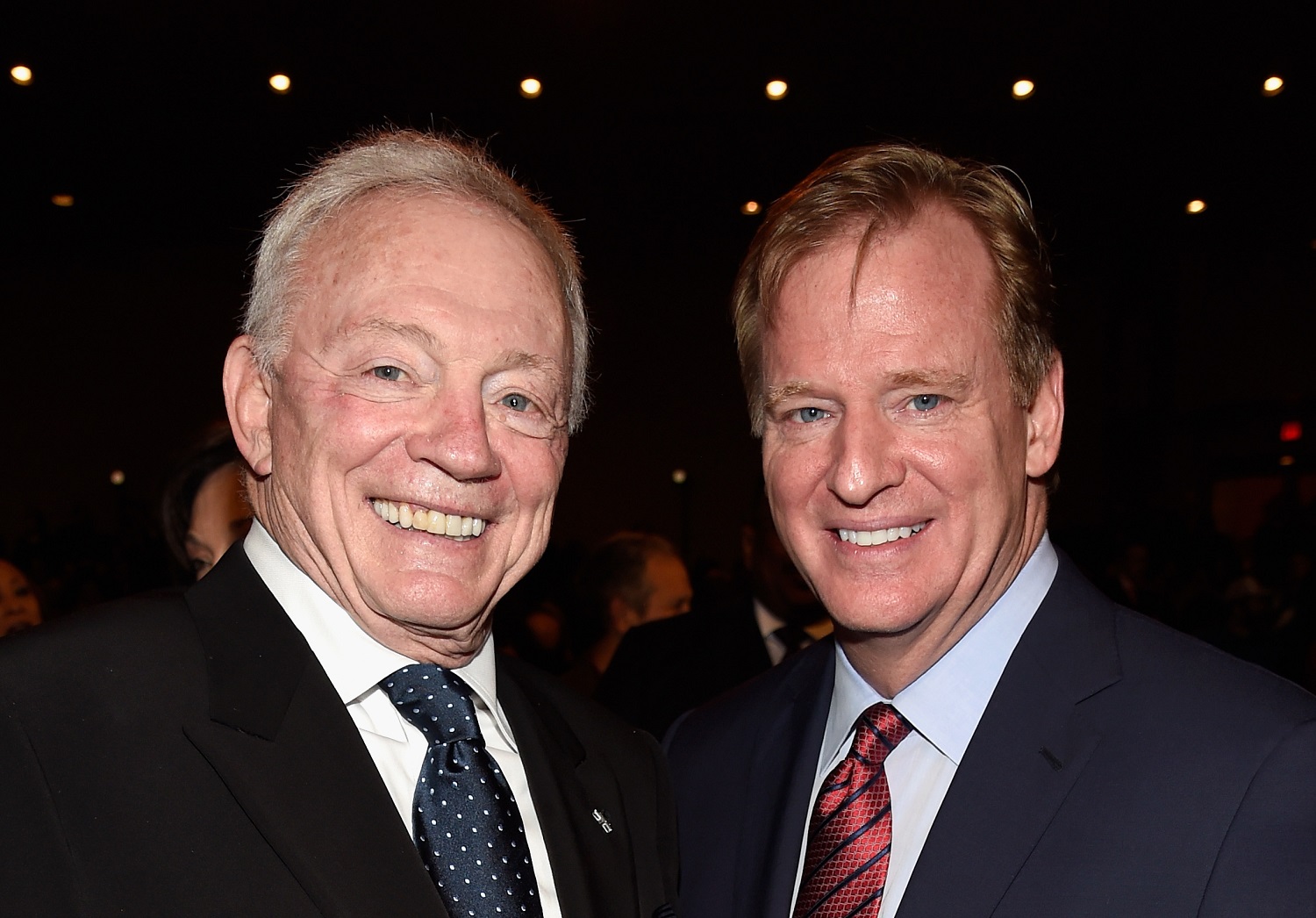 Two games form a small sample size, but the close loss to the Tampa Bay Buccaneers and the Week 2 victory are reason for optimism, especially when 10 wins could be enough to run away with the inept NFC East title.
If that doesn't get the blood boiling for Cowboys haters, then here are two more reasons that they might soon be in a tizzy:
The bandwagon is filling up. Celebrity sightings in Jones' box at home games are a given, but now the VIPs are traveling. Rough-and-tumble MMA champion and occasional boxer Conor McGregor watched the Chargers game alongside Jones, as did nine-time Grammy Award nominee Post Malone.
Perhaps worst of all, Roger Goodell has been lavishing praise on Jones, lending credence to critics' laments that Jones and the New England Patriots' Robert Kraft hold disproportionate clout with the commissioner's office.
Goodell appeared on Hall of Fame kicker Morten Andersen's Great Dane Nation podcast this month. He spoke on numerous topics, including his regrets over never playing college football.
Goodell, who replaced Paul Tagliabue as commissioner in 2006, lavished praise upon Jones, who bought the Cowboys in 1989. Jones found early success with the franchise, winning three Super Bowls in four seasons. However, Dallas has not made it as far as a conference championship game since defeating the Pittsburgh Steelers in Super Bowl 30 on Jan. 28, 1996.
"He not only had incredible success in the '90s with the Cowboys, but he's actually made the league better on so many different levels on the competitive side, serving on the competition committee," Goodell said. "He's been involved in all of our major committees. He's done a great job, and I can't imagine the NFL would be in this position without him."
Jones has been one of the most influential owners. Among other things, he brought Fox into the bidding for a portion of the broadcast package at a time when the network did not even have a sports division. That's helped generate record TV revenue year after year, and the NFL will bank at least $100 billion for broadcast rights over the next decade.
"'He's helped make the game better on so many levels," Goodell told Andersen. "He's helped make me better on so many different levels. I enjoy working with him. I'm glad he's one of our owners because the NFL is better for it."
Like Sportscasting on Facebook. Follow us on Twitter @sportscasting19.