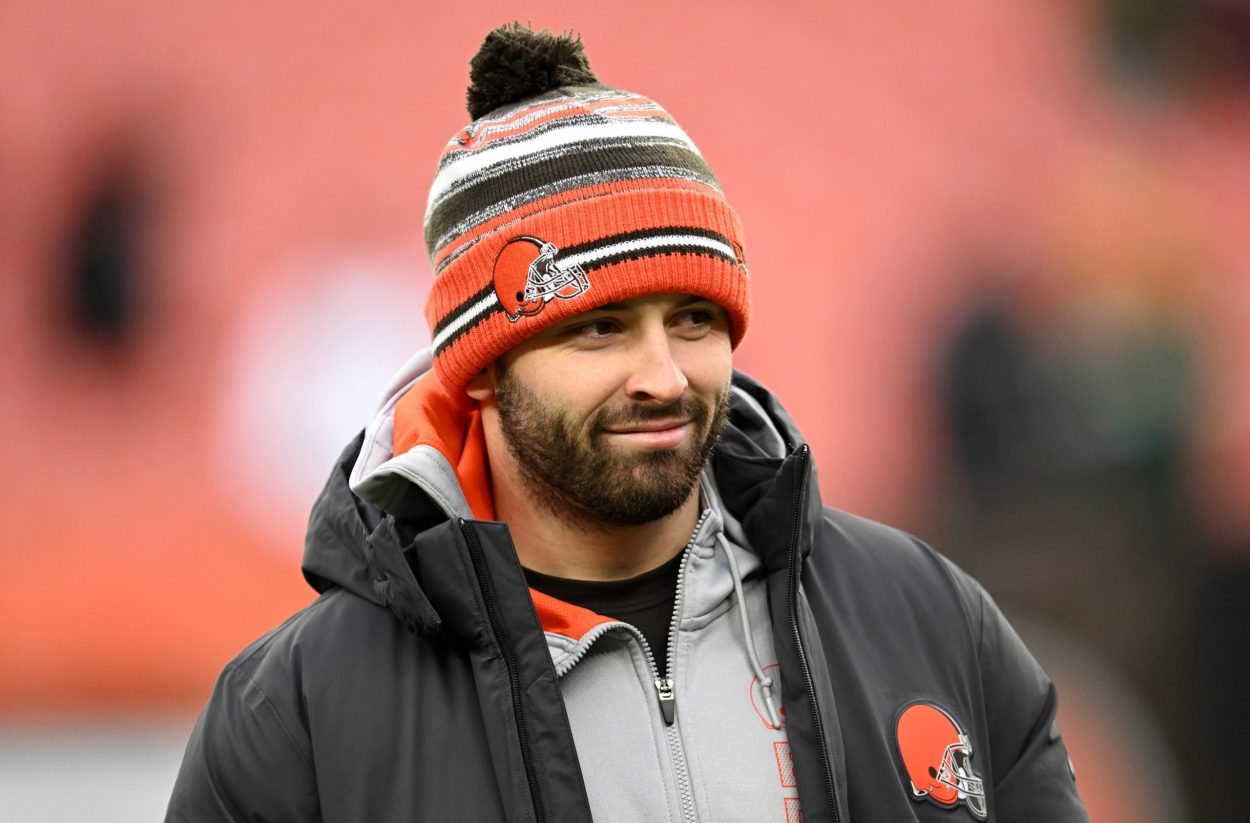 Baker Mayfield 'Ahead of Schedule' In Rehab From Labrum Surgery
Cleveland Browns quarterback Baker Mayfield is reportedly 'ahead of schedule' in his rehab for a torn left labrum.
Last season was a nightmare for Baker Mayfield and the Cleveland Browns.
A torn labrum in Mayfield's left shoulder sustained in Week 2 of the 2021 season lingered the entire year, and certainly played a role in consigning him and the team to an enormous leap backward after leading the Browns to the Divisional Round of the playoffs in 2020.
So little wonder then, only a month after surgery to repair the tear in his non-throwing shoulder, that a report out Sunday revealed that Mayfield is "ahead of schedule" in his rehab and remains on track to be ready for the season opener in September. The faster Mayfield can put the pain of 2021 behind him, the better.
But how long after September Mayfield remains in Cleveland is a question that could dog the quarterback all season.
Report: Doctors "encouraged" by Mayfield's progress in rehab
According to Mary Kay Cabot of the Cleveland Plain Dealer on Sunday, Mayfield is home in Austin, TX, rehabbing his left shoulder after surgery to repair a torn labrum in his left shoulder. The surgery was performed by Dr. Orr Limpisvasti, the orthopedic surgeon for the NHL's Anaheim Ducks.
Cabot reports that doctors are encouraged by the quarterback's progress in rehab, aided in part by the amount of muscle strengthening Mayfield had to do over the course of the final 15 weeks of the season to compensate for the injury.
The in-season physical therapy put him ahead of the game in his rehab, according to the sources who spoke to Cabot. They added that because the injury occurred in Mayfield's non-throwing shoulder, it is not expected to alter the quarterback's throwing motion upon return to playing.
The team has said it expects Mayfield's total recovery period to be between 4-6 months, but that he should be cleared for training camp in July and might partake in off-season activites on a limited basis.
Combine confab: Browns to meet with Mayfield's reps in Indianapolis to talk future
Of more pressing concern than his shoulder rehab is his standing with the team. Toward that end, representatives of the Browns front office are planning to meet with Mayfield's agents during the NFL Scouting combine in Indianapolis next week.
According to Cabot, the plan remains the same as before the surgery, with Mayfield opening the 2022 season as the starter as he enters the final year of his five-year rookie contract. Mayfield is due to make $18.8 million in 2022 after the team exercised the option before last season.
But whether Mayfield remains the Browns' starter beyond 2022 is an open question. During a press conference after the season-finale in early January, and a week before Mayfield's surgery, Browns general manager Anthony Berry indicated that there would be no contract extension for Mayfield during the offseason.
Improving Mayfield's receiving options a top Browns priority
The injury could help partly explain why Mayfield regressed so much last season. In 2020, Mayfield threw for 3,563 yards with 26 touchdowns against a career-low eight interceptions, leading the Browns to an 11-5 record and a playoff victory over the hated Pittsburgh Steelers during Super Wild Card weekend.
But this past season, Mayfield threw for just 3,010 yards in 14 games, with 17 touchdowns and 13 interceptions, as the Browns went 8-9 and missed the playoffs.
The Browns are negotiating with wide receiver Jarvis Landry on an extension, and Cabot reports the team is working on a deal to bring back tight end David Njoku, which would give Mayfield two of his favorite pass-catchers to work with in 2022.
Cabot also reports that the Browns promoted Drew Petzing from tight ends coach to QB coach, freeing up offensive coordinator Alex Van Pelt, who had been operating as both OC and QB coach.